Whether it is residential complexes, factories, office buildings or tourist destinations - to solve the challenges unique to mobility in confined areas, Panasonic will offer one-stop support to companies and developers from planning through to operation.
We will propose and implement mobility services that offer optimal safety, costs, and operational efficiency. Then, we will further optimize the services to create an even more appealing town.
Three characteristics of Panasonic's solutions
Our solutions will contribute to the improvement of work efficiency and convenience in the introduction and operation of area mobility.
Compact and low-speed mobility
Utilize compact mobility to automate the movement of objects within the area.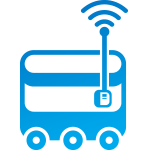 Remote monitoring and control
Provide systems for safely controlling the remote operation of robots and automated cars.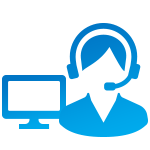 Establishment of an automated operation environment
Establish an operation environment for low-speed automated vehicles, using automation know-how acquired from within Panasonic's facilities.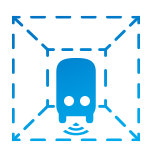 Panasonic will implement a safe, secure, and easy area mobility.
Low-latency and stable audiovisual transmission
Even in a congested communication environment, the amount of video encoding can be controlled with high precision, achieving a safe remote operation without interruptions or delays in audiovisual communication.
Protect automated operations and transport environments from hackers, implementing security technologies introduced at top-level global conferences.

Provide advanced human and object recognition technologies critical to operation by using cutting-edge sensing technologies.
Redundant safety function module
Create an environment with redundancies critical to safe robot operation and ensure the ability to respond to unexpected circumstances.

Computerize our know-how of automated operations through the use of AI, so that advanced operations can be carried out more easily and with less human intervention.

We can meet your diverse requests concerning the introduction of area mobility.
Please feel free to contact us.
Delivery or EC companies that want to solve labor shortage issues
Town management companies that want to increase mobility within residential areas
Service providers wanting to make use of automated cars