Lights Have Begun to Brighten up Smiley Faces of Ethnic Minority Children in Vietnam.
Plan International Japan
Project Manager of the Vietnam Education Improvement Project
Machiko Okumura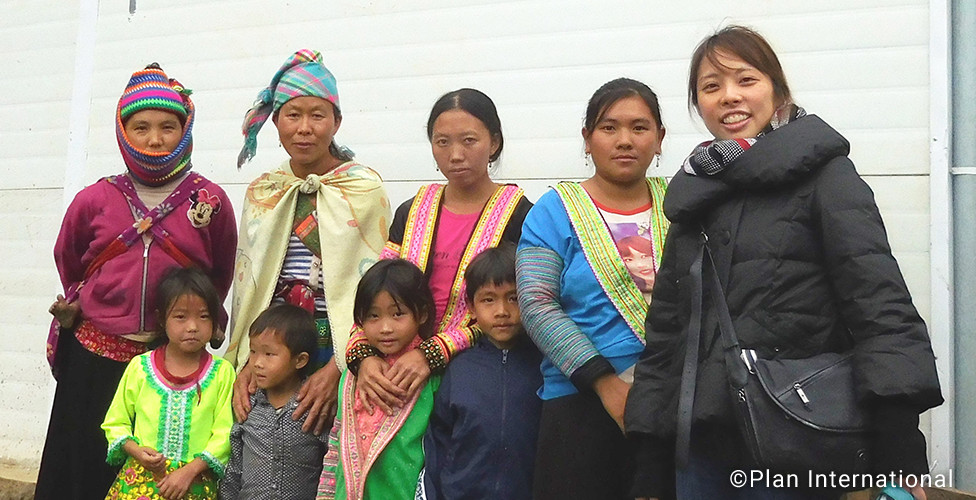 As Vietnam continues to undergo economic growth, there are many children of ethnic minorities who have been left behind in the country's development. Since these children speak their own unique mother tongue, education helps them in need to learn their national language of Vietnamese as their second language so they can break out of poverty. However, they cannot study during nighttime as the farming villages and mountainous areas where they live are not connected to the power grid. In order to improve this situation, we Plan International, an international NGO, started a three-year Education Improvement Project in 2016 in Lai Châu Province in the north and Kon Tum Province in the center of the country, where there are particularly a lot of people living in poverty.
As part of this Project, we participated in Panasonic's Bringing Light to People project in 2018. We were able to deliver a total of 180 solar lanterns to the project areas with support raised through crowd funding*. As a breakdown, we delivered a total of seventy-seven lanterns to five junior high schools and a total of thirteen lanterns to two elementary schools in Kon Tum Province, and ninety lanterns to one large elementary school in Lai Châu Province, so that one lantern could be used between two children. Children who live in dormitories far away from their families have started to use the solar lanterns for their study and daily lives.
A few months have passed since they were distributed, and we are receiving a constant stream of messages of thanks from the children from both provinces, such as, "The solar lanterns are so bright, and we can now study at night in our rooms of the dormitory," and, "We can now go to the toilet outside at night. We can borrow flashlights at the dormitory, but there were only limited numbers available and we couldn't just go when we wanted, so now we're glad to have the lanterns." I can tell from comments like these that the solar lanterns are helping the children.
At one school, a security guard who lived nearby was supplying the dormitory with electricity from his house. However, since the electricity could only reach the girls' rooms, the boys' rooms were still pitch-black at night. By giving them solar lanterns, light reached all of the children in the dormitory, which I think was really wonderful. Also, there are children of various ethnic backgrounds in the dormitories, so the children of ethnic minorities will pick up Vietnamese while having conversations with their friends who are of other ethnicities. Thanks to the solar lanterns, not only will the children be able to study, but they will also be able to chat with their friends and be able to make the most of time at night.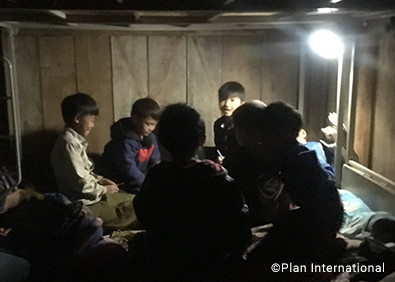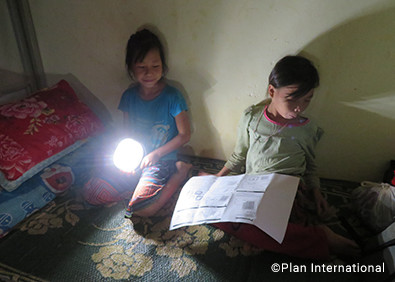 My Vietnamese co-workers are all working very hard with strong willingness to improve their country. I am always stimulated by their passion. Besides, we have also received a lot of encouragement from the people who donated to the Bringing Light to People project. There have even been people who actually came to see us at the office in Hanoi. The support we get from everyone far away in Japan is a source of strength for us to pursue our activities.
This is the final year of our Vietnam Education Project, but Plan International will still continue to support children in the areas even after the Project is finished. Most of the school teachers in Vietnam are members of the major ethnic group and they have difficulties with teaching and interacting with children of ethnic minorities. Hence, one of the main goals of this Project is to improve teachers' skills, and we are conducting teacher training to meet the objective. Capacity building takes a lot of time, so the key for success is long term commitment for it. I want to continue to do my best helping the children in Vietnam.
Machiko Okumura
Programme Unit of Plan International Japan
Born in 1984 in Sendai, Japan. Realizing her dream since childhood to work in a multi-cultural environment, Machiko joined an emergency and humanitarian aid NGO. She was involved in giving recovery support for those affected by the Great East Japan Earthquake and Super Typhoon Haiyan in the Philippines. From 2012, she was engaged in supporting reintegration of refugees and internal displaced people of ethnic minority in the southeastern region of Myanmar. She has been in her current position since 2016. Based in Hanoi, she undertakes the Vietnam Education Improvement Project as Project Manager.