We handed over solar lanterns from fundraising through donations of used books and discs to health centers and childcare facilities.​
(Cambodia and Myanmar)
Thanks to the help of so many people to raise funds through donations of used books and discs, we delivered 150 solar lanterns to Cambodia and 48 to Myanmar in January 2021.
The solar lanterns were donated to health centers, medical facilities, and child development center run by the international medical NGO Japan Heart that originates in Japan.
Approximately 70 units were distributed to hospitals and health centers in the Ponhea Leu District of Kandal Province, Cambodia. They will also be steadily delivered to health centers and hospitals in surrounding provinces that are the bases of the mobile clinic program.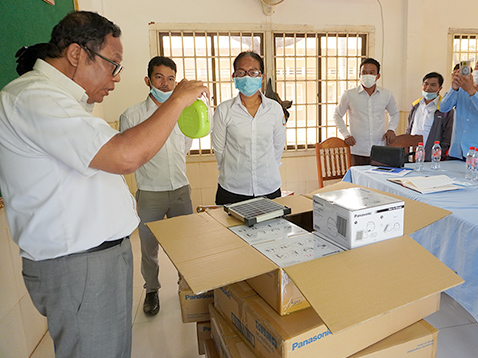 In Myanmar, the solar lanterns will be used to help provide better learning environments for children living in childcare facilities in Yangon who must live apart from their families due to poverty or illness of their parents.
In 2021, the university entrance exams that take place in March may be postponed to around May due to school closures forced by COVID-19. In the dry season each May the reservoirs for hydroelectric power generation have insufficient water, leading to frequent power outages, but with the solar lanterns the students who will take the exams can still study at night even in a blackout.
The solar lanterns can also serve as desk lights, which will prevent poor vision currently suffered by many children due to reading or studying in the dark.​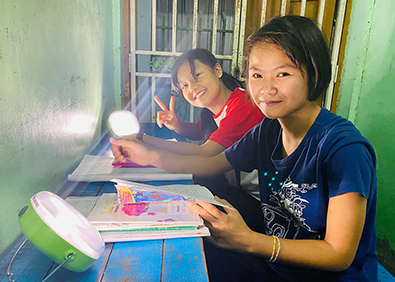 "I can study for my entrance exams in a bright environment now."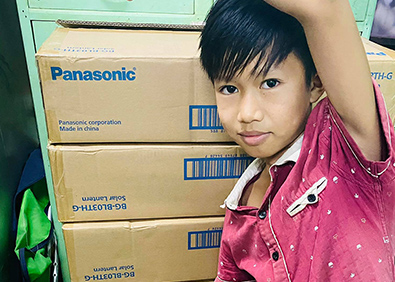 "Thank you so much for all these solar lanterns!"
The organization responsible for the donation: Japan Heart
The organization's mission is "to deliver healthcare to medically-isolated areas." It provides medical aid to developing countries, remote areas and isolated islands in Japan, and disaster-stricken areas. It is also working to provide care and education to children who lost their parents to AIDS, disasters, or other calamities.​