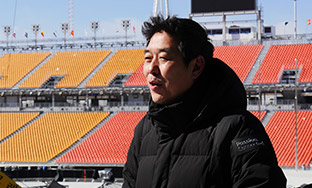 Jace Oh
POCOG
Ceremony director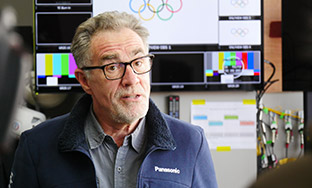 Patrice Bouquniaux
Operation partner ETC
Technical Director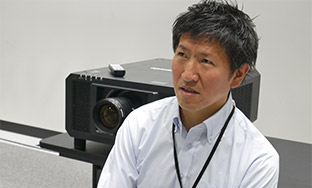 Yusuke Yamamoto
Panasonic Connected Solutions
Media Entertainment Business Division
Technology Center
Projector Project Leader
In each Olympic Games venue, a range of video equipment helps enliven the atmosphere with the latest attractive displays, conveying details of the fierce sporting competition to spectators and staff. Panasonic supplied the competition venues and other facilities at the PyeongChang 2018 Winter Games with 154 high-brightness professional projectors and around 1,000 professional displays, supporting the operation of the Games with powerful images and unique solutions.
Solutions supplied through high-brightness laser projectors
These projectors covered the arenas with projection mapping images and colored the ice rinks with brilliant light. They have become an indispensable part of venue productions in winter sports. Panasonic supplied two different types of newly-developed, high-brightness laser projectors to the competition venues and other facilities at the PyeongChang 2018. The models supplied were the WUXGA resolution, 31,000-lumen PT-RZ31K; and the 4K+ resolution, 27,000-lumen PT-RQ32K. Jace Oh, the organising committee's ceremony director, was impressed with the projectors' performance.
"I had seen Panasonic's projectors in use at the Sochi 2014, so I had no worries about their performance. I felt that the laser projectors supplied this time offered excellent color reproduction and even better picture quality than conventional lamp-based models. They were much easier to control than the lamp-based projectors, too, and the brightness never changes even when used over long periods."
In the past, the lamp-based 20,000-lumen class had been the main staple of Panasonic's lineup, and this necessitated the preparation of many different units and replacement lamps. But the laser projectors used at PyeongChang required no replacement lamps and could project bright images even with a smaller number of units. These projectors are compact in size and easier to install, greatly reducing both time and cost in things like installation and maintenance.
Central management of multiple projectors with a multiple unit surveillance system
A total of 154 Panasonic projectors were supplied to the PyeongChang 2018. It was a difficult task to keep check of the individual projectors installed at the remote mountain venues and ensure that they were all running correctly. To solve this problem, Panasonic developed a multiple unit surveillance system capable of keeping watch over and controlling the many different devices from a single, central location – right from their installation to their operation during Games. This setup allowed a small team of staff to operate the projectors at each venue with no trouble at all.
Patrice Bouquniaux, an on-site supervisor for Panasonic's operation partner ETC, speaks of his faith in Panasonic's laser projectors.
"It is no exaggeration to say that the PyeongChang 2018 Winter Games is the biggest global event to be held this year. A premise for working at such a large-scale event is that everything you do is performed in front of a worldwide television audience of billions, so it is vital to have products you can trust and a strong support structure. This is the reason that we install Panasonic projectors."
Video trials toward the Tokyo 2020 with 8K theaters and outdoor signage capable of withstanding intense cold
Of some 1,000 professional displays that Panasonic supplied to PyeongChang, the TH-47LFX60 outdoor signage systems were used in outdoor competition venues. PyeongChang was considered particularly cold compared to other Winter Olympic Games host venues, but even in such an intense environment, these robust displays were able to operate stably and provide great support to the Games with competition footage and information on display. The IPS panels offer high brightness and a wide viewing angle, making them easy to see even outdoors.
Meanwhile, at the NHK 8K theater set up inside the IBC, four Panasonic PT-RQ32K laser projectors with 4K+ resolution were blended to create 8K video and support presentations to global media representatives in ultra-high definition. NHK representatives praised the technology, saying that this was the best quality 8K currently available.
The successes with these video technologies at the PyeongChang 2018 are already being built upon in initiatives for the next Olympic Games in Tokyo in 2020. Yusuke Yamamoto of Connected Solutions Company, Panasonic Corporation told us about them.
"We have already started work toward the Tokyo 2020. Panasonic's strengths are high reliability and ease of both installation and operation. We will build on these to create more new products that will amaze you – so look out for them!"
The Panasonic Professional Lineup