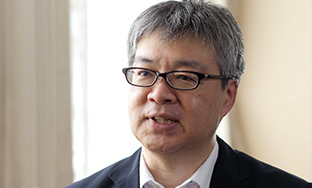 Yoshihisa Oomaru
Panasonic
Project Manager
Goya
Panasonic Brazil
System Engineer
Elly Resende
Rio2016
Technology Manager
Of the 300+ projectors supplied by Panasonic to the Olympic Games Rio 2016, there was one product not yet available on the market: the laser projector using the laser beam as a light source. The projector boasts a brightness of 30,000 lumens, 1.5 times a conventional lamp projector. Since one does not need to worry about breaking the internal lamp , there is a large advantage in terms of cost. Truly this is the projector of the future. Since the product is still in testing, it was only used in part of the Opening Ceremony of the Olympic Games Rio 2016 as a trial. ETC's Patrice Bougueniaux, the video production/technical designer who supervised operations at the Opening Ceremony, spoke about the potential for laser projectors: "Rio 2016 may be the last Olympic Games to use a lamp projector. That is how brilliant and advanced the laser projector is as a product."
EWS: Preventing Problems before They Occur
If the laser projector embodies the advancement in projector hardware, then the advancement in software is represented by "EWS," or officially, the "Early Warning System." The EWS is an early warning software that Panasonic developed proprietarily for the Olympic Games Rio 2016. With such software pre-installed, abnormalities can be detected within the equipment ahead of time to prevent problems before they occur.
For example, if the projector filter is clogged, the internal temperature rises. If one uses EWS to monitor the temperature, blockages in the filter can be identified and dealt with quickly, and the equipment can be maintained at optimal conditions at all times. With the introduction of EWS, the Panasonic projectors operated without any major issues. Behind the impressive visual production at the Olympic Games Rio 2016 was Panasonic's state-of-the-art technology.
Supporting the Games with the Largest-Ever Delivery in Olympic Games History
Panasonic also delivered 15,500 units of professional displays, the largest ever in Olympic Games history. Panasonic set up professional displays at nearly every venue to enhance the spectators' enjoyment of the competitions. Displays were also supplied inside press rooms so that the press could view the competition live on TV. Panasonic also took an active role outside of the Olympic venues. Alessandro Batista of Panasonic do Brasil, the project leader of the Olympic Games, states, "We also provided the other sponsors with professional displays. For some sponsors, this meant merely installing a TV within their lounge. For others, we installed dedicated projectors for the event. Our individual needs may differ, but as sponsors we hope to come together to energize the Olympic Games."
The Panasonic Professional Lineup