Sakura Kokumai Plants Seeds Where She Bloomed
Name: Sakura Kokumai
Sport: Karate
Events: Kata
Olympic Experience: Tokyo 2020
Born in Hawaii to Japanese parents, Sakura Kokumai first started learning karate at the age of seven when her mother enrolled her in karate classes at the local YMCA. Little did her family know that in just seven years' time, their daughter would not only move to California to take her karate to the next level, but also go on to represent the U.S. as a member of the Junior National Team. Countless medals, trophies, and awards later, Kokumai would eventually become the first and only female karateka to represent the United States in the Olympic Games Tokyo 2020.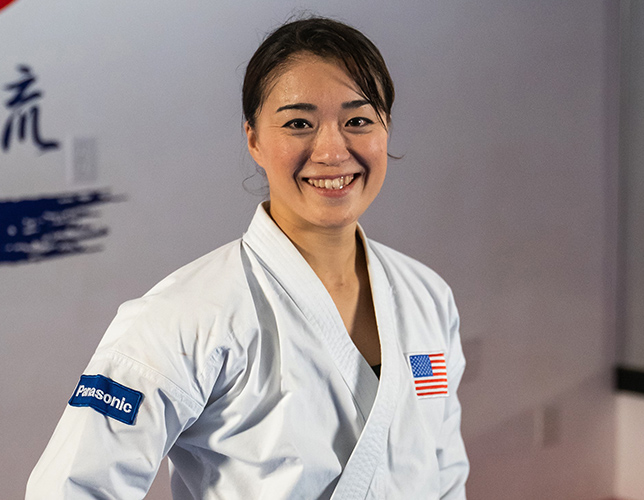 The Brightest of Both Worlds
For Sakura Kokumai, karate has always played an important role in her identity as a Japanese American. Growing up, she bounced back and forth between the U.S. and Japan. However, her true home was on the tatami mats of the karate dojo. Although Kokumai's parents exposed her to all sorts of sports such as soccer, swimming, tennis, and even sailing while she was growing up, she instantly felt a strong connection to karate because her relatives back in Japan had been learning it as well.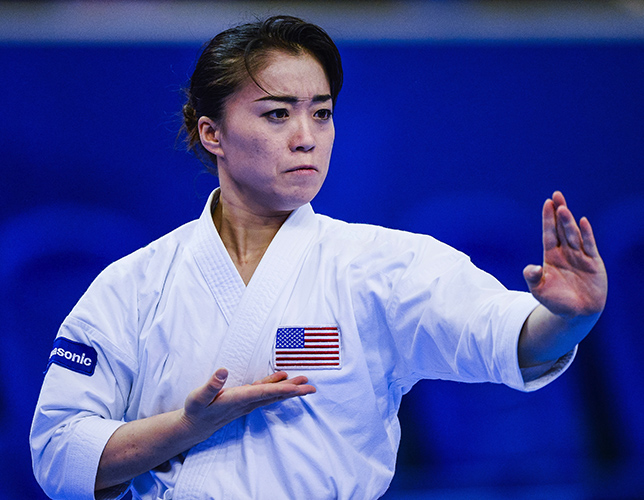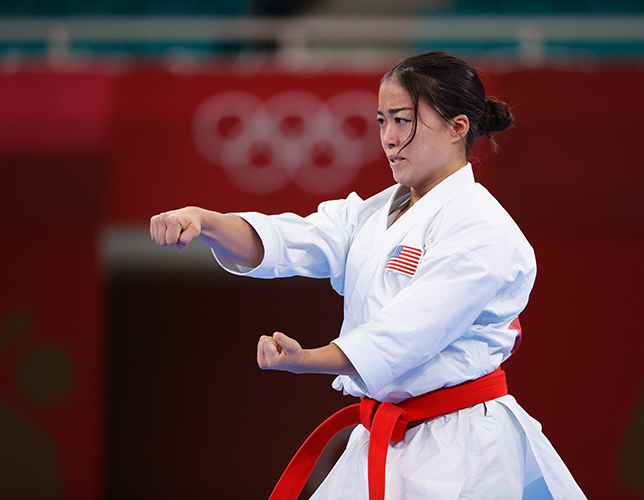 In the dojo, she found inspiration in the feelings of admiration she held for her fellow karateka as well as the teachers that guided her along the way. This respect and admiration pushed her to work harder, forging her into the world-class athlete that she is today. Now, as a member of Team Panasonic, she hopes that her own journey will help to inspire kids all around the world in making their own dreams a reality.
"I love working with the next generation of athletes. Sharing my passion with them is my way of giving back to the future of the community." — Sakura Kokumai
For many karateka like Kokumai, in-person training and competition are a central part of the karate community. When the COVID-19 pandemic hit, one fear she had was that without this communal element, many young katareka would lose interest in the sport altogether. However, by collaborating with Panasonic, she has managed to wield the power of technology to bring together, connect with, and inspire students scattered across all corners of the world.
When teaching, Kokumai believes that it is important to teach that failure is part of the journey. As long as they keep getting back up, there is no obstacle that cannot be overcome. This philosophy resonates with Panasonic's core principle of "untiring effort for improvement" and is what helped her get to where she is today.
Just like her local dojo helped her pursue her own Olympic dreams growing up, in collaboration with Panasonic, Terasaki Budokan, Little Tokyo Service Center, is Kokumai's way of passing the torch to the next generation of Japanese American athletes, achievers, and dreamers.
Founded in 1979, Terasaki Budokan, Little Tokyo Service Center has been like a second home to Japanese Americans in Southern California for many years. In addition to promoting Japanese American culture to visitors, it brings the community together through classes, workshops, and even a martial arts practice space where young karateka can train to perhaps one day fill Kokumai's shoes.
Panasonic has long seen giving back to the community as one of their core values. As part of Kokumai's initiative to give back, Panasonic has donated a high-brightness projector and two professional displays to the center so that the Japanese American community can continue to be brought closer together through the enjoyment of sports.
When asked about how she felt about being a member of Team Panasonic, Kokumai responded, "I am constantly moved by [the other Team Panasonic members'] passion for giving back to society. Not only are they amazing athletes, but beautiful individuals as well. It makes me want to go out there and do more for my own community. I am honored to be standing alongside them."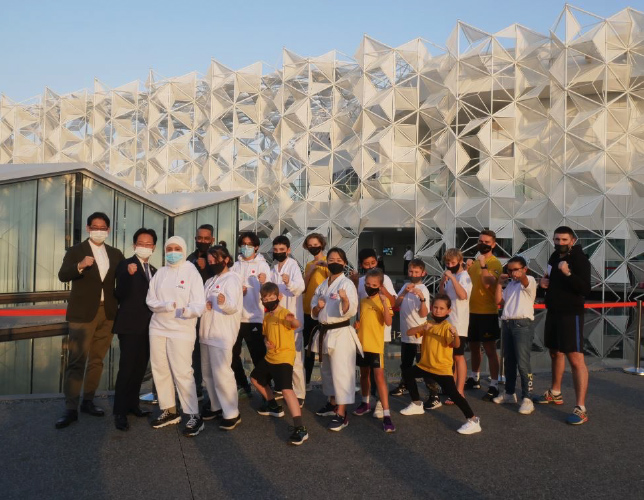 Panasonic supports athletes who, in turn, support their community. Team Panasonic athletes like Sakura Kokumai all share a passion about not just empowering the next generation through sports, but about leading the way for the future to come. It's what drives them to be at the top of their game not just in the arena, but also while they're out making a difference in their communities as well. Inspiration can move mountains and when hard work, innovation, and the desire to succeed all intersect, that's where we'll create a better life and a better world.
"As an athlete, we have a special platform nobody else has. It is our responsibility to mentor young minds and give back to society to make the world a better place." — Sakura Kokumai

Official Worldwide AV Equipment Partner