Panasonic delivered a total of approximately 280 RAMSA Professional Audio Systems to 41 venues at the Olympic Games Beijing 2008. During the past six Olympic Games, many venues installed RAMSA systems, but the first official use of the RAMSA systems for the Opening and Closing Ceremonies of the Olympic Games was not until the Olympic Winter Games Torino 2006. A year prior in 2005, during tests conducted in Italy, the Torino Organizing Committee for the Olympic Winter Games had lauded the strong capabilities of the Panasonic team of engineers. This result of the test became the major turning point that led to RAMSA's inclusion as the official audio system for the marquee events of the Games, the Opening and Closing Ceremonies.
Tailored Exclusively for the Olympic Games
Following the success at the Olympic Winter Games Torino 2006, Panasonic audio systems were again used during the Opening and Closing Ceremonies of the the Olympic Games Beijing 2008. The large WS-LA3 array speakers made their debut in August at the highly-watched Opening Ceremony. This state-of-the-art speaker system was developed by Panasonic exclusively for the Olympic Games, utilizing our technological know-how from years of developing audio systems for large spaces and venues.
Gary Hardesty, Panasonic's audio system engineer, explained the characteristics of the WS-LA3. "The biggest feature of this new speaker system is its ability to deliver clear sound to all areas of the venue.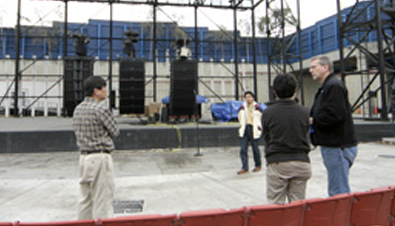 You see, it looks like a stack of many oblong speakers. By securing height, the system achieves excellent sound quality through a planar source of sound, rather than a point source. At the same time, it can achieve a wider range of acoustic coverage." As each system covered a larger area, less systems were required in the venue, and as a result, the time and labor required for setup was greatly reduced. The WS-LA3, the array speakers that successfully improved installation cost and schedule, became the perfect model for the Olympic Games, the apex of sporting events.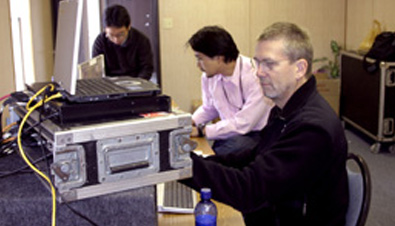 Valuable Encounters at the Olympic Games
Hardesty mentioned that meeting the Japanese and Chinese engineers was one of the most valuable experiences he gained from working on the project. "Faced with different languages and cultures, it's been extremely important to build a relationship based on trust. I believe the audio systems team was able to create an exceptionally good product because every person, regardless of title, shared the same goal."
Drawing upon this experience developing the WS-LA3, Panasonic will continue to put forth the efforts so that more people around the world can experience our audio systems.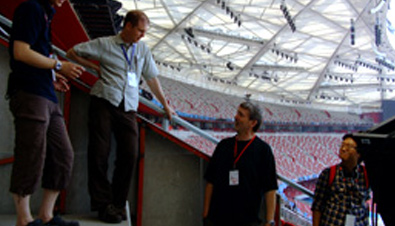 The Panasonic Professional Lineup