Koji Yamamoto
Olympic Games project manager
Professional AV Business Unit
Imaging business Group
Panasonic AVC Networks
The International Feed of the Olympic Games has always led the times with state-of-the-art technology. For example, the high-definition digital video production started at Barcelona 1992, paired with Panasonic's innovative D-3 Digital VTR system.
Since then, Panasonic has continued to provide the latest digital video systems to support the Host Broadcaster's production of the International Feed. The Olympic Games London 2012 used Panasonic's high-definition (HD) video format, AVC-Intra. Panasonic continues to pioneer new avenues of digital video imaging, such as 3D live broadcasting.
The Trust Established Over Many Years
Panasonic's D3 Digital VTR was adopted for Barcelona 1992. This was the beginning of digital production used to capture International Feed. Panasonic has become the general contractor to the International Broadcast Centre (IBC), aiding in the design and construction of broadcast systems for three consecutive Olympic Games: Atlanta 1996, Nagano 1998 and Sydney 2000. Athens 2004 started to incorporate HD broadcasting using Panasonic's compression format, DVCPRO HD, followed by Full HD broadcasting at Beijing 2008.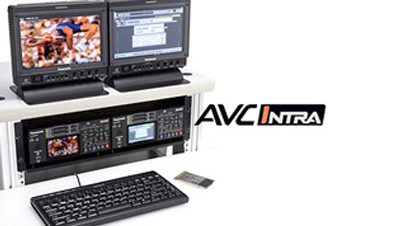 Many international broadcasters gather at IBC during the Games. With as many as 100,000 hours of content to produce and distribute, interruptions to the work process could be detrimental.
For many years, Panasonic broadcasting systems have been used for the production of the International Feed. This alone reveals the level of trust that Panasonic has established over the years, for our untiring efforts in technological innovation and high quality of products.
The First 3D Live Broadcast, Leading to Further Possibilities
The Opening Ceremony of the Olympic Games London 2012 was watched by 900 million viewers, a record in Olympic Games broadcasting. Panasonic faced two challenges. The first was AVC-Intra 100, the Full HD Format that had recently been developed. The deciding factor for inclusion into London 2012 was this compression technology that allowed the editing of Full HD video without degradation.
The other challenge was the 3D Live Broadcast. Panasonic developed a dual lens video camera – two lenses in one body. This camera enabled the filming of more realistic 3D images. Koji Yamamoto, Panasonic's Olympic Games broadcast expert, said, "When I watched the Opening Ceremony that utilized 3D visuals, I realized that this technology had a potential for broader application beyond sports, such as remote medical care." Panasonic's endeavor in broadcasting technology continues to provide success at the Olympic Games and incubate new possibilities for everyday life.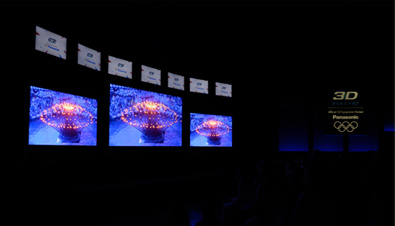 The Panasonic Professional Lineup