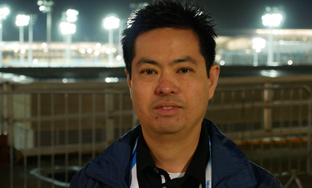 Goya
Panasonic Brazil
System Engineer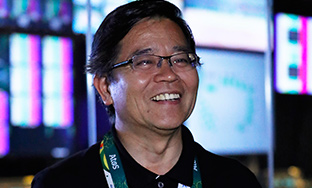 Koji Yamamoto
Panasonic
Equipment Installation Supervisor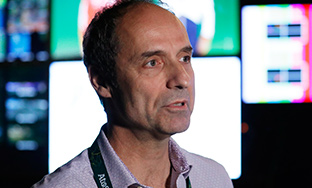 Sotiris Salamouris
Olympic Broadcasting Services
Chief Technology Officer
The history of Olympic Games broadcasting can also be referred to as the history of advancement in broadcasting technology. The Olympic Games Barcelona 1992 marked the first digital production for the Olympic Games. HD broadcasting and full-HD broadcasting commenced respectively at Athens 2004 and Beijing 2008, and 3D Live Broadcasting was achieved at London 2012. Panasonic's broadcasting equipment supported the visual production of the Host Broadcaster at each of these events. At the Olympic Games Rio 2016, Panasonic supplied the camera recorder, the AJ-PX5000G series, which incorporated the AVC-ULTRA codec. By transferring files over the network, an even speedier workflow was made possible. In 2016, in Rio de Janeiro, a new page was added to the history of Olympic broadcasting.
Unprecedented Optimization of Work Efficiency
Panasonic's Sugawara explains the merits of network functionality: "Until now, it was an indispensable step to bring back the recorded data and download the video footage, but this new camera recorder is able to transfer files over the network – on location and immediately after filming. The video can be distributed while the information is still current." Further enhancing this functionality is the AVC-ULTRA codec. The bitrate can be selected from 200 Mbps on the higher end to 6 Mbps on the lower end, allowing for high-quality filming.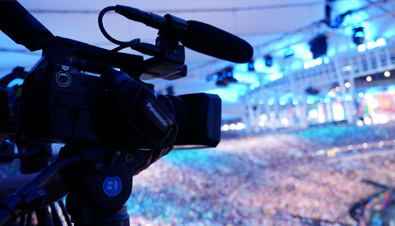 For example, even if the network is congested, footage shot at 6 Mbps can be transferred without problem. Just one camera can perform optimal filming suited to each situation. Going forward, we expect the data-based production style to become mainstream. Panasonic will utilize its experiences from Rio 2016 to boost the networking between not only cameras but all broadcasting equipment, such as switchers, in order to achieve further innovation to benefit future Olympic Games, PyeongChang 2018 and Tokyo 2020.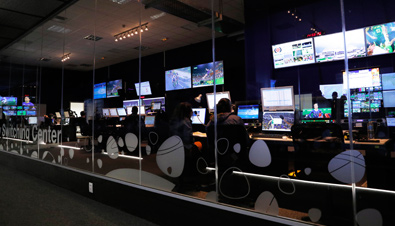 8K, 360-Degree Video: A New Audio Visual Solution
There were other new audio visual solutions introduced in connection with Rio 2016. 8K video technology was used at the public viewing held during the Games at Panasonic Center Tokyo, and screened the dynamic performances of athletes in its hallmark image quality to captivate visitors. The "Stadium of Wonders in Tokyo," where 360° camera footage produced a virtual experience of being in Rio de Janeiro, also garnered popularity. Renato Goya , a representative of Panasonic do Brasil, stated his view: "In the near future, people will be able to enjoy a variety of content that uses the 360° camera or 8K resolution." Panasonic's Koji Yamamoto expressed his enthusiasm for PyeongChang 2018 and Tokyo 2020: "I believe the Olympic Games represent a place of challenge for our engineers also. We hope to utilize the experiences gained in Rio 2016 to continue to propose new ways to enjoy and energize the Olympic Games with Panasonic's broadcasting technology.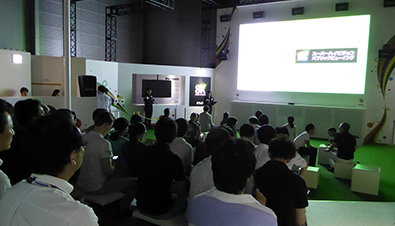 The Panasonic Professional Lineup