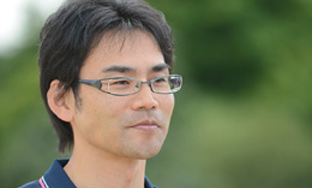 Morio Matsumoto
Team Leader
Projector Business Unit
AVC Networks Company
Panasonic Corporation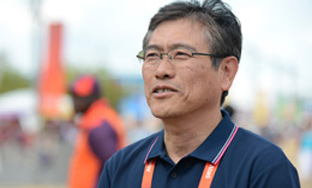 Yuji Ido
Senior System Engineer
Projector Business Unit
AVC Networks Company
Panasonic Corporation
Of the myriad Panasonic video equipment that enhanced London 2012, one of the most noteworthy was the revolutionary 20,000-lumen projector. Designed specifically for London 2012, the projector adorned the Opening and Closing Ceremonies with vibrant and beautiful images. Panasonic tackled the challenge of delivering sharper images in 20,000 lumens of brightness, in a more lightweight, compact, and reliable device. The motivation behind this undertaking was Panasonic's failure of selection to Beijing 2008 and Vancouver 2010. It was Panasonic's pursuit of excellence and technical strength that realized a groundbreaking product characterized by ease of operation, environmental soundness, and economic efficiency – and one that possessed the potential to bring even more innovation, richness, and creative freedom to video production.
The Goal: "One Half." The Solution: The 4-Lamp UHM
Panasonic's failure of selection to the Olympic Games Beijing 2008 and Vancouver 2010 had motivated a new goal: the 20,000-lumen super luminance projector. It was not technically difficult to produce something on par with competitors. However, it was not our goal to bring something that had already been done. Panasonic engineers set a development target: "one half." That is, to produce something with higher reliability, while halving the height, weight, heat generation, power consumption, and noise compared to existing competitor products.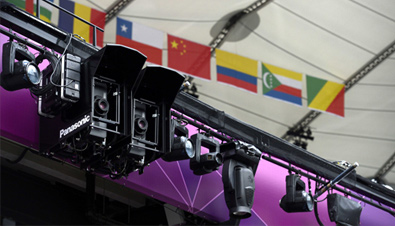 The development team saw the goal line with the contrivance of the UHM (Ultra High-Pressure Mercury) lamp, a lamp small in size and with a luminance of more than 5,000 lumens. The brightness of 20,000 lumens could be achieved using four UHM lamps. Finally on May 24, 2012, the model PT-DZ21K, developed through the collective efforts of the entire Panasonic Group, was ready for shipment.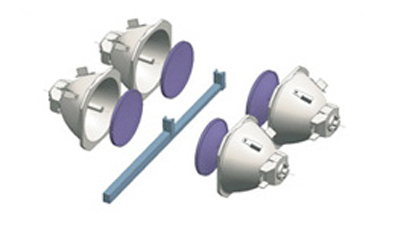 Unprecedented High-Performance Projector Facilitated Innovation in Visual Production
Thus the model PT-DZ21K, in line with the goals of the Panasonic engineers, boasted half the size of any other 20,000-lumen class projector on the market. The high maneuverability and beautiful image quality inspired stage directors of London 2012, and its high performance left a lasting impression particularly during the Closing Ceremony of the Olympic Games. The projectors were steered manually to focus the projected images on the vertical screens placed on moving trucks. The light weight and compact size of the projector enabled this production element. This 20,000-lumen projector will continue to materialize the creative vision of artists and directors.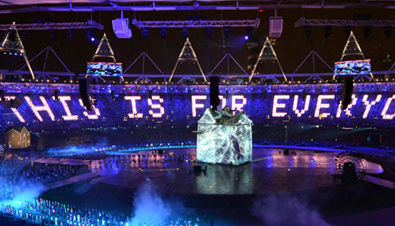 The Panasonic Professional Lineup