The Olympic Winter Games Nagano 1998, was the final Olympic Games of the 20th century. For Japan, the host of its third Olympic Games, the event's success was obligatory, and the pressure to win a medal looming heavily on its athletes. The sense of urgency was also felt by Team Panasonic, who was in charge of the audio visual system for the Olympic Winter Games Nagano 1998. "At each stadium, spectators have marveled at the giant ASTROVISION screens; they have brought athletes and spectators together. Let's use the ASTROVISION to energize the venue in this final event, men's large hill team ski jumping."
The Athletes Nerves Transmitted Through the Screen
In the team ski jumping event, the Japanese team was referred to as the "strongest in history" and expected to take home a gold medal. However during the first run, Harada, who was expected to give a strong lead to the team, stalled on approach due to a ferocious snowstorm that made it difficult even to maintain his posture. The team slipped from first to fourth place. The fateful second jump. The first jumper Takanobu Okabe pushed Team Japan back up to first place with a huge jump of 137m. The subsequent jumper Hiroya Saito used his superior technical skills to mark 124m in the face of adverse conditions. Now Masahiko Harada. The ASTROVISION displayed Harada at the starting bar. Slanting snow shielded his vision. From the screen, the ferocity of the snowstorm was obvious.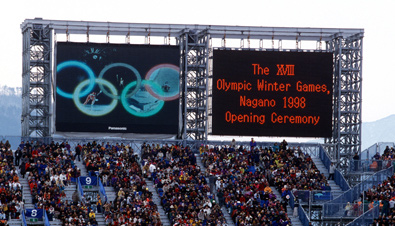 As a crowd of 30,000 held their breath and watched on, Harada took off with great speed from the ramp. Through the blizzard, Harada cut through the air as if in slow motion. His form cleared the K point and landed far ahead. 137m – the day's longest jump! The final jumper was the young ace Kazuyoshi Funaki. On the big screen, a close-up shot appeared of Harada, repeating Funaki's name under his breath as if in prayer.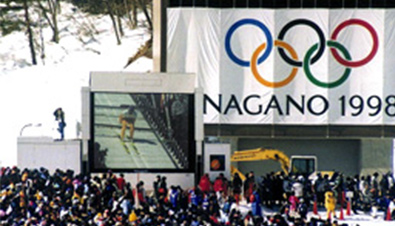 The Emotional Finale that Filled Snowy Nagano with Fervor
Funaki jumped low displaying beautiful form, landing at 125m. Checking his score on the scoreboard, Funaki threw up his arms and fell backwards. The next moment Harada jumped on top of him in a big embrace. Okabe and Saito threw themselves on the two skiers, hugs all around. This marked the memorable moment Japan won its 100th gold medal.
At the Closing Ceremony of the Olympic Winter Games, the ASTROVISION screen replayed various memorable scenes from Olympic Winter Games Nagano 1998: Funaki raising a clenched fist in victory; mogul skier Satoya, known for her long air time, flaunting her Cossack dance; Shimizu's shotgun start out of the gates. The large audience in the main stadium reflected on the events of the Olympic Games. Finally, the screen displayed the smiling faces across the Pacific, in Salt Lake City, the host of the next Olympic Winter Games.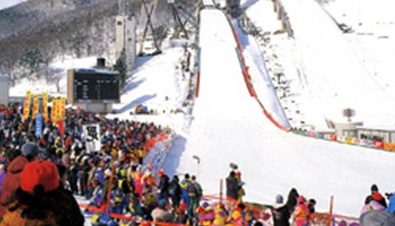 The Panasonic Professional Lineup