Finally, kid journalists from 12 countries / regions gathered in Tokyo for KWN Global Contest Award Week! First, they had a lot of fun activities to communicate and get to know each other, such as self-introduction, jump rope, learning Japanese sign language and yosakoi dance.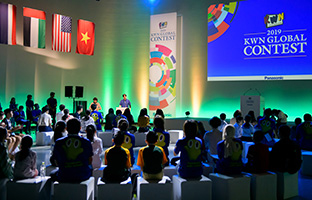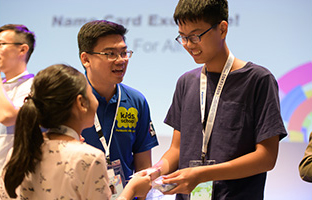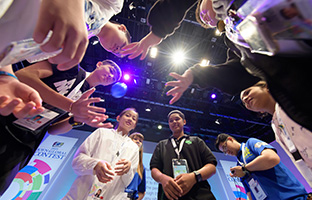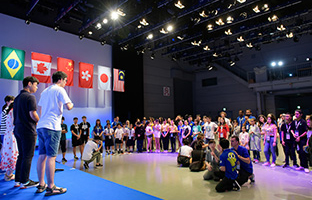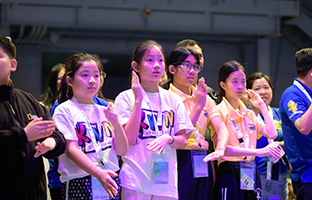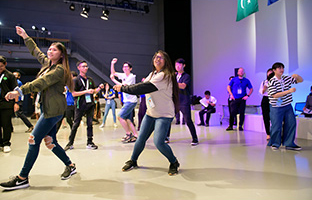 Video Production Workshop
Then, they visited Panasonic Visuals to learn how to create videos from professionals and experienced visual technologies such as motion capture and drones. There was delighted feedback from the kids, who said they were very happy to learn at a real professional site. Some of them may go on to professional careers in the future!
Videos were shot against a green background using Chromakey synthesis. These videos were used to introduce the kids' schools at the award ceremony.
The kids, who saw background images of various cities and then the post-synthesis videos, seemed to enjoy the shooting process from beginning to end, experimenting with various movements in front of the green background.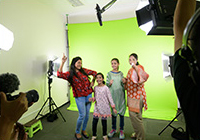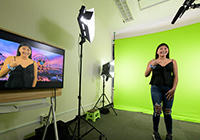 Kids experienced recording at the narration booth. As material for videos introducing each school, which were screened at the award ceremony, the names of schools, expressions of enthusiasm about the KWN program, and messages for the videos were recorded in each languages. Kids who were shy at first began to speak loudly in front of professional-grade recording equipment. The resulting messages were powerful.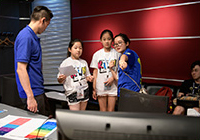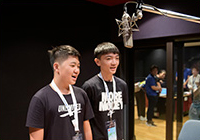 Several kids put 17 sensors on their bodies and experienced the technology of motion capture, which generates 3D characters that move in real time. Kids cheered at glittering effects that appeared on screen in response to strong punches, and enjoyed dancing and striking martial arts poses as they watched the movements of 3D characters coordinated with their own.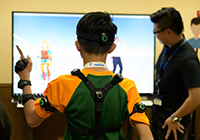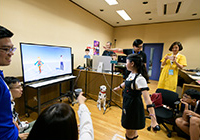 High-definition 3D images are shot in a 360-degree panorama with 70 cameras. The kids stepped fearfully into a white, alien space. At first they seemed puzzled, but they pose under the guidance of the staff and dance with dramatic movements. There was surprise and laughter when they watched the results on monitors, and they took away great memories of time spent with friends.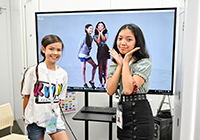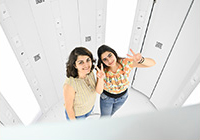 Kids watched videos with HDR (High Dynamic Range) grading, which is dramatically superior to the SDR (Standard Dynamic Range) video one usually sees on TV, Blu-ray disc, DVD, etc. They experienced the details of bright areas and greater number of colors that cannot be expressed with SDR. The kids were amazed by the beauty of the video.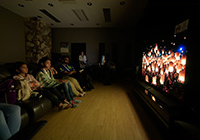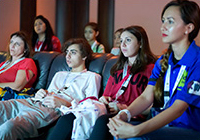 Kids visited a technology exhibit using Space Player equipment that combines lighting, video and audio, and a lab where they could have a hands-on experience. They took in images of a luminous waterfall in a space surrounded by three sides. The kids enjoyed taking selfies and photos with friends in various poses. After experiencing this technology for the first time, kids had comments such as "I am really happy to be here now."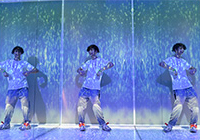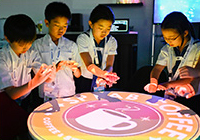 After learning how to operate it, kids were able to fly a drone over a canal next to the Panasonic Visuals. Kids peered with great interest at a monitor showing their own images waving at the drone as it flew away.
Finally, a commemorative photo of all participants was taken.