Support for Every Individual: LGBTQ
*LGBTQ, a general term for sexual minorities, is an acronym for Lesbian, Gay, Bisexual, Transgender, and Queer or Questioning.
Code of Ethics & Compliance
In the Panasonic Group Code of Ethics & Compliance, we clearly state that we do not permit discriminatory speech or conduct with regard to sexual orientation or gender identity, as defined by the applicable laws in the respective countries.
Recognition under the Panasonic Group's HR systems
Effective April 2016, the Panasonic Group now recognizes same-sex domestic partners as equivalent to legal spouses within its HR systems (except in areas where such recognition cannot be applied due to legal restrictions), thereby granting equal entitlement to such things as congratulatory and condolence leave, childcare and nursing care support, and single-person relocation allowances.
*Affiliates both within and outside of Japan are addressing this matter on an individual basis, subject to the condition of compliance with applicable local laws.
The Panasonic Group has created support desks through which employees can engage in email or telephone consultations about any internal company topic, including cases of sexual harassment or abuse of authority (employees can use these support desks anonymously).
Internal seminars to promote understanding
In order to promote understanding of LGBTQ persons and to create a comfortable workplace for LGBTQ employees, we have been holding seminars targeting HR functional divisions, managers, and employees since February 2016. In addition to basic knowledge regarding LGBTQ persons, this HR training seeks to inform employees on how to deal with discriminatory language and behavior, as well as methods for responding to the needs of those involved.
Disseminating information internally
Information is also available via the company intranet to promote understanding of LGBTQ persons and to encourage participation in events that support LGBTQ employees.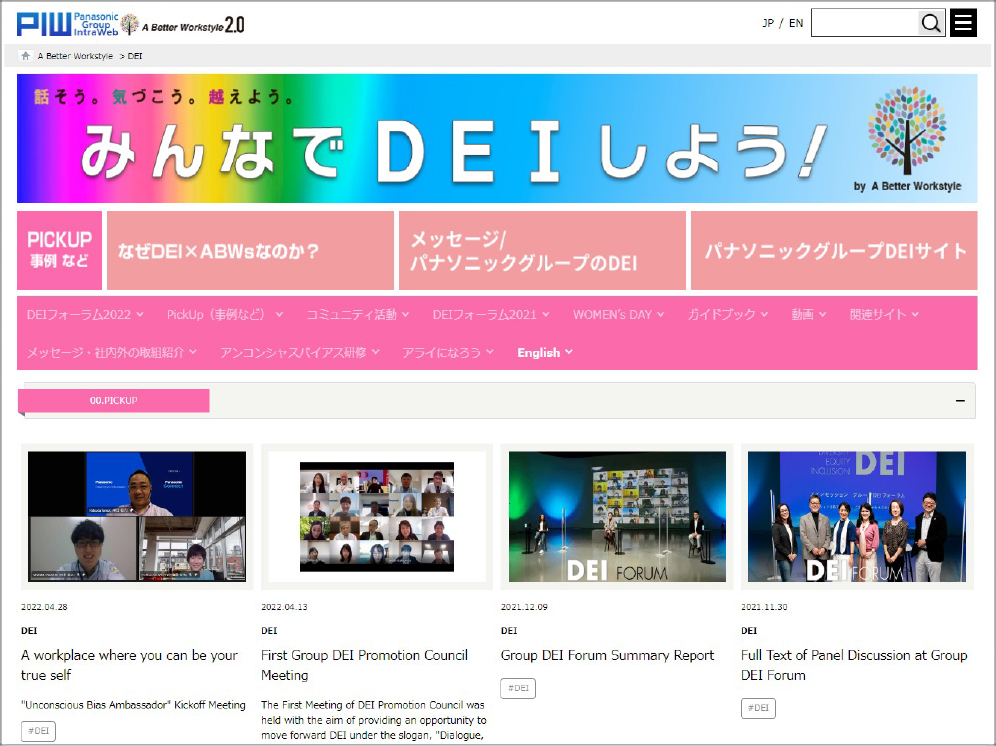 Within the Panasonic Group, we are working to increase the number of people who understand our slogan, LGBT ALLY Panasonic. Ally in this case refers to someone who actively supports and helps out LGBTQ persons. Some LGBTQ persons feel that they are unable to talk to anyone about the difficulties they face in the workplace, and therefore experience hardships a day-to-day basis. By having coworkers and supervisors express their willingness to be allies, LGBTQ persons are able to discuss their concerns and reduce stress by making it easier for them to be who they are.
*Because laws, regulations, and customs differ from country to country, we undertake these initiatives on the assumption of compliance with the laws and regulations of each country, and take appropriate consideration of the respective cultures and customs in our response.