Working together with the International Olympic Committee, Panasonic,a World-Wide Olympic Partner, is currently single sponsor of the "IOC Young Leaders programme," which engages and fosters inspired young people by providing funding for them to deliver their own grassroots sports projects in their communities. Three young athletes from IOC Young Leaders" came to teach KWN members the wonders of sports and art.
Fencing

Kids had their first fencing experience. Once they had heard a basic introduction and learned the rules, they began practicing basic fencing movements. After adopting good posture, they moved forward, forward, forward, then back, back, back. Kids in the primary category wore goggles, while those in the secondary category wore masks, and they conducted a mini-game. The match, judged by genuine referees, was a heated battle that evoked great cheering. Finally, they watched a match between Marija and Haruka from Japan's national team. It was very exciting to get so close to first-class athletes in competition.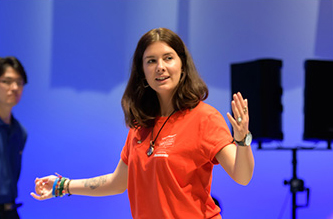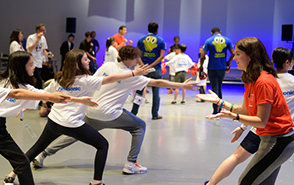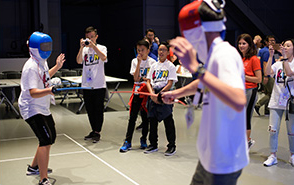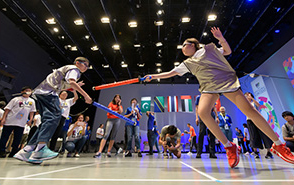 Boxing

The kids were excited as they entered a boxing area containing a gong and many pairs of boxing gloves. The first step was taping, and although it was a struggle, once the gloves were on, they said "We're excited!" Girls from the US and other countries were thrilled. After learning stances and various punches, they practiced one-on-one with Murat, who was wearing protective pads. Other kids enjoyed punching balls and shadow boxing during this time.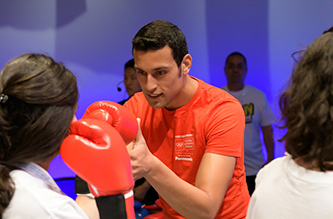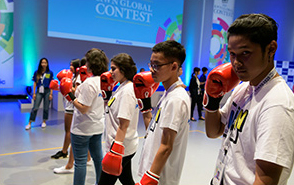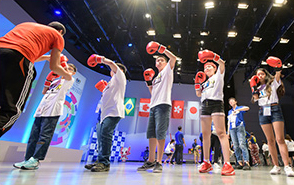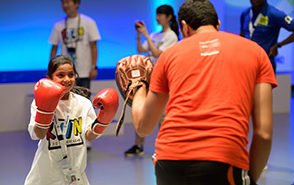 Creating Art Banner

Lecturer Christel is a long jump athlete, but also an artist. All the kids made three KWN banners to hang at the award ceremony. First, kids in the Secondary category expressed key messages of the Tokyo 2020 Olympics, such as "Excellence", "Friendship" and "Respect," alongside the KWN logo, and added illustrations. Afterward, kids in the Primary category completed the banners with illustrations and origami. The wonderful banners fully showed the kids' emotions.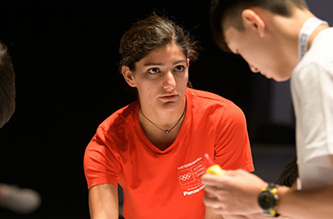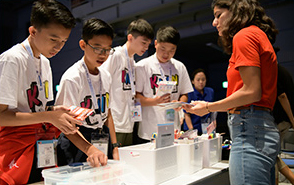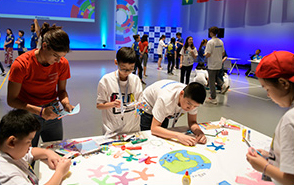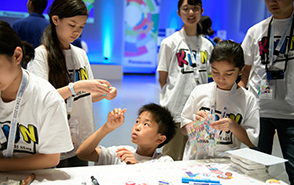 Kids were divided into Primary and Secondary categories, and everyone watched videos from each country. Before viewing them, each group leader made a speech in English introducing the highlights of the videos and the points they had struggled. After viewing all of them, they voted to choose the top three videos.

In speeches, it was impressive how the kids expressed their feelings about the videos they made and the messages they wanted to convey to people.
Jerome and David from Malaysia spoke about the importance of education in poor areas, and Chloe from Canada, who participated alone, gave a marvelous speech on things kids can do to address environmental problems. During a short break, kids got to know each other better in a friendly atmosphere, teaching kids from other countries about how to use toys from their own countries and so forth. Kids interacted without hesitation, even if they didn't understand one another's language, and there was a strong sense of energy for the future.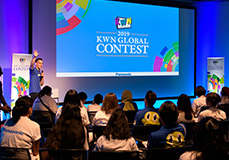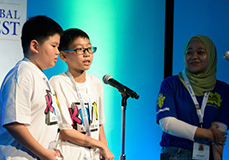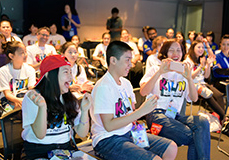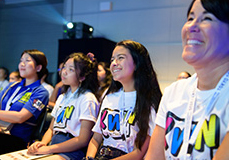 As in the Primary category, speeches from each country showed an impressive stance of conveying a passion for video and the message it wants to convey. The first speakers were Alan and Harry from Hong Kong, who spoke about the importance of communication and relationships between parents and children, focusing on cases where children get involved with drugs. K and Kim from Thailand spoke about the joy of living for one's family even in times of hardship.
The Secondary category videos dealt with a lot of real-life content related to current social problems, and some kids cried after viewing them. During the short break, kids managed to communicate their impressions to one another in English, and communicated with kids from Tachikawa School for the Deaf using sign language they learned on the first day.