Support for Every Individual: Gender Equity
The Panasonic Group has introduced a Role/Grade System in which employee benefits are determined based on the work or role they currently perform. In this compensation system, there are no disparities based on gender, gender identity, or other individual attributes. We are also working to maintain the diversity of our managerial staff, ensuring that senior positions are filled by people from all walks of life.
Learn more about our efforts to ensure diversity, including support for employees raising children or caring for family members.
Click here for more information about the Group DEI Forum held under the slogan, "Dialogue. Discovery. Appreciating Differences."
Study session for female employees: Career Stretch Seminar
In the Japan region, we offer training for female employees to improve their leadership and practical management skills with a view to becoming active in management positions. Many female employees participate in the training to improve their own skills, such as by experiencing the values and work perspectives of internal and external instructors, learning deeply about the company's strategic direction, and considering new challenges for themselves.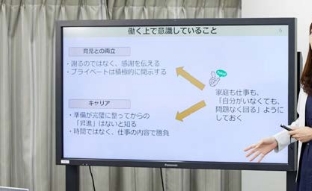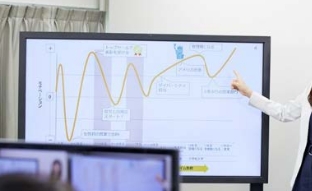 Community activities for female employees
There are various themed communities within the Panasonic Group. One of them is the Panasonic Women's Network, which aims at facilitating networking and information sharing among women working in the Panasonic Group. With the vision of providing a platform for women to inspire and encourage each other to shine, about 530 people participate in the network with the goal of eliminating gender-based bias that hinders positive feelings and actions.
Through events such as the Women's Leader Talk Relay, we aim to connect and inspire each other, expand our possibilities, and challenge ourselves, thereby expanding not only our own possibilities but also those of the company as a whole.