Way of Thinking about Biodiversity
Our social lives and business activities are based on various benefit provided by the natural capital (ecosystem services). It has been recognized that conservation of biodiversity is as important as measures for climate change and resource recycling and they are closely linked each other in establishing a society where humans and nature coexist in harmony which is a long-term vision of the Sustainable Development Goals (SDGs) and the United Nations Convention on Biological Diversity.
In accordance with "the Green Plan 2021" started in fiscal 2020, we implemented activities to achieve the following three targets, while considering the aspect of social contribution.
Green Plan 2021 (Continuing efforts): Biodiversity conservation
| Targets | | SDGs |
| --- | --- | --- |
| Sustainable procurement of raw materials | Promote sustainable procurement of wood and paper, etc. | 12,13,15,17 |
| Utilization of greenery in business sites (land use) | Utilize greenery in business sites, considering conservation of biodiversity | 13,15,17 |
| Products and services | Offer products and services that contribute to conservation of conservation | 11,12,15,17 |
"The Green Impact Plan (GIP) 2024", which we started this fiscal year, recognizes the recent global trends in biodiversity. This trend can be particularly noted by "the G7 2030 Nature Compact", which commits to the global mission to hold back further loss of biodiversity and reverse biodiversity loss by 2030, and calls for the world to become "nature positive". Taking the G7 2030 Nature Compact statement, we incorporated the concept of nature positive deeply into our business activities by setting the GIP 2024 targets as "Aiming to be nature positive—Reduce and recover impact from our business activities on the ecosystem", so that we are more aware of environmental efforts to be incorporated with our business activities. We will continue to take actions in the 3 areas of sustainable material procurement, greening business premises, and products and services, taking advantage of our achievements up to now.
Hereafter, we plan to clarify our business dependency and impact on nature in relation to the Taskforce on Nature-related Financial Disclosures (TNFD), Science-Based Targets for Nature (SBTN), and "the post-2020 global biodiversity framework (Post 2020, or Post Aichi Targets)" that will be adopted in COP15 2022, and implement activities to disclose relevant information.
* "The GREEN IMPACT PLAN" that is reviewed and revised every three years is equivalent to the Biodiversity Action Plan (BAP) under the Convention on Biological Diversity

Initiatives for Sustainable Procurement of Raw Materials
Firstly, we plan to include our consideration for biodiversity protection in Procurement Department's "Green Procurement Standards" to ensure that these practices are carried out across our whole supply chain.
In regard to procurement for wood, we discussed extensively with World Wide Fund for Nature (WWF) Japan over our green procurement; and formulated the "Panasonic Group Green Procurement Guidelines for Wood" aiming for conservation of biodiversity and sustainable use of natural resources in 2010. Based on these guidelines, we conduct an annual survey on wood material procurement among our suppliers.
In fiscal 2022, we exchanged opinions about sustainable material procurement with WWF Japan. In the discussion with WWF Japan, we confirmed growing importance of environmental and social (human rights) considerations, in addition to importance of compliance with laws and regulations for our timber procurement. This discussion also gave us an opportunity to think about future measures.
Exclusion of timbers and wood materials whose regulatory compliance in their logging has not been confirmed (Category 3)
The survey results in fiscal 2022 are as follows.
Green Procurement Guidelines for Wood Consulted and Formulated with WWF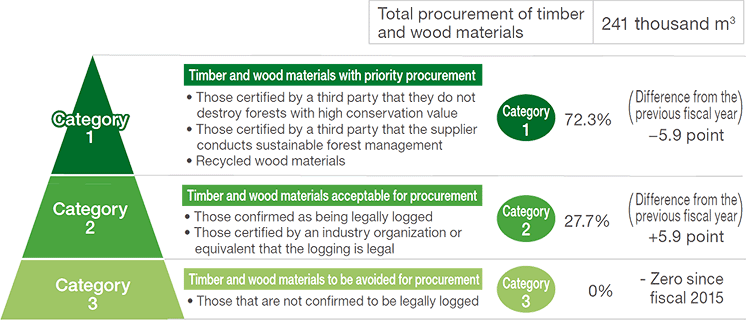 Once an ecological network that connects greenery in our business divisions, neighboring woodlands and parks is formed, living things such as birds, butterflies, and dragons in each area can move around wider areas for flowers and water through the ecological networks, and their habitats are expanded. Green areas in our business divisions have a lot of potential to contribute to conserving biodiversity in that area. In particular, hardly any natural environments where wild animals can live and breed remain in urban areas. Therefore, even small areas of green in corporate premises can become a precious habitat of a variety of living things if they have indigenous vegetation and a watery environment.
Acquisition of Eco-Certification Based on Quantitative Evaluation from external accredited body
Panasonic Corporation's Living Appliances and Solutions Company's (LAS) Kusatsu site in Shiga Prefecture, obtained an eco-certificate from the Association for Business Innovation in harmony with Nature and Community (ABINC)*1 in March 2018, as a business site for its contribution to biodiversity. In the course of assessment, we received high ratings for how we are making green corridors to be suited to diversified living creatures by appropriately conserving the natural environment, keeping invasive non-native species under proper management by continuously monitoring to understand their status, and the active use of woodland nearby the factory, in liaison with external eco-related organizations and local people, such as the local public bodies and primary school students.
In the monitoring survey we have conducted since 2011, 840 species of flora and fauna were confirmed. At the same time, the survey result has indicated that the woodland is an important biotope in the area where urbanization is taking place, which contributes to the formation of local ecological networks. In addition, our continuing implementation of the environmental learning program on acorns for elementary school students was highly evaluated; and won an Award of Excellence in the 2nd ABINC award held in January 2020, as an 'activity contributing to the biodiversity mainstreaming'"
<External certifications and awards>
Acquired three stars under the Shiga Biodiversity Action Certification Program (2018)*2
Acquired ABINC certification (March 2018) and renewed the certification (February 2021)
Received an Award of Excellence in the 2nd ABINC Awards (January 2020)
*1 ABINC is a certification system by third-party evaluation on greenery improvement and management at business divisions based on the land use score (biodiversity quantitative assessment tool in environmental assessment) and Guidelines for Sustainable Business Sites developed by the Japan Business Initiative for Biodiversity (JBIB).
*2 Shiga Biodiversity Action Certification Program is the first system in Japan for rating wide range of activities conducted by business enterprises in the area of biodiversity conservation with 1 to 3 stars granted by governor.
In March, 2022, LAS joined "Global Ocean Alliance 30by30" initiated by Japan's Ministry of Environment, which is a global initiative to protect at least 30% of the global ocean as Marine Protected Areas (MPAs) and Other Effective areabased Conservation Measures (OECMs)*3 by 2030, as LAS considered Sustainable Forest can contribute to it. LAS plans to implement activities to have its greenery verified as a contributor to the 30by30 OECMs. LAS also announced its participation in the "Conservation Site for Human-Nature Symbiosis" (tentative name) certification trial program led by the Ministry of the Environment; and will provide support in the trial and verification of the program screening process.
*3 OECM: Other Effective area-based Conservation Measure Areas other than national parks and other already protected areas that would contribute to biodiversity protection, such as shrine or temple woodlands, woodlands owned by companies or which form part of company premises, rural village zones, etc. Japan's 30by30 would include national parks and other protected areas to achieve protection of 30%.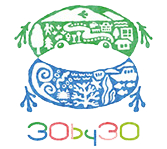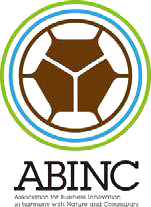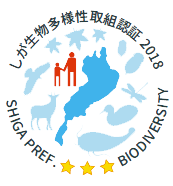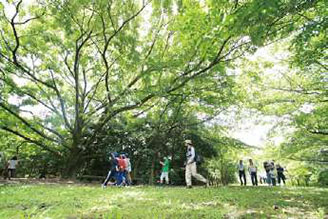 The Matsumoto Factory of the Panasonic Automotive System Co., Ltd.*4 obtained rank A in the JHEP (Japan Habitat Evaluation and Certification Program)*5 in September 2015. Although the certification is not renewed as of now, thanks to the grassland of Japanese pampas grasses improved at that time, the placement of snags, and the exclusion of non-native species, increase in the number of breeding birds and insects has been steady. We are continuing the activities for conservation of biodiversity in the green areas at this business site.
*4 The company name: Automotive & Industrial Systems when it received the certification
*5 A quantitative biodiversity assessment method developed by Ecosystem Conservation Society Japan based on the Japan Habitat Evaluation and Certification Program (HEP) used for environmental assessments.
Initiatives for Products and Services
Contributing to Biodiversity Conservation through Lighting
Lighting Business Division of Electric Works Company, Panasonic Corporation develops and sells lighting products that care for the environment and biodiversity.
LED Insect Attractor (Product name: Mushi Keeper)
An insect attractor lures insects away from shops, warehouses, and sports fields, where they gather because of the lights, in order to reduce damage and nuisance caused by insects. Conventionally, the device attracted insects with a UV fluorescent lamp and killed them with a high voltage grid. In June 2021, the company launched an LED insect attractor (Mushi keeper). The product's UV and blue LED lights attract and retain insects, enabling reduction of insect damage and without killing them. This helps protect the ecosystem as the insects can return to nature.
Conventional insect killers emitted light in all directions, attracting excessive insects. However, this newly adopted LED can emit light in the desired direction only, contributing to protecting biodiversity by its efficient insect attraction. The LED insect attractor has been confirmed to have a higher performance of insect attraction according to the insect attractiveness index.*6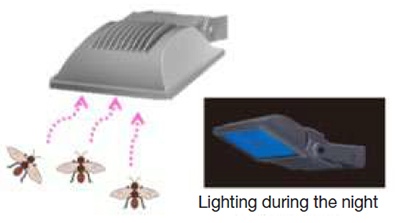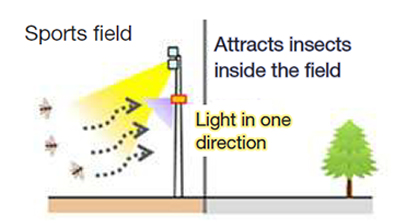 *6 The insect attractiveness index is a theoretical index and does not represent the actual number of insects attracted by the light. (Source: AOKI, S. et al. (2005) Evaluation of Insect Attractiveness by New Index. Proceedings of 2005 Annual Conference of The Illuminating Engineering Institute of Japan, 284.)
Developing IDA-certified LED Light
An LED security light and street light designed by the Lighting Business Division to minimize light pollution were approved as Dark Sky Friendly Lighting by the International Dark-Sky Association (IDA)*7 in February 2020. This was the first such achievement by a Japanese manufacturer*8. One of the approval criteria requires that lighting must have a correlated color temperature of 3,000 kelvin and lower (warm color) not only to reduce light pollution but also to lessen any adverse impact on wildlife.
*7 As IDA-certified lighting made by a Japanese manufacturer (according to IDA Tokyo, as of February 20, 2020).
*8 The International Dark-Sky Association: The leading global organization addressing light pollution.
"Guidelines for Countermeasures against Light Pollution" (issued in March, 2021), by Japan's Ministry of Environment. Panasonic Group cooperated to formulate the guidelines.

Firefly-Friendly Street Lighting
Preceding our IDA-certified LED light, we had already developed an LED light with a spectrum and optical properties that had less impact on fireflies in 2016 and installed the LED lights on streets in different municipalities. According to the study made in Numama, Zushi City, Kanagawa Prefecture, the number of fireflies observed increased from 68 in the previous year to 145*9.
*9 The light was designed purely to minimize disturbance to the firefly habitat and does not guarantee for improving growth of fireflies or increase of the population.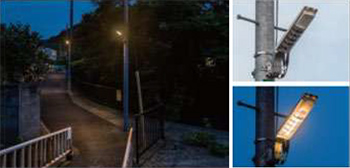 Floor Board Substrate Made of 100% Recycled Wood from Construction Wastes
Panasonic Housing Solutions Co., Ltd. is working to reduce usage of natural resources to conserve the forest. Fit Board is a new eco-conscious product that uses 100% recycled wooden material (excluding glue) made from construction waste in a wood-based flooring substrate.
Development of World's First Recycled Wood Board Technology for Utilization of Wood Wastes from Oil Palm Trees*10
In March of fiscal 2022, we published the world's first technology to produce recycled board from wood wastes from oil palm trees as "PALM LOOP"*11 and started market verification in the domestic furniture area.
We can contribute to reducing methane gas and other GHG generated from decaying wood wastes from oil palm trees if they are left as they are.
We developed a technology to produce recycled wood board from wood wastes from oil palm trees.
We can prevent deforestation for creating new farming areas through utilization of recycled wood waste material.
We will contribute to alleviating global warming by reducing "GHG emissions" and preventing "deforestation".
*10 Based on our research as of March 2022.
*11 "PALM LOOP™" is a trademark of Panasonic Corporation.
Conservation of Biodiversity through Collaboration with and Support for NGOs and NPOs
Introduction of MSC-ASC certified sustainable seafood at employee canteens
Panasonic Group has been involved in marine protection activities*12 for some 20 years through collaboration with WWF Japan. Main activity at present is continual supply of MSCand ASC-certified*13 sustainable seafood*14 to employee's canteens that started for the first time in Japan at Panasonic headquarters in March 2018. As the same as last fiscal year, the number of employees work in the office decreased due to the COVID-19 pandemic. This led to the temporary closure of canteens and a significant reduction of menu items, as well as suspending the sustainable seafood menu in nearly half of the applicable canteens. As difficulties continued, sustainable seafood was newly introduced to only two of Panasonic Group sites this year, making an accumulated total of 54 sites. Note that as for our continued support for other companies adoption of sustainable seafood into their canteens, the number of adopting companies is steadily increasing. The running total of the canteens of partner companies using sustainable seafood has exceeded 50, making more than 100 when combined with our Group's accumulated total.
In addition to corporate canteens, Yokohama City University COOP has obtained the MSC-ASC certification with Panasonic Group's support and collaboration, towards the first adoption of sustainable seafood to a university canteen in Japan. Sustainable seafood is now creating a new trend and is expanding its market.
Our aim is to encourage behavioral reform in our employees and the public in general to make a sustainable choice in their eating habits through expanding a sustainable seafood menu in corporate canteens and the like, through publicity. In this way, we are contributing to SDG 14 "Conservation of richness of marine life" and helping to make the topic of biodiversity mainstream.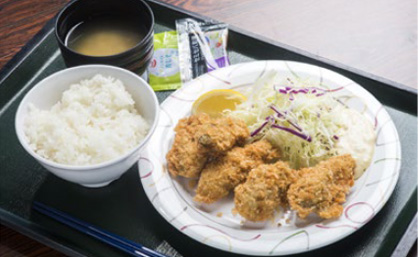 Partners and Canteens That Have Adopted Sustainable Seafood (Accumulated)
FY2018
FY2019
FY2020
FY2021
FY2022
No. of sites with sustainable seafood menu
2
12
42
52
54
No. of certified catering companies
(Partners proposed by the Panasonic Group only)
1
6
11
13
17
No. of adopting companies (Panasonic Group partners only)
0
2
4
4
9
No. of adopting sites under the above companies(Panasonic Group partners only)
0
5
27
38
51
Champion in the Initiative Category of the 1st Japan Sustainable Seafood Awards (November 2019)
*12 Including supports for the conservation of the tidal flats in Ariake Sea (2001 to 2006) and the Yellow Sea Ecoregion (2007 to 2015).
*13 MSC certification is certified by Marine Stewardship Council for sustainably and properly managed fisheries. ASC certification is certified by Aquaculture Stewardship Council for responsible fish farming to minimize environmental load on the environment and society.
*14 Seafood that has been certified sustainable production with MSC and ASC certification and managed under CoC certification*15
*15 CoC is the acronym for Chain of Custody. Certification on securing management and traceability in processing, distribution, and marketing.
Promotion of activities for conservation of biodiversity around the world through NGOs and NPOs
Continuing protecting satoyama and rivers through citizen networks
Panasonic Group companies located in Japan, and their labor unions and retiree association conduct a variety of environmental protection activities as Panasonic Eco Relay Japan (PERJ) in a one team.
Since its foundation in October 2010, PERJ has been working with a variety of stakeholders*16 to conserve local environments through efforts such as Hirakata City Hotani Satoyama Conservation Activity; Tanba Sasayama City Unitopia Sasayama Satoyama Revitalization Activity; Kadoma City Eco Network Activity; and Osaka City Yodo River and Johoku Wand*17 Conservation Activity. During these years, we have received the following awards in recognition of our contribution to nurturing the next generation to act for the environment under collaborations with local companies, universities, and citizen groups. These activities are for the purpose of biodiversity conservation, however, the cleaning activities at the rivers reduce marine plastic wastes which are directly flowing into oceans. For this reason, we will continue to promote these activities in the future.
Hirakata City Environment Award (February 2018)
Biodiversity Action Grand Prize (December 2018)
Kadoma City Environment Award (February 2019)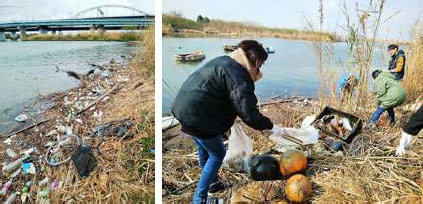 *16 Wand is terrain just like a small pond surrounded by river structures, although Wand is connected to a main stream of the river. Wand provides stable habitats for fish and other aquatic life, and at the same time, it is breeding grounds for a variety of plants.
*17 Collaborating with numerous stakeholders, including NPOs, citizen groups, universities, administrative bodies, local governments, research institutes, corporations, and local farmers.
Participation in Biodiversity Initiatives
Panasonic Group have been participated in biodiversity initiatives and related industry organizations, as shown below. This is to accurately understand biodiversity policies in Japan and global trends concerning biodiversity, such as the Post-2020 Biodiversity Framework of the Convention on Biological Diversity, TNFD, and SBTN through study meetings. We feed these domestic and global policies back into Panasonic Group businesses and assess opportunities and risks. We also make an appeal about activities by Japanese corporations through the Convention on Biological Diversity under the COP.
Keidanren Committee on Nature Conservation: Keidanren Initiative for Biodiversity Conservation. Panasonic Group also participates in the initiative.
Japan Business Initiative for Biodiversity (JBIB)
Biodiversity Conservation Committee of the Japan Association of Industries and Environment
Biodiversity Working Group of four Electrical and Electronic Industry Associations*18
Additionally, our business divisions are participating in the Clean Ocean Material Alliance (CLOMA) to accelerate innovation in solving marine plastic waste issues.
*18 Four industry associations: The Japan Electrical Manufacturers' Association (JEMA), Japan Electronics and Information Technology Industries Association (JEITA), Communications and Information Network Association of Japan (CIAJ), and Japan Business Machine and Information System Industries Association (JBMIA).