Promoting Regional Environmental Sustainability Management
In the Panasonic Group, each Regional Headquarters, sales company, manufacturing company, or other Panasonic entity plans and implements its own environmental sustainability activities in line with its own local environment issues and business characteristics, based on the annual environmental management policy set by the Group. The scope of the plan is not limited to reducing environmental impact, complying with environmental legislation, or preventing environmental risks. In fact, the plan covers a variety of matters including resolving environmental issues through business activities in collaboration with local business partners and promoting social contribution activities in coordination with local communities. We are working globally to build a more sustainable society.
South East Asia & Pacific
Panasonic Vietnam Group Companies Received Awards for its Contributions to Vietnam's Sustainable Development
Panasonic Vietnam Group Companies received the Top 100 Sustainable Enterprises in 2021 from the Vietnam Chamber of Commerce and Industry for the efforts in contributing to the wellness and sustainable development of Vietnam. Since its establishment in Vietnam 50 years ago, Panasonic has always strived to propose solutions to social problems, leveraging on the strengths of our technology and manufacturing experience to contribute to a healthy, safe and comfortable life for Vietnamese people and the sustainable development of the country. Panasonic has also been implementing Corporate Social Responsibility activities focusing on environmental conservation and development of future generations. Panasonic has donated 250,000 trees in 10 provinces/ cities over 8 years through the "Panasonic for a Green Vietnam" program in collaboration with the Ministry of Natural Resources and Environment. Panasonic has also established Panasonic Risupia Vietnam, a non-profit educational community center, to educate and inspire future generations to continue the country's sustainable development journey.
Panasonic also received the Most Energy Efficient Products 2021 from the Ministry of Industry and Trade for four of the washing machine models, which energy efficiency have exceeded the highest energy efficiency level in the current Vietnam standards.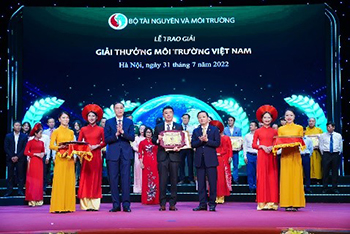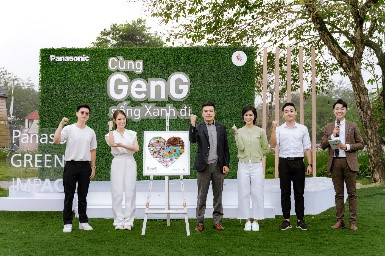 Eco Learning Program in Thailand
Panasonic Thailand Group (Panasonic Thailand Co., Ltd., Panasonic Motor (Thailand) Co., Ltd., Panasonic Automotive Systems Asia Pacific Co., Ltd. and Panasonic Ecology Systems Thailand Co., Ltd.) has continued with their corporate social responsibility (CSR) efforts to raise awareness on environmental issues and COVID-19 preventive measures among students at Watbangpreang School in the Samuthprakan Province. Panasonic employees conducted classroom lessons and hands-on activities for Grade 5 – 6 students to learn more about waste segregation and 3Rs, green technology and daily practices to protect themselves and their families from COVID-19. To further support the school on their efforts in curbing the spread of COVID-19, 500 antigen test kits, 6 gallons of alcohol sanitizers and educational materials were donated.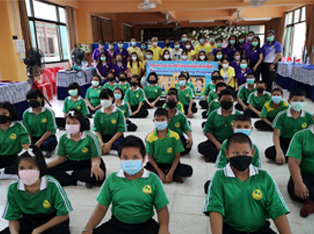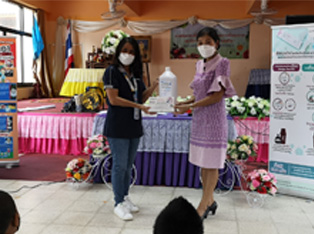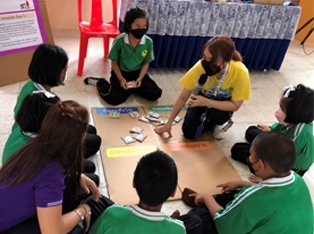 Air source heat pump updates conventional heating system to reduce air pollution
Heat pump technology is a new energy technology that has been attracting attention in recent years. A heat pump is a mechanical device that captures low-grade heat energy from outside air, water, and soil, or waste heat generated by industry and transfers it to higher heat sources with a small amount of energy, effectively reducing fossil energy consumption.
In 2021, Panasonic Appliances Refrigeration System (Dalian) air source heat pump products participated in the Shanxi Coke Group's Winter Heating Project for the Huipodi and Sankahe coal mines in Hongtong, helping companies use clean energy for winter heating. The two mines use a total of 121 heat pumps to heat an area of 102,300 m2. Annual CO2 emissions can be reduced by 16,700 tons compared to standard coal. This means that with the operation of such heating systems, these mining areas can use a green and environmentally-friendly mode of heating that is safe, clean, convenient, and free of risks.
Panasonic Appliances Refrigeration System (Dalian) air source heat pump products were used in a major logistics center project at the Beijing 2022 Winter Olympic and Paralympic Games. Using 10 Panasonic RSO-CC500L2X heat pumps and 156 end units, the project reduced CO2 emissions by 1800 tons per year compared to standard coal. Panasonic's air source heat pump products, which offer benefits such as energy conservation, noise reduction, and frosting, have been applied to world-class projects for the first time and represent another milestone in the development of Panasonic's hot and cold industrial chain.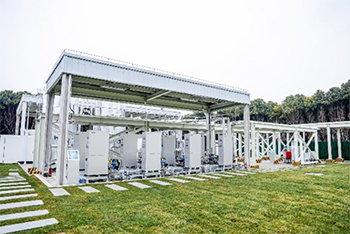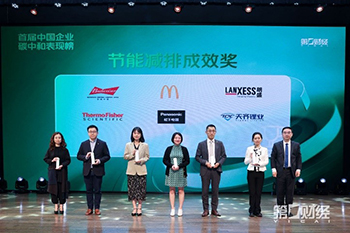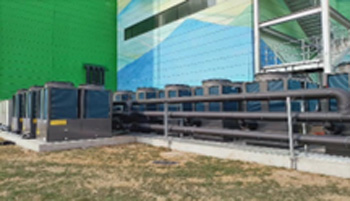 Aggressive measures to achieve zero CO2 plants
On May 27, 2021, the Panasonic Group announced the plan to realize zero CO2 emissions at all operating companies by 2030. The CNA region is actively promoting zero CO2 plants that reduce CO2 emissions to virtually zero by accelerating energy conservation efforts, expanding the use of renewable energy, and procuring renewable energy. Currently, three companies–Panasonic Energy (Wuxi), Panasonic Manufacturing (Beijing), and SANYO Energy (Suzhou)–have achieved zero CO2 emissions in the CNA region.
As an example, SANYO Energy (Suzhou), which became the first company in the CNA region to achieve zero CO2 emissions in FY 2021, did so as a result of expanded production through the following measures.
Promotion of energy conservation activities
Use of central heating instead of boilers
Modification of permanent magnets for high-power motors
Reduction of unnecessary lighting and replacement of fluorescent tubes with LED lamps
Modification of variable frequencies of major energy consumption facilities
Inner wall coating of the cooling water pump reduces resistance and improves energy efficiency Expansion of renewable energy
Expansion of renewable energy
Introduction of 2.74 MW PV generation system to produce cleaner, renewable energy
Procurement of renewable energy
The plant obtained an international green certificate (I-REC) by establishing a renewable energy procurement channel through the international green certificate
On April 1, 2022, the Panasonic Group announced that it would aim for net-zero CO2 emissions across the Group's value chain and a reduction impact of more than 300 million tons by 2050, or approximately 1% of the current total global CO2 emissions (approximately 33 billion tons). The CNA region will continue to contribute to the achievement of the Panasonic GREEN IMPACT targets through the construction of zero-CO2 plants, energy reduction, and the expansion of clean energy.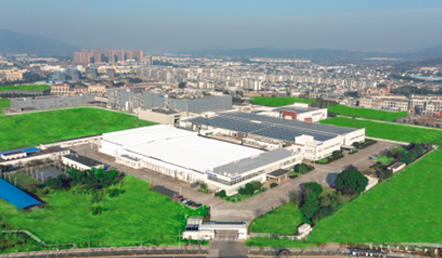 Photovoltaic systems installed at office buildings of Pana Panasonic Industry Europe in Ottobrunn (Germany) and Rotkreuz (Switzerland) to generate electricity for own electricity consumption.
At Panasonic in Ottobrunn near Munich (mainly Panasonic Industry Europe, Panasonic Electric Works Europe, Panasonic Life Solutions Europe), a large photovoltaic system has been installed to produce electricity through renewable sources. The system has a size of 570 solar panels, covering an area of 900 m2 on the roof of the buildings.
The system is planned to generate 180 kW peak and the electricity generated will be used directly onsite and thereby the objective is to make a strong contribution to the UN Sustainable Development Goals (SDGs) and in particular climate change mitigation and of course the Panasonic GREEN IMPACT.
As well at Panasonic Industry Switzerland, located at Rotkreuz, a photovoltaic system has been installed. It consist of 80 panels on the roof of the building.
Panasonic Industry in Switzerland has set itself the target to cover at least 80% of its energy consumptions through renewable sources. And with an expected annual yield of 24.000 kWh, that objective will be more than achieved,.
Annual yield of 24 kWh, which is more than is being consumed by PIEU.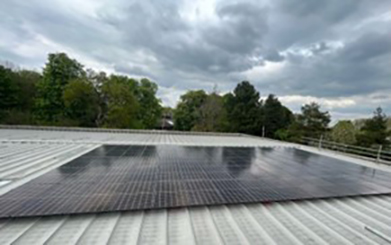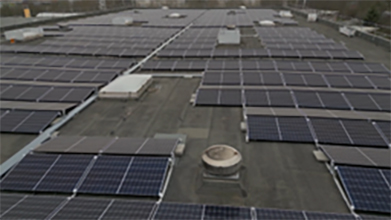 PASA roadmap to achieve CO2 zero emission
Panasonic Automotive sites in America since a few years ago started to work in the definition of our roadmap to achieve zero CO2 emission. In 2021 a treasure hunt event was initiated to identify energy saving opportunities, the result of this event was amazing and was developed a pool of projects using a multidisciplinary team. For example: changing to LED lighting solutions, adding timers to lighted arears, improving efficiency of equipment such as air compressors, shutting lines off when not in production, changing the set temperature for air conditioning equipment, HVAC filter replacement and cleaning, air compressor leaks hazard hunt, re distribution of air conditioning spaces and change of HVAC equipment for equipment with high efficiency.
This activities leaded PASA to achieve 24% improvement vs our environmental goal (Reduce 1% vs FY20 CO2 tons emission per 1000 units produced). The 3 manufacturing sites are ISO 14001 certified sites and as well are working on environmental initiatives looking to improve efficiency regarding water use, waste generation and hazardous materials use. Additionally, as part of the employee awareness there was an environmental campaign "Act, be aware and transcend" looking to empower the Panasonic employees to;
Develop environmental activities that contribute to improve environmental performance efficiency including home activities,
Participate in environmental contest, learning and teaching environment sustainability to new generations.
Generating opportunities to transcend just like plant trees or ecological hikes.!

Panasonic Joins Clean Energy Buyers Association (CEBA)
Panasonic has joined the Clean Energy Buyers Association (CEBA) as part of its expanded focus on clean energy initiatives, and to help advance its environmental sustainability goals in North America and around the world. As an energy customer member of CEBA, Panasonic aligns with the global alliance of peer companies, energy developers and service providers seeking to unlock the marketplace for energy customers and lead a rapid transition to a carbon-free energy future.
As member of CEBA, Panasonic gains admission to numerous assets to support its environmental sustainability journey including education materials for all members of the company, collaboration on innovative solutions, exclusive events, and the opportunity to share and amplify the company's market leadership across the industry.
Panasonic officially became a member of CEBA on February 8, 2022.
Panasonic Eco Systems North America Earns 2022 ENERGY STAR&reg Partner of the Year Sustained Excellence Award for 12th Time
Panasonic Eco Systems North America, a division of Panasonic North America, has received the 2022 ENERGY STAR Partner of the Year Sustained Excellence Award from the U.S. Environmental Protection Agency and the U.S. Department of Energy. This is the 12th successive year that Panasonic has won this award.
Each year the ENERGY STAR program honors a group of businesses and organizations that have made outstanding contributions to protecting the environment through superior energy achievements. ENERGY STAR award winners lead their industries in the production, sale, and adoption of energy-efficient products, homes, buildings, services and strategies. These efforts are essential to fighting the climate crisis and protecting public health.
Winners are selected from a network of thousands of ENERGY STAR partners. ENERGY STAR® is the government-backed symbol for energy efficiency, providing simple, credible, and unbiased information that consumers and businesses rely on to make well-informed decisions. Thousands of industrial, commercial, utility, state, and local organizations – including more than 40 percent of the Fortune 500® – rely on their partnership with the U.S. Environmental Protection Agency (EPA) to deliver cost-saving energy efficiency solutions. Since 1992, ENERGY STAR and its partners helped American families and businesses avoid more than $500 billion in energy costs and achieve more than 4 billion metric tons of greenhouse gas reductions.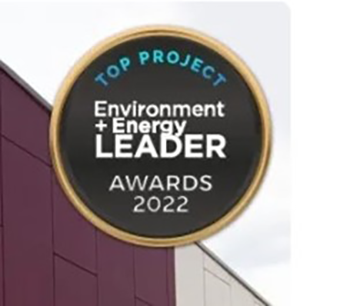 Call2Recyle named Panasonic Corporation of North America and Panasonic Canada Inc as recipients of the annual Leader in Sustainability Award
Panasonic is a 2021 top 100 Leader in Sustainability recipient for diverting more than 11,000 pounds of batteries in 2021 through the Call2Recycle battery collection and recycling program.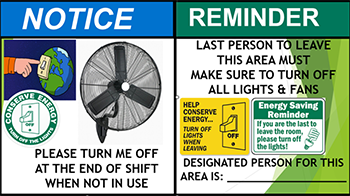 Panasonic Brasil Partners with Pontoon Clean Tech to Promote Use of Renewable Energy
Panasonic Brasil (PANABRAS) is partnering with Pontoon Clean Tech, a Brazilian company specializing in clean technology, on solar power generation. Since 2024, more than 60% of the company's energy consumption has come from its own solar power generation.
The power will be generated from a solar power plant (generating capacity 500 MWp) in Maurich, Ceara, and the electricity supplied will cover about 65% of the energy consumed by the Estrema plant. Pontoon Cleantech will provide the electricity to build, manage and operate the solar power plant at a cost of 1.6 billion reals (about 41.6 billion yen, 1 real = 26 yen). Construction of the solar power plant is scheduled to begin in 2022 and be completed by the end of 2023.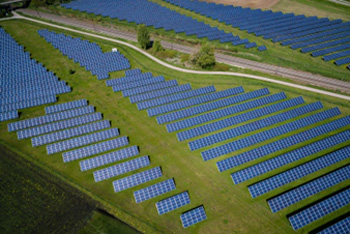 Panasonic launches Eco Disposal service for post-consumption of White Goods
The project, started in January of this year through the "company's Exchange & Refund Policy", works towards the reverse logistics of large items (refrigerators and washing machines), preventing these materials from being disposed irregularly and contaminating the environment. Products are collected from customers' homes, accounted for and stored. Panasonic Brazil bears all the logistics collection charge. And, after this process, ABREE - Brazilian Association for Recycling of Electronics and Appliances, Panasonic's partner, carries out the environmentally correct disposal of electronic products and post-consumption appliances.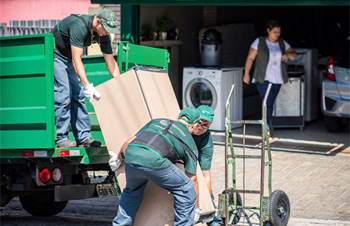 India, South Asia, Middle East & Africa
Initiatives for Sustainable Global Environment- Panasonic India Private Limited
To achieve a 'better life' and 'a sustainable global environment', Panasonic strives towards creation and more effective utilization of energy which extends the amount of energy used, aiming for a society with clean energy and a more sustainable lifestyle.
For sustainable global environment, Panasonic undertook multiple activities in in FY 2020.
Harit Umang: On the occasion of Panasonic's Centenary, Panasonic India launched Harit Umang (Joy of Green) in February 2019, initiative was active in FY 2020 which aims to create awareness and sensitization on adoption of Green Practices with the vision of "A Better Life, A Better World". The program aims to impart knowledge about Best Green Practices to students by engaging Schools, Universities and Resident Welfare Associations (RWAs) in Delhi National Capital Region in India.
Under Harit Umang Initiative, Diwali Wali Safai campaign was organized on Diwali festival. Intending to build a greener ecosystem and deliver a better tomorrow for the coming generations, Panasonic India launched an awareness campaign, #DiwaliWaliSafai on responsible disposal of E-waste. Marking the International E-Waste Day, the campaign encourages consumers to be more responsible this Diwali with their cleaning by giving their old unused electronic devices for recycling.#DiwaliWaliSafai by Panasonic is an endeavor to not only educate but also help consumers to responsibly dispose their E-waste by offering free of cost home pick-ups for large appliances and assistance in identifying closest collection centres.