Promoting Regional Environmental Sustainability Management
In the Panasonic Group, each Regional Headquarters, sales company, manufacturing company, or other Panasonic entity plans and implements its own environmental sustainability activities in line with its own local environment issues and business characteristics, based on the annual environmental management policy set by the Group. The scope of the plan is not limited to reducing environmental impact, complying with environmental legislation, or preventing environmental risks. In fact, the plan covers a variety of matters including resolving environmental issues through business activities in collaboration with local business partners and promoting social contribution activities in coordination with local communities. We are working globally to build a more sustainable society.
South East Asia & Pacific
Panasonic Vietnam Receives National Environment Award 2021
On July 31, 2022, Panasonic Vietnam was honored with the Vietnam National Environment Award 2021 by the Ministry of Natural Resources and Environment, marking a very special milestone in its first year of the next 50-year journey in Vietnam during which time the company has pledged to realize wellness and sustainable development for the people of Vietnam.
Placing a strong focus on environmental protection and sustainability, Panasonic Vietnam has been developing proprietary technologies and initiatives to improve energy efficiency, eco-friendly products and reduce CO2 emissions from manufacturing and all related activities. Various green factory initiatives have helped cut down more than four million KW of electricity a year, equivalent to 1,730 tons of CO2, and its energy-saving and environment-friendly washing machine products have been recognized as one of the Most Energy Efficient Products by the Ministry of Industry and Trade for two consecutive years (2020-2021).
Panasonic Vietnam has focused on environment and education as the two key pillars for sustainable development in business as well as various CSR activities. Since 2013, Panasonic Vietnam has cooperated with Vietnam's Ministry of Natural Resources and Environment to plant trees in 10 provinces, donating more than 250,000 trees to reduce CO2 emissions, protect the environment, and generate economic value for people of the region. In another nationwide program, 50,000 used batteries have been collected and exchanged for free Panasonic eco-batteries, and 20,000 non-toxic Panasonic eco batteries have been gifted to local people to promote environmental protection. The company also conducted environmental education classes for 19,583 students to help raise their awareness for reducing waste and to promote sustainable living.
Panasonic also received the Most Energy Efficient Products 2021 from the Ministry of Industry and Trade for four of the washing machine models, which energy efficiency have exceeded the highest energy efficiency level in the current Vietnam standards.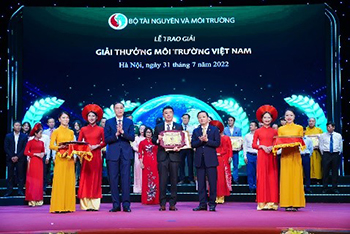 Panasonic Launches the Campaign "Live Green and Wellness with Gen G" towards a Green, Wellness and Sustainable Lifestyle for Young Generations, Pioneering in Solving the Problem of Global Warming
December 4, 2022 - Panasonic Vietnam officially launched its "Live Green and Wellness with Gen G" campaign to inspire young Vietnamese people as well as other members of the public to lead an environment-friendly and comprehensively healthy lifestyle, actively contributing to the wellness and sustainable development of Vietnam.
The "Live Green and Wellness with Gen G" campaign is one of many initiative being undertaken toward realizing the Panasonic Group's commitment to "Panasonic GREEN IMPACT".
"With Panasonic GREEN IMPACT, we see our pioneering role in tackling the issue of climate change through our business and CSR activities. This program invites Vietnamese young people to join in 'Gen G'—our new concept of a Leading Green Generation. Gen G will become the new definition of cool lifestyles for young Vietnamese people, full of energy, empowerment, knowledge and skillsets needed to ACT GREEN and LIVE WELLNESS not only for themselves, but for the whole community and society."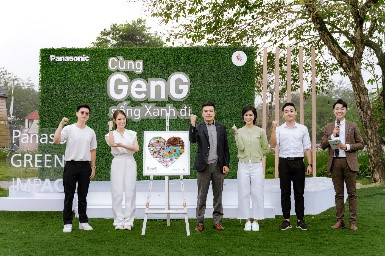 Model hydrogen battery project China Wuxi Energy's plant (PECW) begins official operation
In February 2022, Panasonic Energy Wuxi (PECW) started demonstration tests of a pure hydrogen fuel cell that supplies electricity and heat. PECW achieved net 0 CO2 emissions in fiscal 2021 by promoting energy conservation, installing solar panels, and procuring renewable energy. The pure hydrogen fuel cell to be tested this time will begin with a 30 kW small-scale power generation system consisting of 6 connected 5 kW models with high power generation efficiency, and over the medium to long term, we aim to commercialize a medium scale of 300 kW and a large scale of 1 MW. A pure hydrogen fuel cell system can supply electricity and heat, and in the summer, hot water can be supplied to a lithium bromide refrigerator to produce cold heat that can be used for cooling. This demonstration test will be an effort to achieve zero emissions through energy conservation and energy creation without relying on the procurement of renewable energy.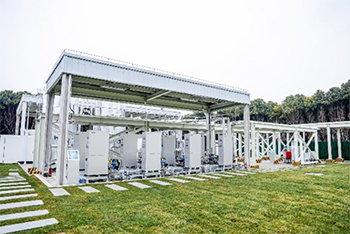 Awarded the Energy Conservation and Emissions Reduction Award in the First 2022 Carbon Neutral Performance Ranking by Chinese Companies
On April 22, 2023, the 54 th Global Day, the first "2022 Carbon Neutral Performance Ranking by Chinese Companies" was held by China's First Host Media and Shanghai Jiao Tong University's Carbon Neutral Exhibition Research Institute, and Panasonic was awarded the "Energy Conservation and Emissions Reduction Effect Award."
The theme of this event is "Model Change to Green Energy," focusing on "green" and "innovation," and using science and technology as the engine of innovation to transform the energy industry from resource and capital-driven to technology-driven.
A total of 236 companies participated and were evaluated based on the latest international standards for energy conservation and emission reduction.
After several rounds of screening, including a questionnaire on energy usage and interviews with companies, Panasonic was awarded the Energy Conservation and Emissions Reduction Award for Panasonic's promotion of zero-emission plants, energy-saving and CO2 emission reduction products, application of hydrogen energy, and support for the new-energy automobile industry. Reports on our company's environmental initiatives from Daiichi Finance and Finance were published on numerous platforms.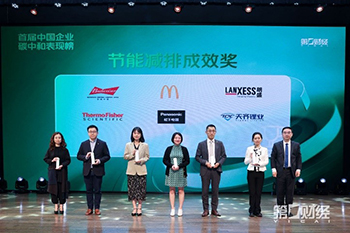 Installation of Photovoltaic System
In May 2022, a total of 80 panels were installed on the roof of Panasonic Industry location in Milton Keynes (UK). each panel can generate peak power of 375 watts or in total generates 30Kw under optimal conditions.
In February 2023. At Panasonic in Wiesbaden, Germany, a large photovoltaic system has been installed to generate electricity. Wiesbaden is one of our largest office (incl. Warehouse) locations in Europe and the system covers a roof area of 1800m2, it will generate approx. 290,000kWh annually and thereby reduce our CO2 emissions by >Reduce CO2 >100,000 kg/year.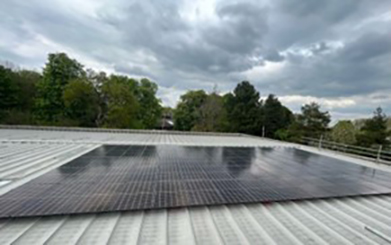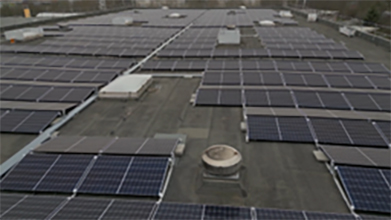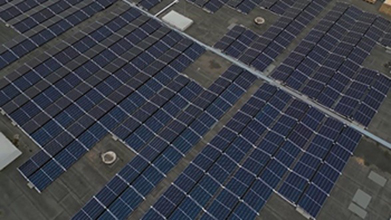 Photovoltaic System at Panasonic in Wiesbaden, Germany
New Circular Economy Initiative - Take Back for Tomorrow
Panasonic announced the Take Back for Tomorrow program to promote recycling of certain consumer electronic devices. The pilot program starts with electronic personal care devices such as shavers and trimmers, which represent a huge opportunity to recycle components that would otherwise end up in landfills.
Today, over 88 million Americans use an electric shaver or trimmer. Most of these are destined for landfills, wasting an opportunity to recycle the batteries, metals, and other materials trapped in the devices. Panasonic's program aims to start diverting this e-waste to an important input stream for a more circular supply chain - and pay consumers to do it.
To participate, an owner of an electric or battery shaver or trimmer signs up at PanasonicMultiShape.com. Panasonic covers the costs for shipping the end-of-life product with partner ERI. The company generates a pre-paid label for consumers to easily pack and ship the device at their convenience for recycling.
Panasonic's vision with this program is to advance circularity within its U.S. supply chain where components from its consumer electronics, starting with personal care devices, are recycled by ERI. All lithium-ion batteries in these devices are sent to Redwood Materials who will then recycle and remanufacture metals into critical anode and cathode components for Panasonic's electric vehicle (EV) batteries. Redwood is creating a closed-loop, domestic supply chain for lithium-ion batteries across collection, refurbishment, recycling, refining, and remanufacturing of sustainable battery materials. The companies recently announced that recycled cathode active materials from Redwood will be used in lithium-ion batteries to be manufactured at Panasonic's new EV battery facility under construction in De Soto, Kansas, starting in 2025. Panasonic is the North America market leader in EV lithium-ion batteries.

Hussmann Earns Top Project of the Year Award from Environment + Energy Leader
Hussmann, our commercial refrigerator company was recognized as a distinguished recipient for their exemplary work in the fields of energy and environmental
The Environment + Energy Leader Awards program recognizes excellence in products and services that provide companies with energy and environmental benefits, and in projects implemented by companies that improved environmental or energy management and increased the bottom line.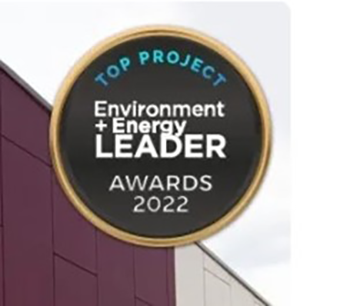 Panasonic Automotive Solutions of America (PASA) TX Warehouse launched a "Lights Off" Campaign
The Lights Off Campaign is a simple but important behavior to develop as a good practice for everyone to help save energy, reduce cost and save the environment.
Through analysis, PASA found that at their Los Indios, TX site 66% of energy usage was from indoor lighting. This small action by everyone has a total contribution that minimizes the environmental impact and reduces costs.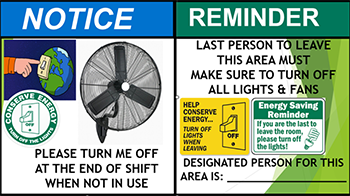 Panasonic Eco Systems North America Earns 2023 ENERGY STAR&reg Partner of the Year Sustained Excellence Award for 13th Year
Panasonic announced Panasonic Eco Systems North America, a division of Panasonic Corporation of North America, has received the 2023 ENERGY STAR Partner of the Year Sustained Excellence Award from the U.S. Environmental Protection Agency and the U.S. Department of Energy.
Each year the ENERGY STAR program honors a group of businesses and organizations that have made outstanding contributions to protecting the environment through superior energy achievements. ENERGY STAR award winners lead their industries in the production, sale, and adoption of energy-efficient products, homes, buildings, services and strategies. These efforts are essential to fighting the climate crisis and protecting public health.

Panasonic Receives Call2Recycle's 2022 Top 100 Leader in Sustainability Award
Panasonic Corporation of North America is pleased to announce their recognition by Call2Recycle as a 2022 Top 100 Leader in Sustainability. The Leader in Sustainability award is presented annually to top performing Call2Recycle program participants who excel with their battery recycling efforts.
In 2022, almost 8 million pounds of consumer batteries were collected and recycled through Call2Recycle, including over 3 million pounds of lithium-ion batteries, the highest number of lithium-ion batteries collected in the program's history. Panasonic's commitment to battery recycling contributed to a 4% increase from 2021 in rechargeable batteries collected by Call2Recycle.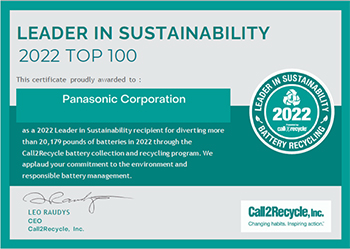 WEEE Recycling via ABREE - Update
The Brazilian Association for Recycling of Electronics and Appliances (ABREE) presented the second Annual Performance Report of your Reverse Logistics System (RLS), which covers the period from 1 January to December 31, 2022. The document attests to the commitment to transparency and accountability of the entity with the Ministry of the Environment and Climate Change, to whom it must submit annually the results of the collective recycling system. In compliance with Federal Decree No.10,240/2020, which regulated the reverse logistics of electronics and home appliances for domestic use and its components in Brazil. This report shows the performance of the structuring goals, that is the number and coverage of collection points in Brazil, and the quantitative ones, the total amount in tons of products and components collected and treated, it means environmentally proper handling and destination, including packaging, finally it also details communication and educational plan for society.
As 2022 result, ABREE reached 4.977 collection points spread over 1.370 cities, it represents 3,5 times the target set by the federal decree. On the other hand, 15.5k tons have been collected and treated, 12 times 2021 actual, resulting on 46,7% of tonnage goal of 32.8k tons.
As of March, 2023, 13.7k tons have been collected and treated, which already represent significantly improvement versus 2022 and a perspective of achievement of this year target, which is 6% of the tons put in the market, by November 2023, important to mention that, the target has doubled year over year since 2021 and Panasonic has played a key role on leadership of association, contributing strongly to this achievement.
Panasonic and Fast Shop performed the Sustainability Campaign of Trade-in Inverter Refrigerator models.
Panasonic Brasil and Fast Shop, key LAS Company dealer, engaged from June to December'2022 into a partnership to implement a Sustainability Campaign based on trade-in of old refrigerators, the models used on the campaign were Inverter models only, the premises were:
a.Leverage the sales of Inverter model as the most energy saving technology, contributing twice for sustainability.
b.Promoting energy saving products to consumers.
c.Free of charge collect of old models donated by customers and certified by ABREE of environmental disposal in a proper manner.
d.Bring Sustainability to core of business, as new business practice.
e.Training Fast Shop sales team about Panasonic sustainable products features and Initiatives.
f.Collaboration to National Solid Waste Policy and ABREE, the Recycling Brazilian Association of Electronics and Household Appliances.
As result, 40 retail store joined this campaign, 1488 Inverter models sold, 25 Refrigerators were collected and environmentally disposed, around 1.5t as National Solid Waste Policy collaboration.
As recognition to perform this campaign, Panabras offered the performance prizes by category: sales team, best performance regional manager, best performance senior manager and best performance Store.
Free of charge collection and environmental disposal of Refrigerator and Washing Machines.
Panabras' CS division was awarded for its efforts for improving the effectiveness of collection and recycling procedures for defective refrigerators and washing machines. They have established a new process to quickly replace non-reparable products within the warranty period at consumer's house, collecting the defective units, transporting them to recycling facilities and providing the correct destination of materials, usually reinserting them on the supply chain. As a result, we improved customer satisfaction and reduced the end-to-end logistics costs, sending the defective product directly to the recycling plant.
In addition, this initiative is full in line with the National recycling law, properly disposing products that reached its end of lifecycle. In Brazil, manufacturers are responsible for properly collecting and recycling products that are no longer used, and the government has set specific annual targets for collection and treatment.
Through this initiative, Panabras also contributes to society by reducing CO2 emissions, creating a sustainable society (SDGs), improving customer experience, and fostering ESG culture.
As of Jan,'22 to Mar'23 around 100 tons of products were collected, representing 1530 products, 83% as Refrigerator and 17% as Washing Machine, coverage of 27 states and 476 cities.
This initiative has been recognized as one of top ten finalists of the "Make New" Award, on New Challenge Category, sponsored by Panasonic Corporation on Dec21st 2022.
India, South Asia, Middle East & Africa
FELICITATION CEREMONY OF HARIT UMANG OLYMPIAD FY'22-23
Panasonic 'Harit Umang-Joy of Green' program was launched to mark the 100 years of Panasonic with the paramount objective to raise awareness and drive the adoption of environmentally friendly practices. The program endeavors to develop sustainable lifestyle by nurturing the youth and the ecosystem through dissemination of ecological wisdom engaging with the educational institutions and RWA., around the key environmental themes "responsible disposal of e-waste", "towards zero plastic waste", "biodiversity" and "energy conservation."
FELICITATION CEREMONY OF HARIT UMANG OLYMPIAD FY'22-23
Upholding its commitment towards sustainable community, Panasonic completed Fourth edition of "Harit Umang", Joy of Green Olympiad, On the occasion of "The World Environment Day 2023", Panasonic recognized the commendable efforts of the Green ambassadors, for their exemplary work in driving awareness and dedicated engagement in the Harit Umang Program, sensitizing society at large. The students across participating schools & colleges were felicitated by Mr.Ved Prakash Mishra, Director of Hazardous Substance Management Division at the Ministry of Environment and Forest; Mr. Manish Sharma, Chairman of PLSIND; and Mr. Tadashi Chiba, MD of PLSIND
The ceremony was marked by inspirational speeches from eminent dignitaries who spoke on the importance of collective efforts towards the spirit of environment conservation for a sustainable future. They applauded the Green Ambassadors' emphasizing the importance of small steps to improve the ecosystem.
It was another year of opportunities for youth, which saw participation with an outreach to over 500 schools, especially from Schools and colleges to brainstorm, debate and interact creatively with structured models on the environmental themes.
The journey of nurturing green ambassadors, equipping them through series of knowledge sharing sessions by the experts, interactive workshops, webinars and debates, invoked the innovative spirit amongst the students. The active participation in series of contests was a true reflection of the environment friendly lifestyle being adopted.