When they sat at the table on the day of discussion, children from Hong Kong, Japan and Canada of Group C were curious
when 11-year-old Michael from Malaysia showed pictures of longhouses, and explained how the village members all
gathered around him to see him off on his day of departure. It started up a conversation on how they individually came to
Tokyo and how long it took them to get here. It turned out that the Japanese children from Hahajima Island, took the
longest—26 hours—upon coming to Tokyo despite being Japanese, which took the other members by surprise.

The three children of Hahajima proudly showed beautiful pictures of their island upon introducing their unique
cultural identity, which they mentioned in their proposal too the following day with the words; "I chose nature in the
future, because when I look at nature I think it is beautiful and I feel it has a healing aspect."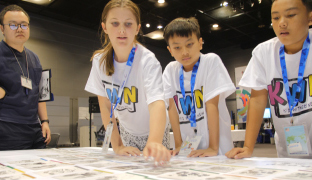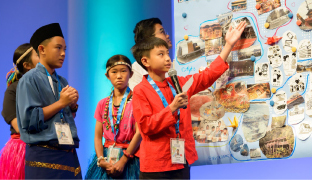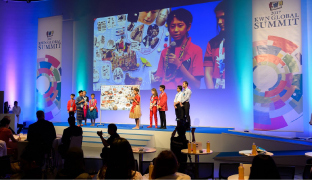 Meanwhile, over at Group A, children were discussing whether or not they should keep the card written "Animals/Pets" for their World Map. While some children claimed that animals weren't that important, 8-year-old Dickson from Tanzania—the smallest of the participating members—insisted that they keep animals by quietly placing the animal card over to the "Keep" section. Later, 13-year-old Mwavisa, also from Tanzania explained in an interview that, "animals are necessary not only for our people, but also to attract tourists to our country."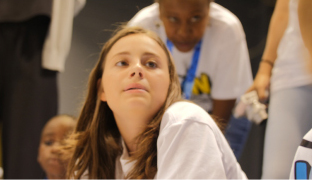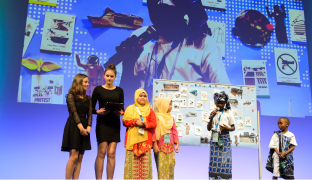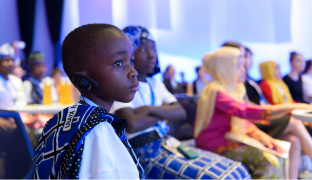 The children were quick to form a bond through their time together. 9-year-old Jiayi from China drew a picture of Group B together, including members from Thailand and Vietnam, in their World Map, mentioning in her proposal that "at first we didn't know each other but now we have become best friends. We are a big family." Similarly, 11-year-old Ruijia, also from China, drew a bridge in her World Map announcing in her proposal, "I chose this bridge, because bridge stands for communication and friendship."
It seems encountering people of other cultures and understanding them through communication, no doubt played an important role in broadening their horizons.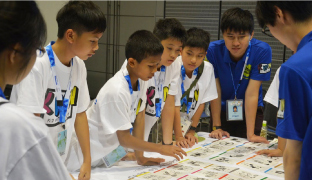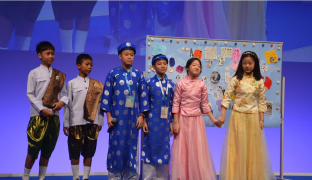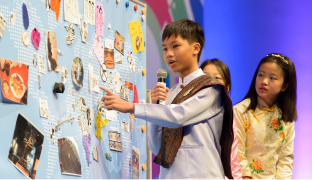 The Secondary Groups had a more advanced take on global exchange. One of the most heated discussions took place between members of Group F where students of Brazil, UAE and the U.S. talked about "Diversity." They took their investigation to the streets of bustling Shibuya the previous day, which amazed 17-year-old Muhammed from UAE who described it as a place, "Full of diversity! I was amazed with the number of advertisements they had in the streets—something I would like to take back home to make my country more colorful." The Brazilian girls agreed, saying that they were startled to see so many different kinds of Japanese culture all in one place.
When they started to talk about their own countries, and examined how diverse they were, it turned out that the U.S. was not as open to diversity as the students of Brazil and UAE had expected. The two American girls—who belonged to the second generation of Mexican immigrants—described the latest changes the country was experiencing from an immigrants' point of view.
As the students of Group F deepened their discussion, they discovered that UAE's culture was the most peaceful with people who tended to respect one another despite their differences. "I think it has a lot to do with our religion too," explained Muhammed. "I think our country can be a role model to the world," he said.
They soon realized that political leaders that were so often immersed in power and not interested in picking up the voices of diverse groups and minorities were behind societies that lacked diversity.
So what could they do? At their proposal the following day entitled, "Diversity to Empower the Powerless," Luana from Brazil proposed, "The United Nations should create representative groups of change-makers that will provide the opportunity to influence government decisions empowering the powerless, which will ultimately make more citizens involved in politics in a more direct and compassionate way."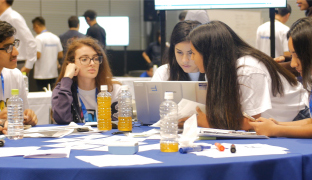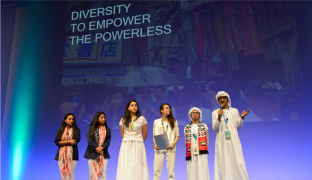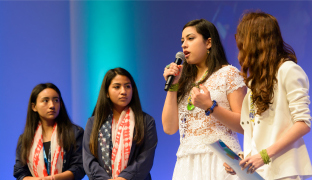 It didn't take much time for Group G—who were tackling the theme "Urban Development and Environment,"—to similarly discover that the government was the key to building a better future. In their proposal, when it was her turn to introduce her country, 15-year-old Eva from Slovakia explained how her people were suffering because of their corrupt government. In their proposal, she said, "Any decision made by the government should be based on the ideas shared by its people. People in Slovakia feel they're powerless because politicians can do whatever they like and they're not interested in listening to their people." 14-year-old TraMy from Vietnam pointed out that there's more fruit in a rich man's shampoo than in a poor man's plate. "In our dream city we wish that everyone gets a full meal and no one has to go to sleep in hunger," she said.
15-year-old Sidharth from Oman summed up their presentation by suggesting that they create a food corner where people can collect extra food. "So that anyone poor who cannot afford food can go there and collect if free," he said. "Then no one will sleep hungry and the crime rate of the city will be substantially reduced."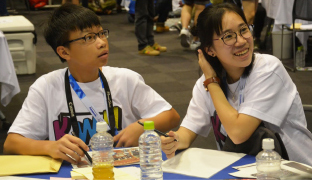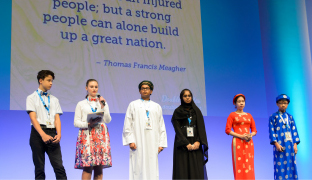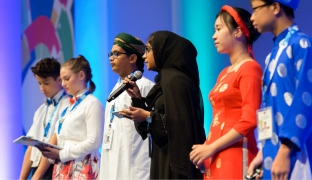 In the meantime, Group D, who visited a Japanese restaurant in Tsukiji the previous day and discovered the Japanese spirit of "mottainai" (meaning "not to waste things") for their theme "Food and Hygiene," took their proposal one step further suggesting that in addition to the government, business companies too could play a role in improving the environment.
"Companies could create innovative, environment friendly products like electric cars and electric transportation for example," said 16-year-old Paul from Germany in their proposal. "They could care more about the environment, make less pollution and also sponsor programs that support the local environment," he said.
During their discussion, Schwind demonstrated pictures of Wurzburg, a city in Germany to the group and explained how the city provides a peaceful environment to its people with extensive greenery that encompasses the city like a belt.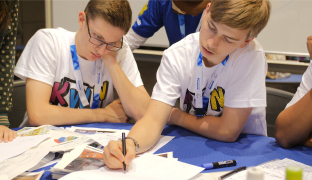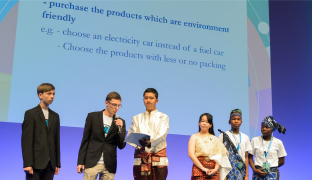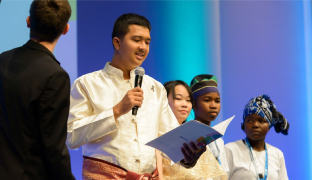 Meanwhile, members of Group E who studied the theme of "Sports," were quick to discover that they could use sports to influence social change and inclusion of others. Through their experience of playing Boccia—a Tokyo official program of the 2020 Tokyo Paralympics Games—during their field trip the day before, they came to realize that there were three concepts in sports which could be used to change the society; unity, passion and focus.
"Unity allows us to think as a team, passion is the motivation to improve our abilities, and focus is to try anything hard," said 17-years-old Riko, a Japanese student from Fukushima Prefecture during Group E's proposal. "We can achieve our goal by working on it. We think that the power of sports will lead us to a better future."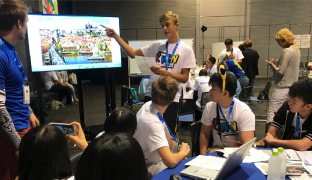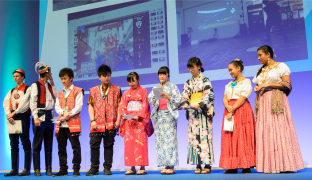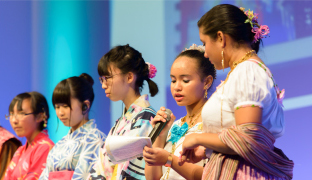 Lastly, over at the table of Group H, 14-year-old Dariene described how she couldn't feel she was representing her country when it was her time to introduce her country Indonesia to her group. The reason was due to her being Christian and a Chinese decent which made her feel isolated at home because people saw her as being different.
American student Christian also in the group later mentioned in an interview that he was shaken when he listened to her experiences. "It made me realize that many people in the world aren't getting what we take for granted," he said. "The discussion really changed my mindset."
The group came to a conclusion that many issues of the world could be traced back to; "the lack of tolerance."
"We think education is the key to fix that," announced Christian passionately during their proposal. "At many places, the education system is teaching children not to be tolerant."
Group H had toured Mirai-kan, the National Museum of Emerging Science and Innovation and strolled through Tokyo's electric town Akihabara for their field trip. The resolution they suggested at the end of their proposal was in many ways influenced by their field trip and their theme "Cool Japan."
"We think there is a way to implement technology to put people in other people's shoes," Legaspi said. The Austrian students also in the group went on to describe how they could perhaps invent a technological gear like VR that allowed people to experience other cultures when you put it on. "You put it on and you enter a completely different world," 15-year-old Dominik explained. "So that we can get people to experience and think about other cultures, especially those who are against tolerance."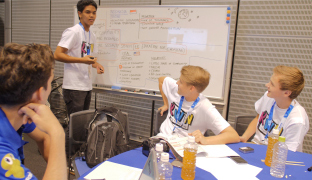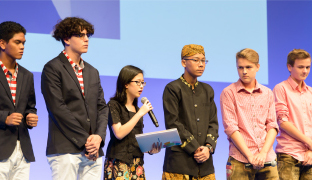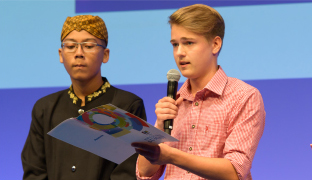 It's not that often that you get to see such a colorful mix of children from so many different countries and regions all in one place. Seeing these children in their national uniforms at the KWN Global Summit just makes you realize how rich, colorful and diverse people of the world can be.
Furthermore, observing these young children encountering cultural identities that are completely different than their own, exchanging ideas and discovering new perspectives along the way, makes you realize how meaningful cultural exchanges such as these are. Their talk on human rights, global issues, hunger, sanitation and environment were full of passion and energy, deeply moving those who listened.
"Lack of tolerance" was one of the world's many issues the children pointed out during their proposal. There's no exaggeration to say that the key to solving it lies in the heart of children such as these, who are more than willing to accept others and learn from cultural identities other than their own.
As adults, it is our duty to listen to these young, fresh minds that could very well become the change makers of the future to come. Let's hope their dialogue continues so that the world becomes a better place for all of us to live in the future.
The report is produced by NewsPicks Brand Design.