Sustainability Files :
Creating New Trends through Promotion of Popularizing Super GPs
Panasonic enhances its environmental performance based on its product assessment system that evaluates the environmental impacts of its product and services from the planning and design stages. We define our products that have a superior environmental performance compared to our existing products or those of other companies in the same category as Green Products (GPs). In addition, we certify GPs that accelerate the transition to a sustainable society as Strategic GPs. Of those, products that are expected to create new trends are certified as Super GPs. Fourteen products have been certified by FY2013 since the Super GP system was introduced in FY2002.
The following three products were selected as Super GPs for FY2015. The below are introductions of the products, along with comments from the members of the business divisions such as R&D and sales who attended the certification ceremony.
New A-La-Uno: Offers a Clean Toilet Space that Saves Power and Water
The A-La-Uno that was launched in December 2006 solved the problem of scale adhesion, which was an issue in hygienic ceramics, by adopting new organic glass on the main body. The principal feature is that it maintains cleanliness and is easy to clean. In June 2014, the new A-La-Uno with enhanced environmental performance as well as improved cleanliness was released.
The eco-conscious features including the quick-warming seat that immediately heats only when the toilet is in use, instantaneous water heater that heats water for washing while it is used, and an ECONAVI function that controls operation and room temperature by sensing the user's presence in the bathroom or on the toilet seat, have achieved the industry's top-class*1 energy-saving performance. A significant amount of water is also saved with the turn trap flushing system which releases accumulated water at once with little water. Compared with toilets of twenty years ago, the A-La-Uno yields total annual savings of roughly 6,000 yen in electricity costs and about 14,000 yen in water costs.
The focus on cleanliness in the design also contributes to environmental performance. In addition to the novel organic glass and the easy-to-clean shape, a triple guard that prevents against scattering, dripping, or leaking has been adopted. This reduces not only the time required for cleaning, but also the amount of cleaning agents and water used.
*1: Source: Energy-saving Performance Catalog by the Agency for Natural Resources and Energy.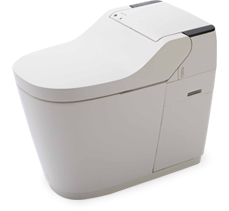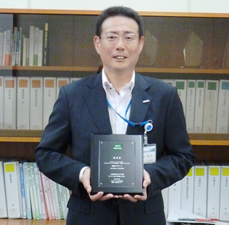 The A-La-Uno, a concentrated package of Panasonic's technologies which has overturned the stereotype that toilets are made of ceramic, has now sold a total of almost one million units.
The New A-La-Uno is highly favored as a product designed to keep toilet spaces clean and easy to maintain nationwide, in addition to its highly developed environmental performances of reducing the use of water and energy. Because it is made of organic glass, thermal recycling is easier than with ceramic toilets, reducing the amount of landfill required. The product's light weight also contributes to reducing CO2 emissions during its transportation.
We will continue to work on products and living environment solutions friendlier to the global environment and people, so that we can bring sparkling clean toilet spaces not just throughout Japan but to the whole world.
Appeal to the improved performance of Photovoltaic module HITTM *2 to provide clean energy.
Photovoltaics is a clean way to generate electricity without using fossil fuels, therefore no CO2, no exhaust gases and no burnt residues are discharged. Panasonic places Photovoltaic module HITTM as one of typical eco-conscious products. In 2014, we achieved a cell conversion efficiency of 22.5% of HITTM 250α which is a high-end model, and succeeded in further improving its power generation.
HITTM, which started mass production in 1997, consists of silicon wafer covered with amorphous silicon film to form hetero junction cells minimizing the loss of electric charge, and also uses high performance module technology for high conversion efficiency and power generation. The HITTM 250α succeeds in minimizing various types of losses in the cells to gain even further performance improvements. Through all this, HITTM has achieved power generation with industry leading level per area and system capacity (kW).
*2: HITTM is a registered trademark of the Panasonic Group.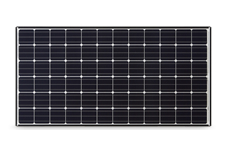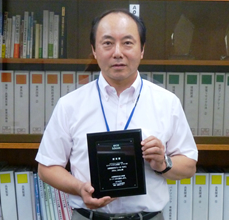 The primary points to contribute to environment by HITTM are not only improved performance in generating energy from a solar module, but also the sales promotion, which means that more customers use HITTM. We further improved power generation of HITTM with industry leading level by developing new technologies. In addition, the engineers themselves have come out in support of HITTM's strengths in sales promotions in the media, while we also invite the store salespersons and have them experienced its high quality first-hand through the factory tour including the manufacturing processes. In this way, the product development, manufacturing and sales divisions have all worked as a team to further the sales of this product.
As a result of both the improved performance and the sales promotion, the percentage of domestic photovoltaics installation for residential has risen dramatically, with more customers choosing to use HITTM. The clean energy generated by HITTM sold in FY2015 is worth saving one million barrels of oil. Through further technology development in pursuit of even higher efficiency backed by resource and energy saving manufacturing, we intend to provide HITTM with even more effective environmental contributions.
Battery Pack System for Forklift Truck Application: Achieves Reducing Environmental Impact and Less Maintenance
Emissions regulations for construction machinery and industrial vehicles have become stricter in recent years, just as with automobiles, resulting in a greater demand for electric forklifts over conventional gasoline-powered models. However, conventional forklifts using liquid-type lead storage batteries as the main power have problems in terms of rapid charging and continuous use. In addition, electrolytic solution has to be filled on a regular basis to ensure battery performance and safety.
Panasonic's Battery Pack System for Forklift Truck Application which incorporates EV lead storage batteries was successfully commercialized in 2014. The number of positive and negative electrode plates of the incorporated cells was increased, and lattice processing was done extremely fine to improve conductivity and enable rapid charging. The battery's life is extended 1.5-fold*3 through the use of a charging control algorithm that is gentler on the battery as well as through a new structure that facilitates equalizing and cooling internal temperatures, in place of the power controller to manage battery charging. Furthermore, as the internal electrolytic solution has only minimal loss during charging, concerns over battery deterioration due to forgetting to refill the solution is largely eliminated.
*3: According to research by Panasonic Storage Battery; test temperature: 25°C, discharging 20°C A / DOD 80%.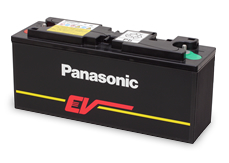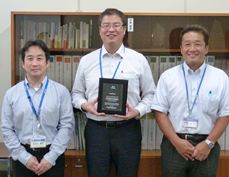 In developing the battery pack system, we worked closely with members of the development team of a forklift manufacturer, and repeated evaluations and improvements with actual systems onsite. As a result of these efforts, the eco-consciousness of zero emissions in the workplace and significant reduction of CO2 emissions, the convenience of operation hours close to those of engine forklifts and not having to refill electrolytic solution, the economic efficiency of low operating costs, and the safety of a 40%*4 cut in hydrogen emissions during charging are greatly favored by our customers.
We will further contribute to reducing environmental impacts such as CO2 emissions by actively promoting the battery system technology developed in this product for use in the electrification of other industrial vehicles including construction machinery.
*4: According to research by Panasonic Storage Battery; estimated from test overcharging capacity during testing.