Sustainability Files :
Contributing to Educational Support for the Next Generation by Promoting Environmental Education
One of the targets of Panasonic's Green Plan 2018 is "Provide environmental education to 2 million children around the world between 2009 and 2018." By fiscal 2014, the cumulative total of children who have taken part in the education program has reached 2.41 million. Of the various activities being carried out worldwide, such as the Eco Learning Program (ELP) designed to enhance awareness and actions towards environmental conservation, here are some examples of Myanmar, Vietnam, and China.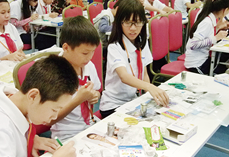 Myanmar: Consideration to climate change and contribution to preserving world heritages
Myanmar suffered serious damage from a massive flood in the summer of 2015. As part of its relief efforts, the Myanmar Branch of Panasonic Asia Pacific launched ELP to help educate youths about the impact of climate change and what can be done to protect the environment as part of disaster risk reduction. The first session on August 12, 2015 was held for around 50 children aged between 10 and 15 years old at a child nurturing facility in Yangon, where participants explored a diverse range of ideas including eco-living and eco-technology.
The second session was conducted on November 24, 2015 to a group of 60 youths at a technical training school located in Hpa-an Township, Kayin State. This session also covered the topic of climate change, and provided tips on how they can do their part with their family and friends as a green champion (i.e. a leader of energy saving). Participants also learned about energy creation and storage through an eco-technology workshop on solar hybrid cars.
In November 2015, UNESCO and Panasonic Corporation signed a project agreement to promote educational support aimed at sustainable development for the next generation of young people living in the vicinity of the Ancient City of Bagan in Myanmar, which is currently a nominee for UNESCO World Heritage listing. The 2-year program was launched on December 22. Under the agreement, Panasonic will provide educational support for youths, in partnership with Myanmar's Ministry of Education and the local government. In addition, ELP will be conducted to raise environmental awareness of the next-generation children to motivate them to take concrete action.
Apart from educational support, Panasonic will also donate a total of 500 units of its "eneloop solar storage" with LED lights, solar panels, and storage batteries to about 40 schools located in off-grid communities in the vicinity of the Ancient City of Bagan. This will support the development of a school environment where students can study at any time of the day under safe and bright lights.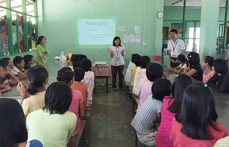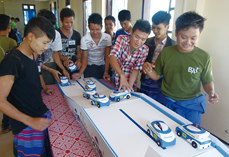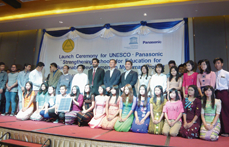 Vietnam: Strengthening Activities through Strategic Partnership with the Government
Panasonic Vietnam (PV) introduced the ELP in 2011, and to date more than 15,000 students from hundreds of schools around the country have joined the interactive lessons and eco workshops.
On December 8, 2015, PV signed the Strategic Partnership Agreement with the Vietnam Environment Administration (VEA) to collaborate on a series of educational activities working towards Vietnam's sustainable development. This agreement has strengthened the partnership between PV and VEA, which have collaborated on various environmental outreach and education programs since 2012.
Under this new partnership, the Eco Learning Program will outreach to another 1,000 students, including in suburban and rural areas of Vietnam. In addition, PV will work to roll out a "green battery exchange campaign" to actively promote the use of eco products and raise the environmental awareness. Students can exchange their old batteries with Panasonic dry batteries at no additional cost.
The first session of the Eco Learning Program under the new partnership was held on the same day of the signing ceremony at Panasonic Risupia. Participants included 47 students from elementary schools in Hanoi, who learned about climate change and green technology through interactive lessons and a hand-made battery workshop.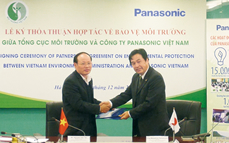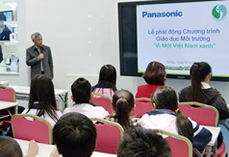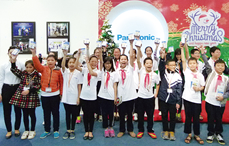 China: Eco Picture Diary Contest Participated by 120,000 Children
The Eco Picture Diary Global Contest is a competition in which children from all over the world make picture diaries about eco activities they have carried out at schools or at home. The Eco Picture Diary Contest in China has been held annually for the past five years. Each year the quality of the entries becomes higher, giving rise to more works of a high level filled with creativity through the contestants' own ideas on what environmental awareness and protection is.
This year there were over 120,000 entrants for the contest. The judging panel carefully screened the submitted works, to choose ten children for the top prize, another 800 winners of merit awards, and six merit awards for organizations.
The award ceremony was held in Guiyang City, Guizhou Province, and over a hundred award winners attended. In the ceremony, the president of Panasonic China, the regional headquarters, gave awards to representative winners. The ceremony was also attended by external experts, who highly recognized the activities which the winners experienced.
After the ceremony, participants talked about each other's pictures and environmental protection. They also listened to a lecture about the Eco Picture Diary contest by the head of the judging panel.
From the next day the children visited a Miao village designated as a world cultural heritage site, where they saw traditional art in the form of paintings made by farmers, Miao embroidery, and dyeing technique for cloths. They also visited Yuntai Mountain in Shibing County, Guizhou Province, a world heritage site, to learn about how the forest's plants should be protected and the natural environment preserved.