Sustainability Files :
PanaHome Launches Locally-oriented Education for Next-generation Children by Professional House Builders
In collaboration with Shizuoka University, PanaHome has developed school education materials focusing on "Learning Ways to Realize Comfortable Living" with the use of its house building expertise. These materials can be used to create a lesson where children, while playing a board game, think of things they can do to ensure safety, health, and a good environment, which are essential to a comfortable living.
In the last fiscal year, PanaHome started offering an in-school lesson for elementary schools, which is conducted by employee instructors from its offices in the Chubu region and it has already been conducted at more than 70 schools. During this fiscal year, as well as offering this program at 60 schools in the Chubu region, it will be utilized to support the revitalization of the Tohoku region* through education.
* Tohoku region was seriously affected by the Great East Japan Earthquake in March 2011.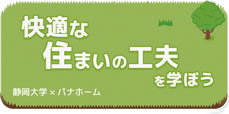 The lesson is conducted with a newly developed board game
One day in July 2016, children of the Yaizu Municipal Higashimashidu Elementary School, who gathered in its multipurpose room, were excited about a lesson using a board game conducted by Ryo Suzuki, an employee instructor from PanaHome Shizuoka Corporation Chubu Sales Department Shizuoka Nishi Office. They were completely focused on the game as represented by comments such as "Got some eco points!" "It's a pay day!" and "I like PURETECH!" The game is like Sugoroku. Players roll a dice and move their piece as many squares as the number shown on the rolled dice.
If a player lands on a square saying "Diligently turned off classroom lights when not in use," they receive two eco points. If a player lands on a square saying "Earned pocket money by helping your parents," they receive one coin. In this way, players collect eco points and coins as they go on. Each player is supposed to read out loud to the other players the messages on the squares they land on and cards they picked. This is not a mere game. Children are given home economics education as they play. A player who gets the most eco points wins. Thus, this game is cleverly made so that children can learn how to live in an eco-friendly way while playing.
There are 4 pay-day squares. Whenever a player lands on one of them, they can get an equipment card, such as a photovoltaic system with storage battery and PURETECH automatic ventilation system, according to their life stage, in terms of marriage, childbirth, home purchase, etc. These cards may be used to reduce damage from disasters.
The lesson is constructed so that through playing the game children can learn how to live comfortably in consideration of safety, health, and the environment.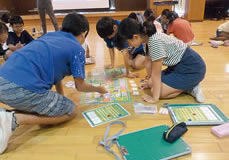 How the project began and how the education materials were developed
Children will grow up to eventually have their own house. In order to ensure their future houses are safe, healthy, and eco-friendly, PanaHome wanted to find a way to utilize its specialized knowledge and skills acquired through over 50 years of experience developing quality houses. Meanwhile, it is difficult for schools to acquire sufficient knowledge and education materials to teach how to live comfortably in a home economics class. Against this background, the company started this project as part of its CSR activity with a view to contributing to school education in the region.
However, while the company has expertise in building houses, they had no knowledge about building a school lesson. Project members had no clue about how to develop education materials to meet the needs of schools. Under the circumstances, a joint study was undertaken with Associate Professor Shingo Shiota, Faculty of Education, Shizuoka University, who does practical research on creation of classes in collaboration with business enterprises. This led to the development of education materials which utilized the expertise of both parties.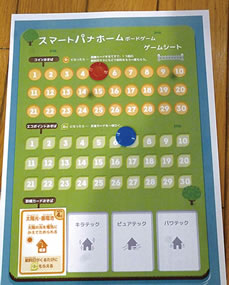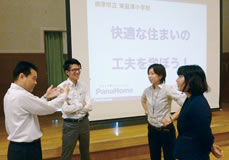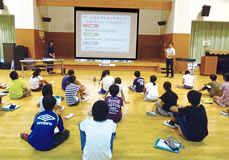 In-school lessons conducted at over 70 elementary schools-Realizing a school-company win-win relationship
During the first year, in-school lessons were conducted by employee instructors from PanaHome offices for 5,162 children at 70 elementary schools primarily in the Chubu region. Among the children who received a lesson, more than 97% of them made positive comments indicating a high level of satisfaction like "I enjoyed learning" and "I understood well." After the recent lesson conducted at the Yaizu Municipal Higashimashidu Elementary School, favorable feedback was received from teachers, such as "This lesson gave children a chance to evaluate houses from the perspective of the environment which is new for them."
Suzuki, the above-cited employee instructor, stated, "As a local, I do this lesson in gratitude for my community. I strive hard to figure out how I can effectively convey what needs to be conveyed." This project seems to have a positive influence on employees' growth as well. Further, there have been cases where it contributed to relationship building with customers in a way only possible through such a locally-oriented activity, for example, one day, some children who had received a lesson came to a housing exhibit with their family and everyone had a good time talking because of it.
"Utilizing the knowledge and skills acquired through our main business for school education will have a good influence back on our main business in return. We will continue expanding such a positive cycle to every region of the country." (Nobuaki Matsueda in charge of promoting contribution to the educational field, Chubu Sales Promotion Department, PanaHome Corporation)
PanaHome is committed to continue supporting education for next-generation children and contributing to making a good environment while maintaining a focus on the fundamental elements for quality home living and proposing spiritually affluent lifestyles and home building, which will nurture warm relations among people.