Sustainability Files :
Helping Indian Customers Enjoy Healthy and Comfortable Lives through Providing Air Purifiers
The Green Plan 2018, Panasonic's environmental action plan, sets fiscal 2018 as the target for providing products, services and solutions to help the change to a sustainable society with better living environments and lower environmental impacts. One of the elements of the plan is to improve the air quality of living environments (air purifying), with the target figure of the equivalent of 14 million rooms with improved air quality over fiscal 2015 to 2018. This article looks at efforts in India to help spread the popularity of air purifiers, one of the main products in this drive to improve air quality.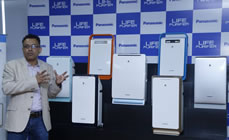 Rapidly increasing demand for air purifiers to meet worsening air pollution
Air pollution is becoming a major issue in India, as the rush to modernize has increased exhaust gases from cars and smoke from factories. In May 2016 the World Health Organization (WHO) announced that, according to its database of approximately 3,000 cities worldwide, ten of the top twenty cities for the highest concentration of fine particulate matter were in India.
This has greatly increased health concerns among people over respiratory and other diseases, driving demand for air purifiers. The Consumer Electronics and Appliances Manufacturers Association of India (CEAMA) expects the number of these products sold in fiscal 2018 to be six times the number of fiscal 2015.
Panasonic India (PI) began to sell air purifiers from 2012 to help meet this demand.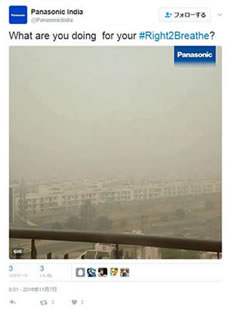 The products contain familiar technologies for Japan and offer reassurance even in power outages
Seven new models of air purifiers were launched onto the market in India last November. Many of these models contain technologies familiar in Japan. These include the ECONAVI, which conserves energy by automatically recognizing the pattern of air impurities occurring according to the user's lifestyle; Nanoe, which breaks down and minimizes harmful substances contained in fine particulate matter; and HEPA filters that powerfully collect fine particulate matter and other microscopic particles.
They also contain an auto restart feature, which switches them on again automatically after power is restored following a power cut, a feature that takes into account the frequent nature of power cuts in India.
Testing laboratory: Product Analysis Center, Panasonic Corporation
Testing method: Measurement of organic matter attached inside a testing room measuring approximately 11m2
Minimization method: Releasing Nanoe
Test results: Aromatic carboxylic acid: benzoic acid) 98% or more broken down after approximately 8 hours (alkane: hexadecane) 99% or more broken down after approximately 24 hours

Offering improved air quality with air purifiers in many different situations
Despite the fact that air pollution is now a major social issue in India, air purifiers do not have the popularity they do in Japan or China. This is why PI is using many different means to show people that air purifiers are an excellent way of improving the air quality in living environments and ensuring healthier lives.
At mass retailers or PanaShops, the air purifiers are run inside a transparent case, demonstrating how they clean up smoke. Sales staff carry devices to measure fine particulate matter, to model the difference in the concentration of fine particulate matter before and after the air purifier operates. The air purifiers are also taken to ordinary homes, hospitals, hotels and so on for live demos, as well as being used in demonstration sales in places where people often congregate, like the common areas of condominiums. These ways of demonstrating the air quality-improving potential of these products close to customers will be continued and enhanced more in the future.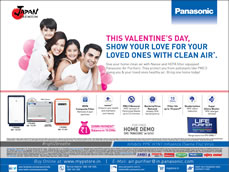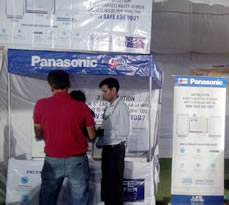 The effect of spending time in polluted air is also being explained with messages and illustrations in newspaper and magazine adverts, online and in SNS. Panasonic air purifiers are offered as solutions to this.
PI intends to offer and provide its air purifiers to as many people as possible, to help achieve healthier, more comfortable lives.