Sustainability Files :
Creating New Trends and Accelerating the Achievement of a Sustainable Society - Presenting Super GPs for fiscal 2017
Panasonic uses a product assessment system that evaluates the environmental impacts of our products and services starting at the planning and design stages. Based on our criteria, we accredit our products and services that achieved high environmental performance as Green Products (GPs). Among these GPs, we define as strategic GPs those products that help speed up the shift to a sustainable society, by having an industry top-class environmental performance that reduces environmental impact, or that reduce environmental impact through their promotion and dissemination, or that reduce environmental impact on a specific region, or support measures to address environmental impact. On top of this, those products and services that make a major breakthrough in environmental performance or create new trends to help realize a sustainable society are accredited as Super GPs. Nineteen products have been certified by FY2016 since the Super GP system was introduced in FY2002.
The following products were selected as Super GPs for FY2017. The below are introductions of the products, along with comments from the members of the business divisions.
COMBO, Home Delivery Locker for Detached Houses
The delivery box provides convenience for residents to receive a packet while they are away and contributes to environmental protection by reducing usage of delivery notice paper and CO2 emissions from redeliveries. Also, the delivery box provides a stamp for the courier as a delivery proof and enables the courier to lock the delivery box without using any electricity. No electrical wiring is necessary either for installation or operation.
The COMBO was trialled in monitor households in a city in Fukui Prefecture from December 2016 to the end of March 2017. The trials provided clear evidence showing that by reducing redeliveries, the COMBO decreases CO2 emissions and working hours for couriers, while also giving users a freer sense of time.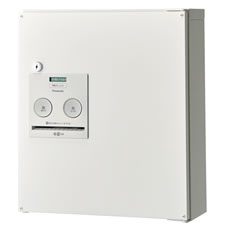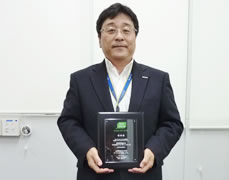 The first home delivery locker was a 100V model developed 25 years ago. At the time, the main needs were for summer and New Year gifts, i.e. it was used twice a year. A few years later, we went on to develop a battery-operated model, but sales were poor. In 2007, when e-commerce showed signs of expanding, we released the current COMBO, which resolved all the issues back then. It wasn't electrically powered, so we could reduce the cost while integrating expanded specifications, including options for door direction, size, and installation. This year, the COMBO was suddenly thrust into the limelight with the recent news on how courier redeliveries are becoming a social problem, in combination with the results of the Panasonic trial in Awara City. We want to contribute to solving social problems by expanding our lineup of environmentally friendly products and services and fully supply what people want in order to become an intrinsic part of the social infrastructure.

HIT Photovoltaic Module for Automobiles
HIT Photovoltaic Module for Automobiles were adopted for the new Prius PHV released by Toyota Motor Corporation in February 2017. Whereas conventional automotive solar cells have an output of several tens of watts and have been used for ventilation only, this product achieves high output of approx. 180 W, even in the limited space on a car roof, enabling generation of drive power. This allows EVs to run for some 1,000 km, or roughly 10% of the average annual travel distance of a passenger car in Japan.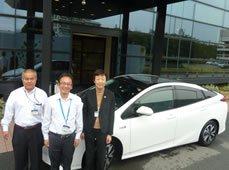 The dream of every solar cell engineer is to make a mass production car run on solar power. This product, which achieves that dream, was created as part of a first-ever automotive challenge for the Solar Systems Business Unit. The project members made tremendous efforts to overcome many difficulties to meet customers' demands. We're very happy to receive this award today, as it vindicates all of the hard work that everyone put into it. Encouraged by this award, we will expand on this success with more products for vehicles, housing, and other fields, so that the solar business can make an even greater contribution to the environment.

Se-HEV Lithium-ion Battery System:
Se-HEV uses a gasoline engine for the power generator, and electrically drives the vehicle by supplying the motor with electric power stored in the battery. The power for the vehicle's entire drive system is provided by the motor. To contribute to the acceleration feeling of EVs, higher fuel economy, and better cabin comfort, a compact and highly reliable lithium-ion battery with the industry's top charging/discharging performance was developed. A small and light battery system installable in a limited vehicle space was also achieved.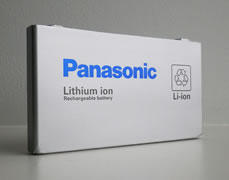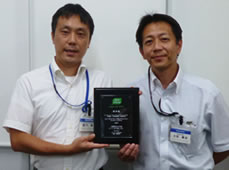 Due to the unprecedentedly short development time and high technological hurdles, I thought it would be extremely hard to meet the mass production date of the car; however, we managed to do so by working in cooperation with the customer. I often see cars using the batteries we developed, which makes me realize that our products are truly being put to use. I hope to increase the number of cars equipped with Panasonic batteries and to make further contributions to the environment.