"Sustainable" is something that continues indefinitely into the future. "Seafood" are the fish and other food sources taken from the ocean and rivers. So, fish, shrimp, shellfish, and other seafood caught by fisheries that take care of marine resources and avoid damaging the environment and fish cultivated by aquaculture are food that we will be able to enjoy not only now but in the future.
In fact, recently overfishing and environmental damage by humans have caused ocean fish populations to decline every year. If this continues, eventually there will be no more fish to eat! So, it has become very important that we protect the ocean's bounty.

As one of the many and diverse companies that are beginning to think about the importance of sustainable seafood, Panasonic has introduced a sustainable seafood menus to its employee cafeterias.
We hope sustainable seafood will get more and more popular!




When we look at the trend from 1974 through 2019, "overfished" marine resources increased three times, from 10 percent to 30 percent.
What's more, "maximally sustainably fished" comprises 60 percent, so only 10 percent of marine resources are at an underfished level.
This means that about 90 percent of marine resources face overfishing or are at risk of overfishing. And this trend is steadily rising.
If this continues, fish will rapidly disappear.
30 percent of marine resources are overfished and 60 percent are maximally sustainably fished, for a total of 90 percent, and the total is increasing.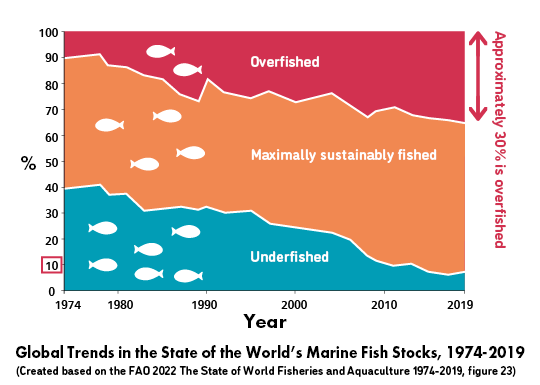 You will know that fish is sustainable seafood if it has a certifying label.

Sustainable seafood is either "wild" or "farmed", and there are labels for both that identify them as sustainable seafood.

Sustainable seafood approved as "wild" bears the MSC "certified sustainable seafood" label.

Sustainable seafood approved as "farmed" bears an ASC label or other certifying label.

MSC stands for the Marine Stewardship Council. The MSC was established in the UK in 1997. In 2007, the MSC established an office in Japan.
The MSC label is only applied to seafood that comes from fisheries that have been certified as meeting MSC standards for a well-managed and sustainable fishery.

ASC stands for the Aquaculture Stewardship Council. The ASC was established in 2010 and is headquartered in the Netherlands.
Only fish farmed in a way that takes into consideration the natural environment, feed, as well as the social community and the workers are recognized as sustainable seafood and are approved for the ASC label.

So, be sure to remember both the MSC and ASC labels!


Fish caught "wild" and labeled as sustainable seafood include salmon, scallops, skipjack tuna, capelin, and walleye pollock. "Farmed" fish recognized as sustainable seafood include salmon, oysters, shrimp, Japanese amberjack, Japanese littleneck clam, and sea bream.
We hope sustainable seafood will become more and more popular.



Now, go to an actual supermarket and look for sustainable seafood labels!
I hope you find some labels.

About 30 percent of marine resources are overfished.




Sustainable seafood refers to "wild" fish caught without overfishing and environmental damage and "farmed" fish cultivated in environmentally and socially responsible conditions.




"Wild" fish recognized as sustainable seafood will have an MSC label and "farmed" fish will have an ASC label.
The Olympics and Paralympics in London, Rio de Janeiro, and Tokyo used seafood bearing MSC, ASC, and other certifying labels as proof that the fish were eco-friendly. Sustainable seafood is becoming more popular, especially in Europe.
But in Japan there are still many people who don't know about sustainable seafood.
Let's hope that sustainable seafood becomes more popular in Japan, too.
When you choose fish with the MSC and ASC eco-friendly labels you are supporting the fishermen who work hard to sustain fish populations by not overfishing and the fish farmers who cultivate fish in an environmentally and socially responsible way.
Choosing sustainable seafood prevents the rapid decline of fish in the ocean!
You too will become a friend "protecting the ocean's bounty"!