Report on the Group DEI Forum 2021
The Panasonic Group held the D&I Forum, an internal event, every year as an occasion to promote diversity. In FY2022, in conjunction with the establishment of the Panasonic Group DEI Policy, the event was expanded as the Group DEI Forum.
In 2021, we held the Group DEI Forum under the slogan, "Dialogue. Discovery. Appreciating Differences." This event was held online over two days in October using the Panasonic Center Tokyo as its main venue with the aim of providing an opportunity for each and every one of us to increase our understanding of and identification with DEI, and to take action. Approximately 6,700 employees participated in the event via a live webcast. After the event, archived videos were distributed to each region of the global group.
*Definition of terms used on this section:
- Fiscal year: from April 1 to March 31 of the following year (e.g. Fiscal 2021: April 1, 2020 to March 31, 2021)
Main session and panel discussions
Through speeches by executives, screening of DEI Policy videos, and panel discussions, the event provided an opportunity to enhance each person's understanding and empathy.
Messages from top management on their commitment to DEI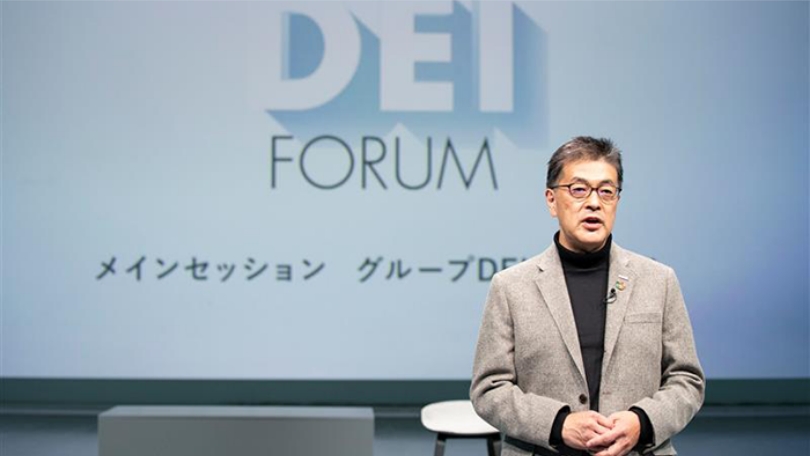 Group CEO Kusumi and Executive Officer in charge of DEI (Diversity, Equity & Inclusion) Promotion Mishima took the stage. Kusumi touched on various decisions in his message, including workplace policy. "Have you ever thought, 'It doesn't feel right,' 'Why don't we look at it from another perspective?"' he asked the audience. "To contribute to a diverse society, it is fundamental that a company must have a corporate culture of open discussion. I recognize DEI as one of the activities that we can carry out in order to achieve this," he continued.
Panel discussions with senior female leaders and top management

Based on their own experiences, senior female leaders pointed out the state of Panasonic's DEI, which is still lagging behind other leading companies. In response, the top management reiterated their recognition of the need for change and their determination to make a difference. In addition, each participant expressed their own approach to further promoting DEI.
Employees with diverse personalities presented talks from their own perspectives.
Sub-session 1: Understand Equity
What is equity? With the goal of understanding the environment of people in different situations, in this sub-session, the participants deepened their understanding of equity by sharing experiences of people in various situations, and discussed what it means to realize equity.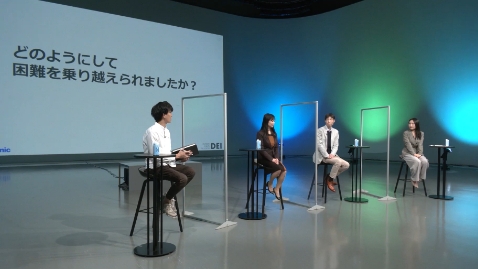 Sub-session 2: Actions to Create an Inclusive Work Environment
Members of business divisions that have taken the lead in efforts to enhance organizational capacity took the stage for this sub-session. They introduced the process of trial-and-error and other important points needed to discover invisible issues in the organization through dialogue, share an ideal vision of inclusivity, and take action to close the gap between the current situation and an ideal future.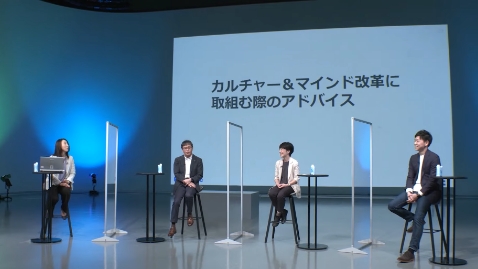 Sub-session 3: Speak up and Take Action
In this sub-session, employees who launched a project to provide support for understanding one's own unique sexuality and employees who spearheaded a company-wide application to support those who are deaf or hard of hearing as a way to solve their own issues discussed their activities. They talked about the importance of first speaking up and then understanding the voices of those speaking up.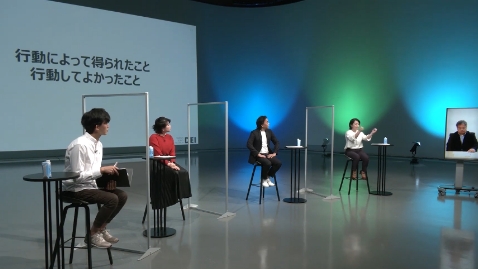 Sub-session 4: Moving DEI Forward Globally in Panasonic with Generation Y and Z
Young employees from Japan, North America, Europe, and Latin America participated in this sub-session, sharing their social and personal backgrounds in each region from the perspective of DEI, and exchanging opinions on why DEI should be increasingly emphasized in future corporate activities, as well as their perceptions of the challenges we face.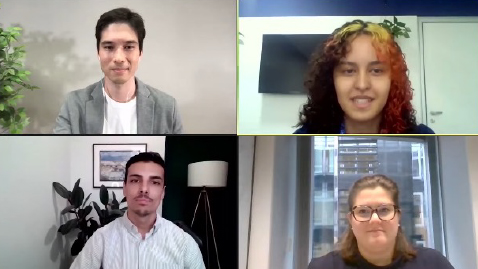 The results of questionnaire surveys conducted among employees before and after the forum show that the level of understanding of DEI and willingness to take action increased significantly. On the other hand, we also found that there were some issues in convincing employees as to why DEI initiatives are necessary, as well as in terms of making DEI a matter that affects employees personally and raising motivation. We plan to listen to the feedback from the employees and further enhance the content of future activities.
Q. Do you understand DEI?

In the pre-forum survey, about 25% of respondents answered that they understood DEI, whereas in the post-forum survey, 87% of respondents answered that they were able to understand or already understood DEI.
Q. Are you taking any actions to promote DEI?
In the pre-forum survey, about 24% of respondents said they were taking action to promote DEI and about 27% said they were planning to take action, while in the post-forum survey, those who said they were already taking action to promote DEI increased to about 31%, and those who said they were planning to take action increased significantly to about 54%.
Q. How motivated are you in your efforts to promote DEI?
The number of respondents who answered that they were extremely or highly motivated to take action to promote DEI increased by only about 10%, suggesting that further efforts to motivate each and every employee are needed to further promote DEI.
I was impressed by the fact that internal initiatives are progressing at a completely different level from my perception of DEI, and that there are employees who are connecting their efforts to self-realization and social contribution through these initiatives. It was an opportunity for me to think about how I would work on my own initiatives.
I was glad to see commitment from the top levels of the Panasonic Group. I sensed their strong leadership as top management and felt that I would like to take action myself.
Although I understand the importance of DEI, it is difficult to put it into practice. In order to avoid creating a double standard, I believe that continuous communication from top management and visible results are necessary.
We will continue to develop the Group DEI Forum and various other initiatives in the future while utilizing the various employee feedback obtained from this survey.