Report on the Group DEI Forum 2022
The Panasonic Group held the D&I Forum, an internal event, every year as an occasion to promote diversity. In FY2022, in conjunction with the establishment of the Panasonic Group DEI Policy, the event was expanded as the Group DEI Forum.
The Group DEI Forum 2022, the second of its kind, was held over two days in July, 2022. A variety of participants, including guests from outside the Group, gathered at the Hibiya office in Tokyo. During the forum, participants engaged in a variety of discussions under the slogan, "Dialogue. Discovery. Appreciating Differences." Over 14,000 employees participated in the event online via a live webcast. Archived videos and articles have now been made available within the Group to encourage more employees to watch the forum.
The goal of this forum is to serve as an opportunity to foster DEI as a culture in the Group, one of accepting diversity and taking on challenges so that anyone can play an active role. As such, the main actors are the employees themselves.
This time, the sessions were organized with the aim of generating awareness that DEI is something that concerns us all, and that it is something we should all take seriously. In particular, we seek to create new dialogue and awareness among employees who have not had the opportunity to come into contact with DEI before.
This session reviewed the Group's DEI policy and last year's Group DEI Forum 2021, as well as introduced the results of the Group's internal survey. The most common answer to the question, "In your mind, what would be the most rewarding kind of company to work for?" was "The kind of company where I can work for the benefit of the world and society."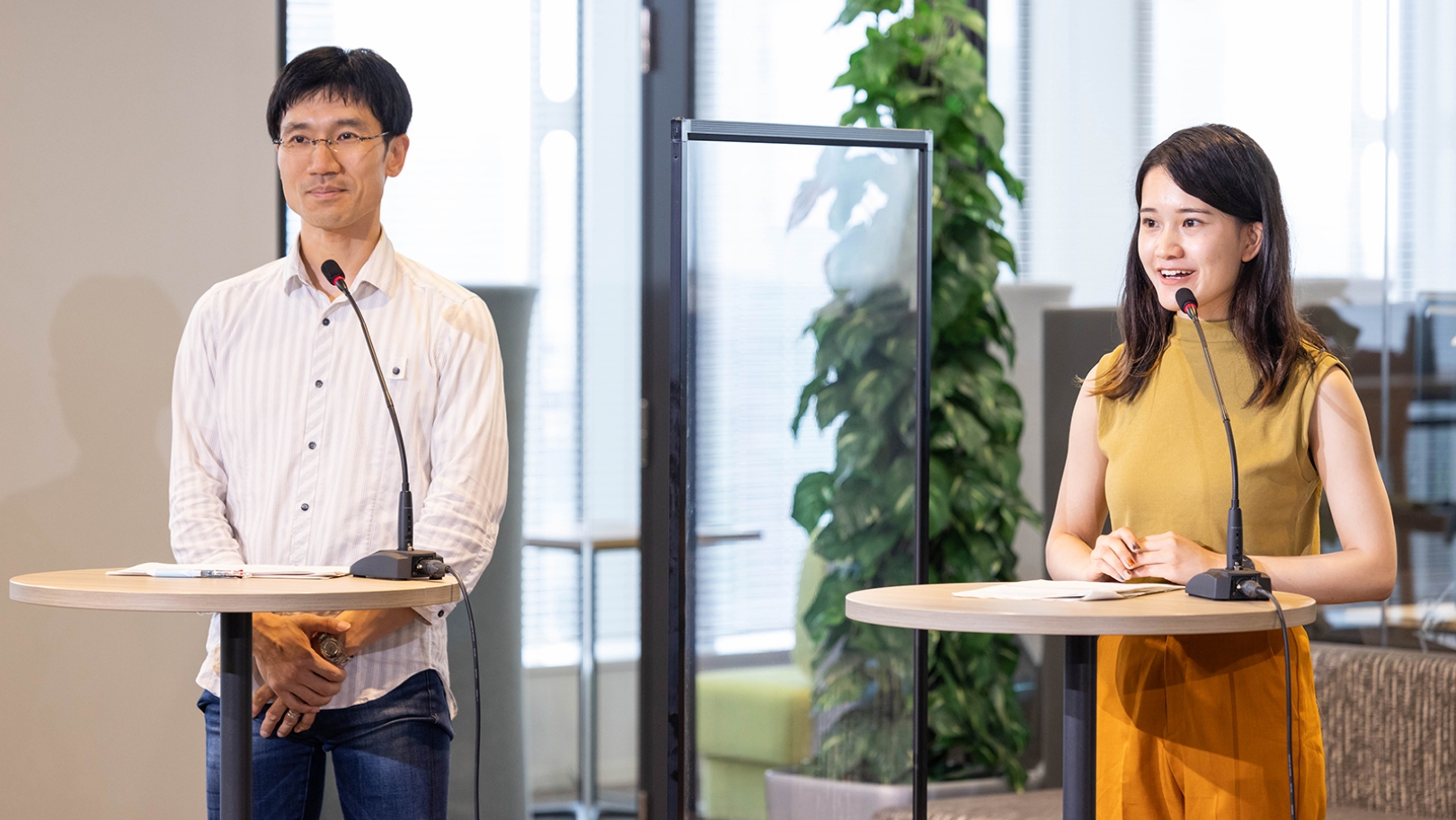 The opening session was moderated and facilitated by members of Panasonic Entertainment & Communication Co., Ltd. and Panasonic Operational Excellence Co., Ltd.
Several participants in the Group's unconscious bias training took part in a panel talk. They exchanged opinions about their own personal experiences and the importance of avoiding assumptions.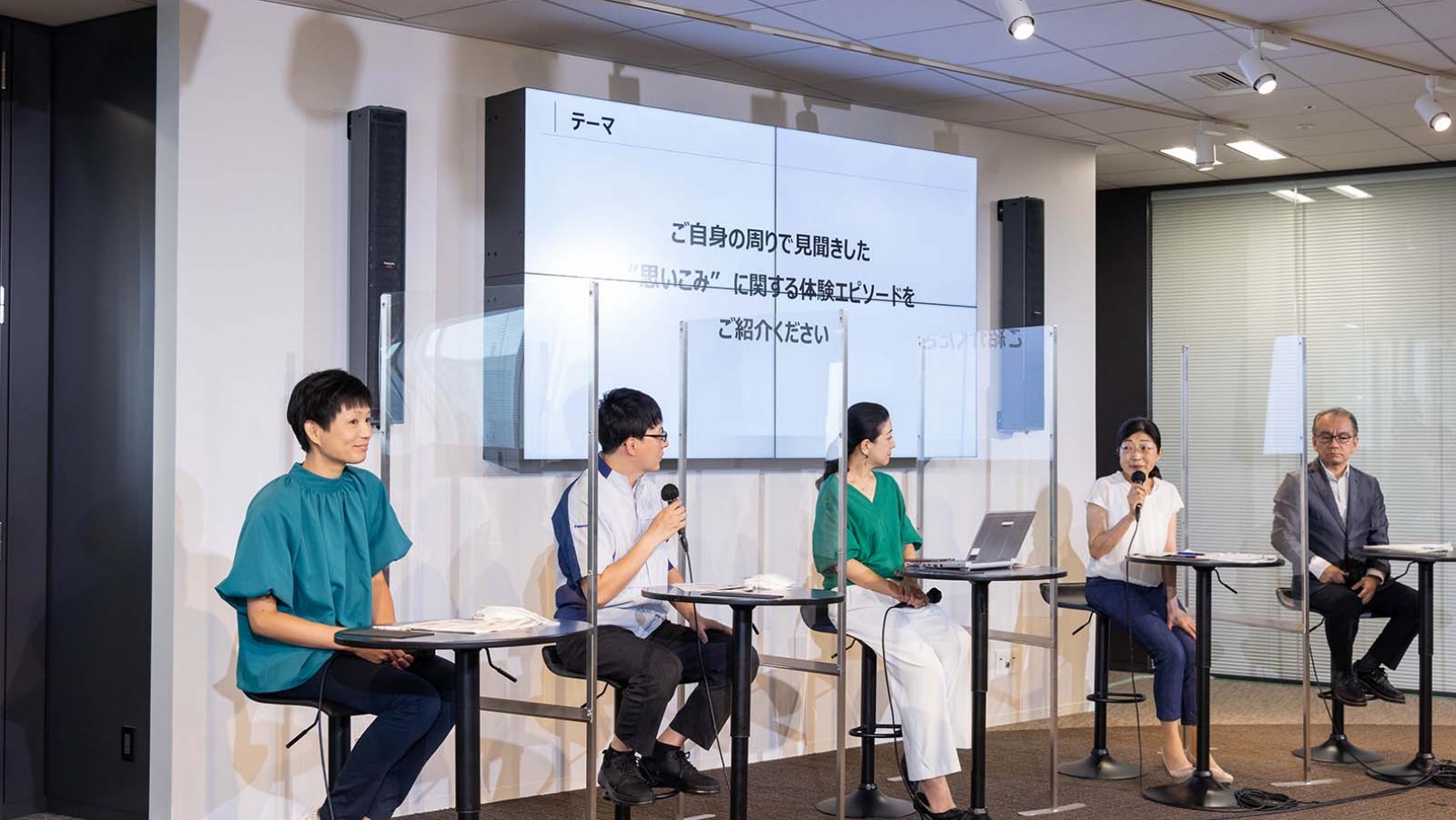 They discussed their personal experiences of assumptions on such themes as organizational barriers, position barriers and disabilities. One of the speakers, an industrial physician, expressed the opinion that "the DEI approach is very beneficial for the health of everyone, especially their emotional health."
My personal experience: Resolving organizational barriers through discussion
I am in charge of reforming our corporate culture in factories. Because of the different roles and requirements for each of the workplaces in the factory, there have been times when I felt that there might be friction between the different departments. However, when the members of each section get together and have a conversation, the atmosphere loosens up and we are able to communicate in a good mood. Everyone has the same desire to make good products. In fact, there may be many things that can be solved by just talking a little.
My personal experience: An experience that made me realize my own assumptions and judgments
My former workplace was busy and everyone was always on the go. One day, a junior colleague and I were summoned by our supervisor and assigned a new task. This junior colleague said that he couldn't do it. I was annoyed to hear him say this. My supervisor asked, "Well, what kind of help do you need?" My colleague said, "I can do it if I get this or this kind of help." This exchange made me realize two things: first, I had the assumption that we just had to answer "yes" to our supervisor's instructions, and that I had judged my junior colleague as being unmotivated when he did not just go along with what he was told. Since then, whenever I start to feel irritated, I try to reflect on my own thoughts and verbalize them before pointing the finger at the other person.
My personal experience: Mismatch between supervisors and subordinates
As an industrial physician, I often receive consultations that are caused by mismatches due to assumptions. I received a consultation that "my supervisor is the type of person who gives abstract instructions and I find it difficult to carry out my work." When we asked the supervisor in question about it, they replied that they had given these instructions because they thought "this person is excellent and experienced, so it would be better to leave it to their discretion." However, the person consulting with me was, on the contrary, the type who was not good at taking charge by themself. The relationship was improved by having both parties honestly confide in each other about their thoughts.
"Would my work duties change if I revealed that I have a developmental disability?" "Misunderstandings arising due to unique terminology used in the Company." In this session, we held role-plays based on situations that might occur in the workplace. The session included interactive elements, such as an online questionnaire that audience members could answer, and the results were shared in real time.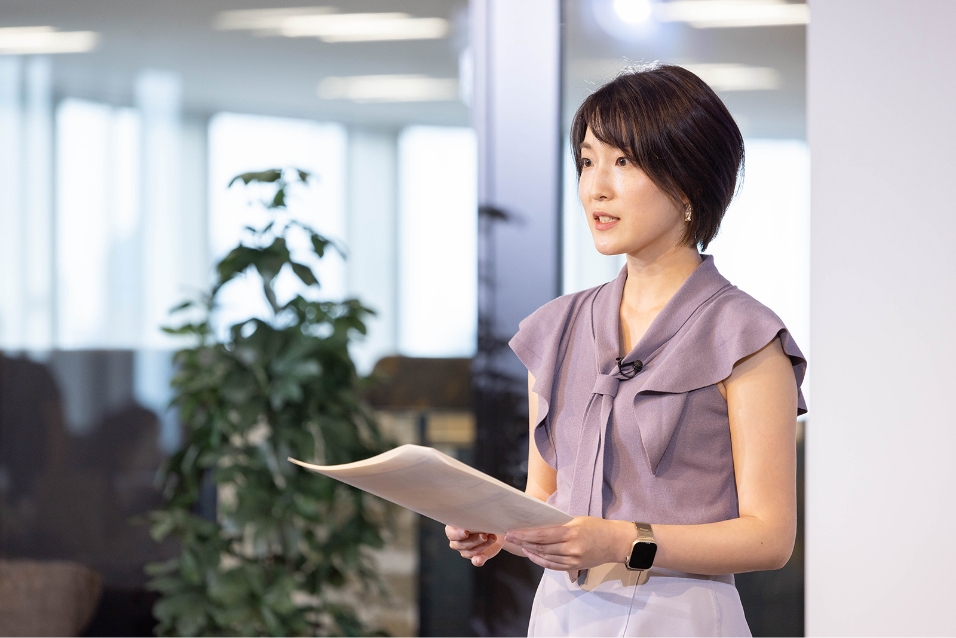 Members of Panasonic Holdings Corporation served as moderators and facilitators.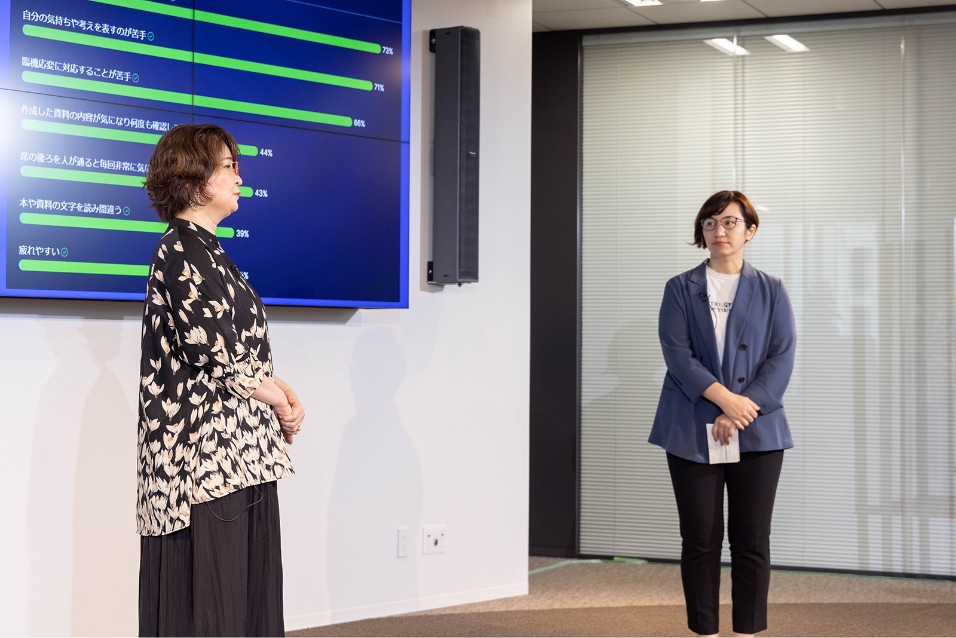 After watching the role-plays, the participants were told that the symptoms of developmental disabilities differ from person to person, and that it is important to engage in dialogue in order to maximize the potential of each person.
Impressions after actually acting out the role-play
Would my work duties change if I revealed to my team members that I have a developmental disability?
I played the role of a person who confides in their boss about his disability. It allowed me to imagine how it must have taken a lot of hesitation and courage before they said it.
I played the role of a colleague. I felt that the way I responded to the situation was different depending on whether I knew the nature of the disability or not.
I played the role of a supervisor. I thought that if the person in question and those around them disclosed information to each other and consulted each other about what to do, unnecessary gaps and assumptions would not be created, and things would work out well.
Misunderstandings arising due to unique terminology used in the company
I played the role of a mid-career entrant to the company. If I heard some in-house terminology in a meeting that I didn't understand, I would ask what it means. However, if it was during a serious meeting and it is not easy to speak up, some people may not be able to ask and would not understand what it meant.
I played the role of an employee who uses in-house terminology without being aware that it was unique to the Company. I realized that even if it was a term that I took as being normal, that there are those who don't have a long history with the Company or particular situation who wouldn't understand it, and I thought that this is something I must become more aware of.
I played the role of a supervisor. I realized the importance of creating an atmosphere in which everyone is comfortable asking questions and verbalizing what's on their mind, even in serious meetings, so that the discussion can proceed with everyone knowing the meaning of what is being said.
In the first session of day two, Jun Nakajima, director of ReBit, an Approved Specified Nonprofit Corporation, took the stage as a guest speaker. In an exchange of opinions with participants, Jun focused on the relationship between DEI and organizational performance, which are sometimes seen as difficult to reconcile, and discussed the individual actions that can be taken to change companies and society, including various examples from society.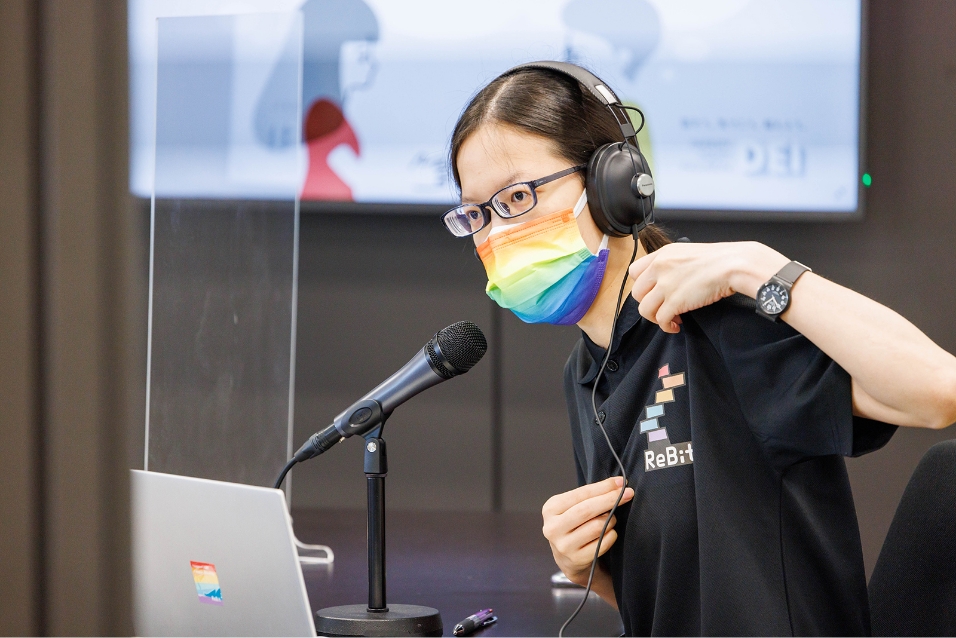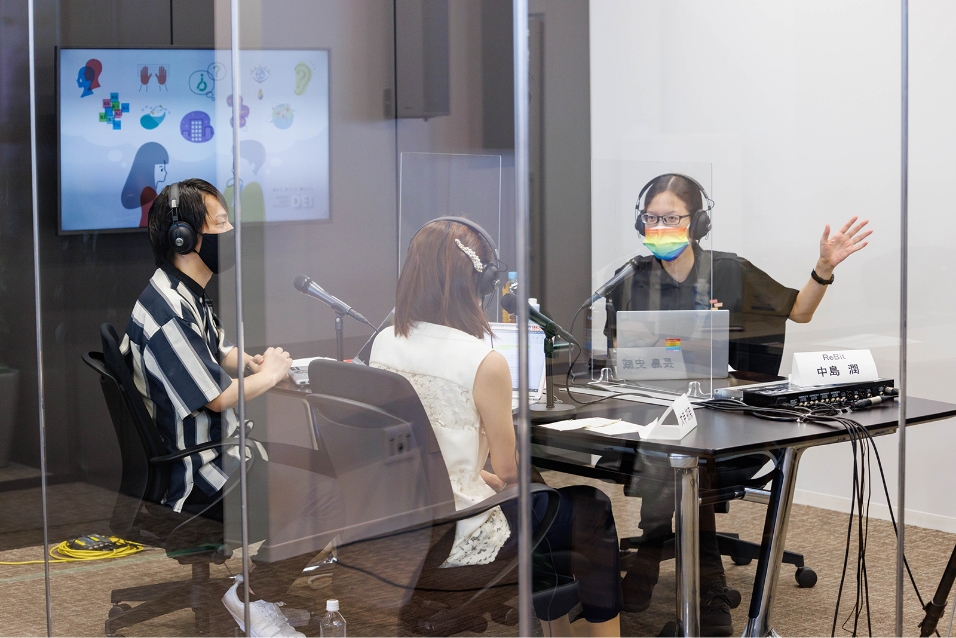 A dialogue developed with Jun Nakajima, who has experienced working for a company after revealing their transgender identity.
In order to create a society where all children, including LGBTQ children, can grow up to be who they truly are, Jun Nakajima has been giving classes at schools and supporting companies in promoting DEI. According to Jun, they are often asked by companies whether the promotion of DEI risks lowering the performance of the organization:
"There are two main concerns that we receive from managers and others. The first is, 'If we allow diversity, won't that just mean that anything is OK, and achieving our goals will be more difficult?' The second is, 'Will allowing different people to express different opinions increase communication costs and slow down the process?'
"As for the first point, I have heard of cases where, when discussing the company's goals, if diversity is acknowledged, the goal itself becomes lost because some people say, 'Isn't that a different goal?'
The most important thing to remember is that promoting DEI does not mean changing the goal. For example, if there is a goal to reach the summit of a mountain, the goal is the same, but there are many different ways to reach the summit depending on the person. I think that the promotion of DEI means to add variety and fun to the ways of climbing.
"As for the second point, people seem to think that if there are only similar people, they will be able to work in harmony. In reality, however, this does not necessarily lead to organizational results. Also, if you analyze whether the communication cost of a team consisting of heterogenous people is really high, it is not necessarily the case.
When doing something new, a homogeneous team appears to have a strong sense of unity and smooth progress. However, once such teams run into a problem, they tend to say, 'It's already decided, so let's just keep going.' On the other hand, it is believed that teams that are not homogeneous are more likely to redo or change course in the middle of a project, leading to better results when viewed in terms of the total cost of a successful project.
The more advanced the DEI, the better the organization's risk perception. In particular, research has shown that diversity among managerial positions is important in terms of crisis response capability and resilience. This means that DEI is also an important aspect of an organization's survival strategy."
The members in charge of DEI promotion in the Panasonic Group in various parts of the world discussed the latest efforts in each country and region. The Japanese representative was Shigeki Mishima, Executive Officer CHRO in charge of DEI promotion, Panasonic Holdings Corporation.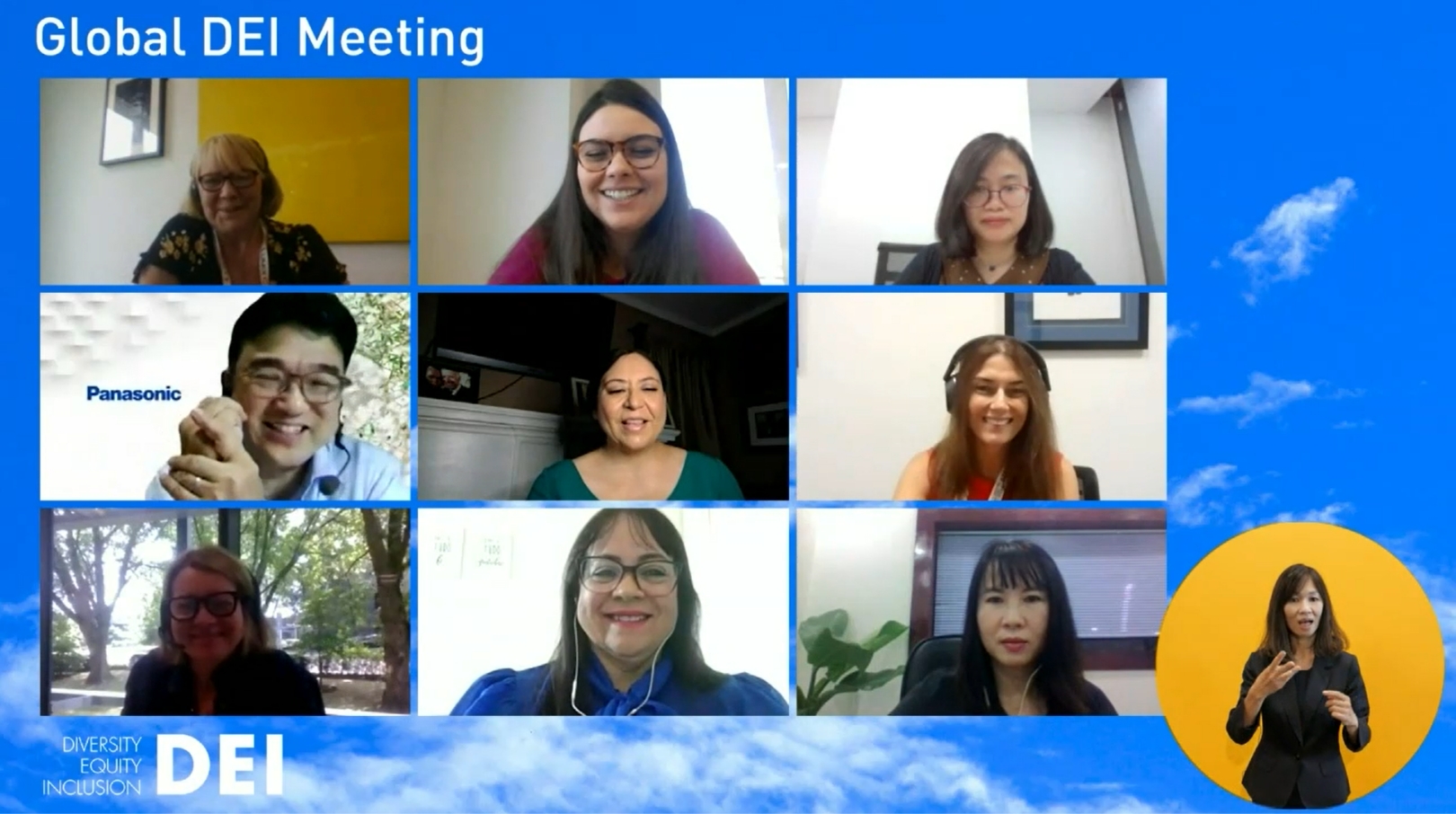 DEI representatives from Japan, North America, South America, Europe and Asia were connected online to exchange opinions. Executive Officer Mishima is in the middle row, on the left.
Mishima stated that in order to expand DEI globally, he will focus on unconscious bias training this fiscal year, and is planning to introduce a global mentorship program.
Participants also presented their own initiatives in their respective countries and regions. While promoting common global policies, participants also expressed the importance of local approaches in light of the large differences in social concerns and awareness of issues in each region.
Mishima had the following to say. "What is important for the global expansion of the DEI? First of all, it is vital to take a culturally specific approach in each country and region. There is no one way that works everywhere. There is no one-size-fits-all approach, but rather local creativity. Another is to share experiences across countries, regions and organizations in order to support each other."
Feedback from participants
My advice to a HR leader in a country or region that is starting its DEI journey is to be very clear about your approach. Don't try to "boil the ocean." Be very clear about why that is your approach and be strong. And the second thing I would say is to plan, plan, plan, plan. Make sure that it's sustainable, and you don't have to backtrack on it.
At the beginning of the closing session, Mishima reported on the many DEI initiatives that have been implemented over the past year and expressed his strong will for further efforts, saying, "All people are diverse, and we will promote DEI so that each of them will not give up on their challenges and move toward being of service to society."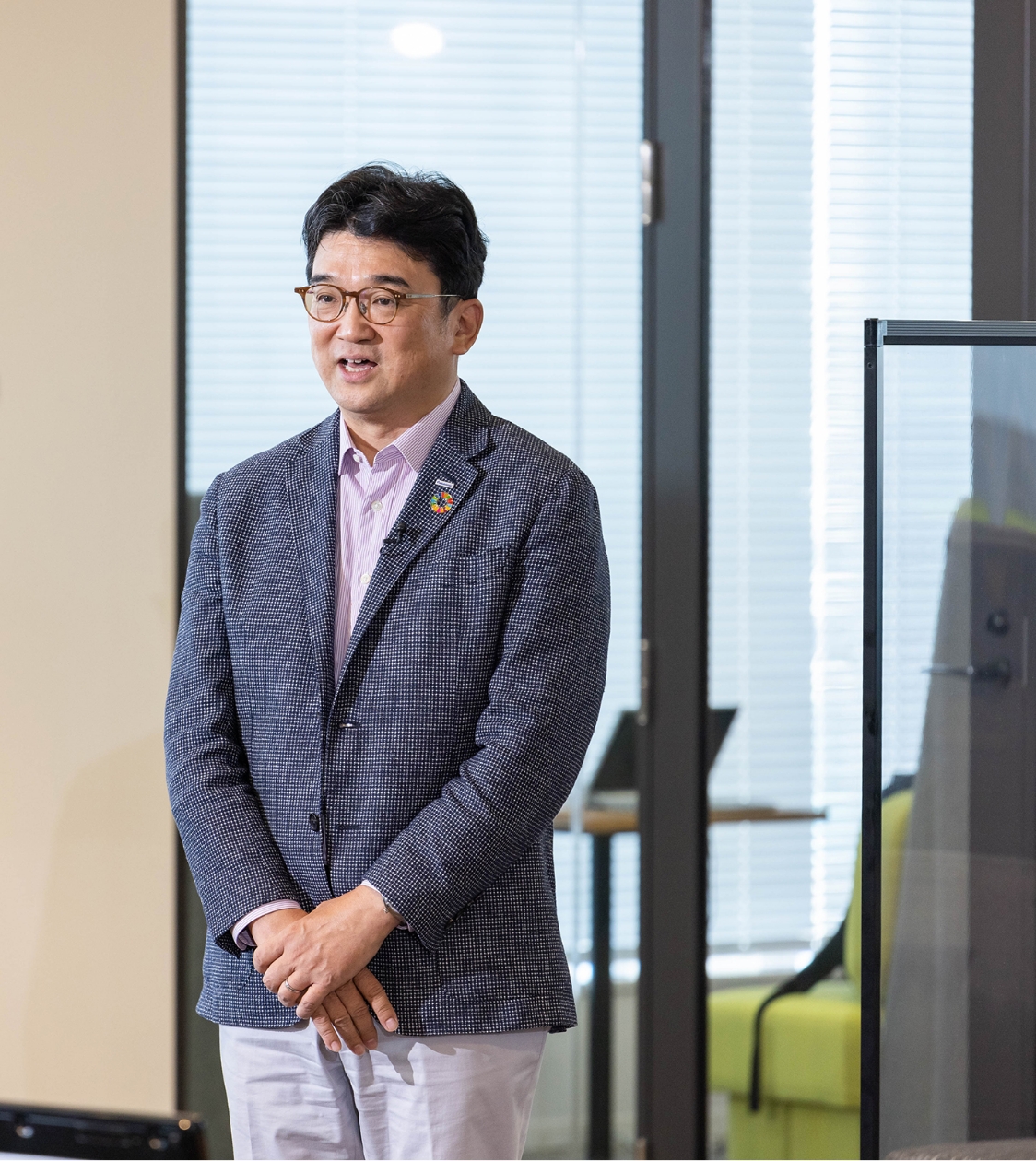 The final talk session, following these comments, was attended by a diverse group of employees from various backgrounds, including Group CEO Yuki Kusumi. The workshop was an interactive session in which participants wrote down their own weaknesses on sticky notes and asked others to review them from their own perspectives to see what they perceived to be of value.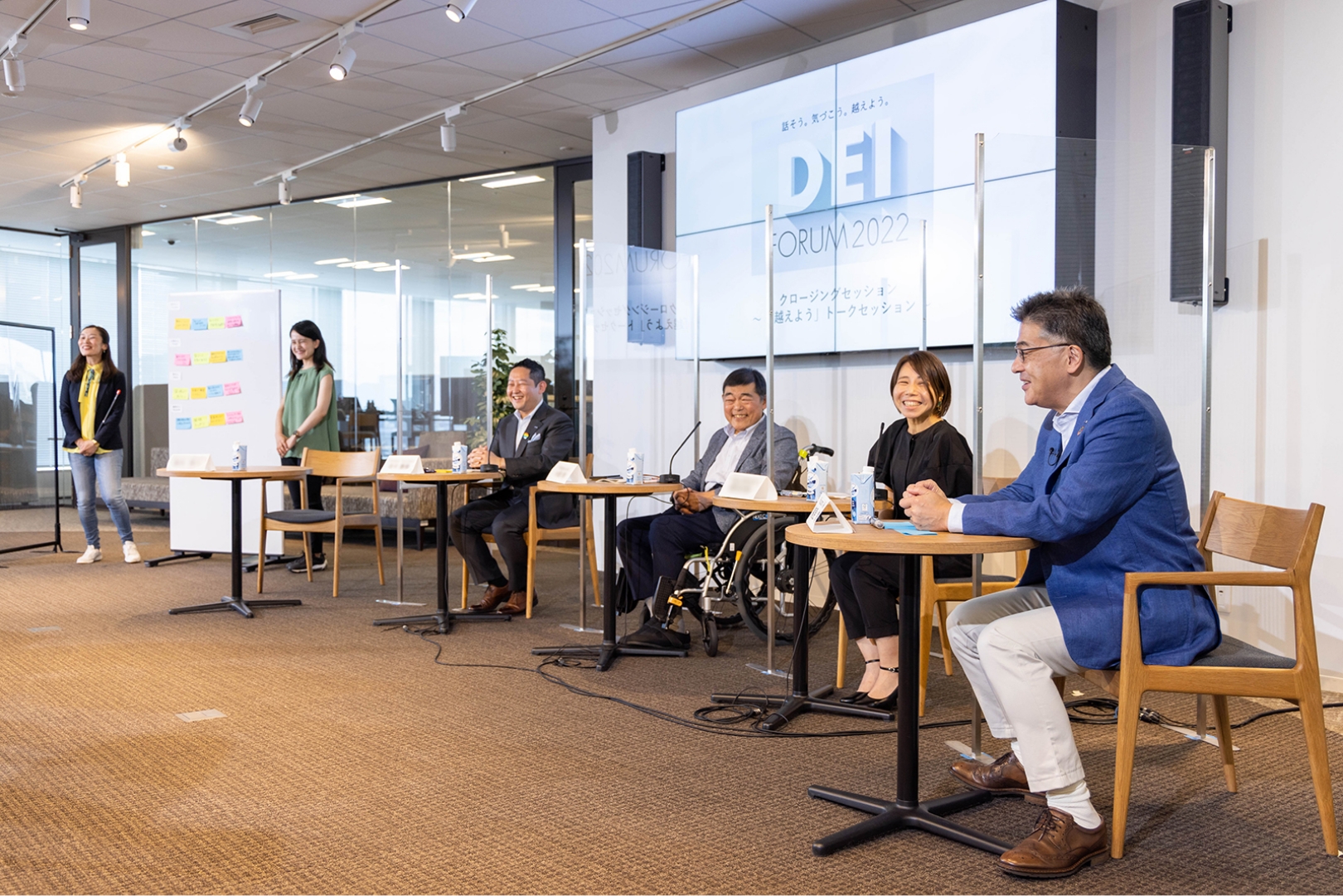 Each of the speakers, including Kusumi, shared their own weaknesses, which were then positively evaluated by the others. The participants were able to experience the importance of accepting and compensating for each other's weaknesses and shortcomings, which in fact have value.
In concluding the forum, Kusumi commented, "There are many things that I am not good at. What I am particularly weak at or don't understand, I compensate for by asking for wisdom from various people or leaving things to them. I think that this style of working while complementing each other is the most important thing in the Group's work at all levels." He continued, "By expressing different opinions from different perspectives, we can bring together the wisdom and ideas of everyone with diverse experience and knowledge to conduct management. In other words, I would like to aim for the Group to truly practice employee entrepreneurship and management based on collective wisdom with everyone."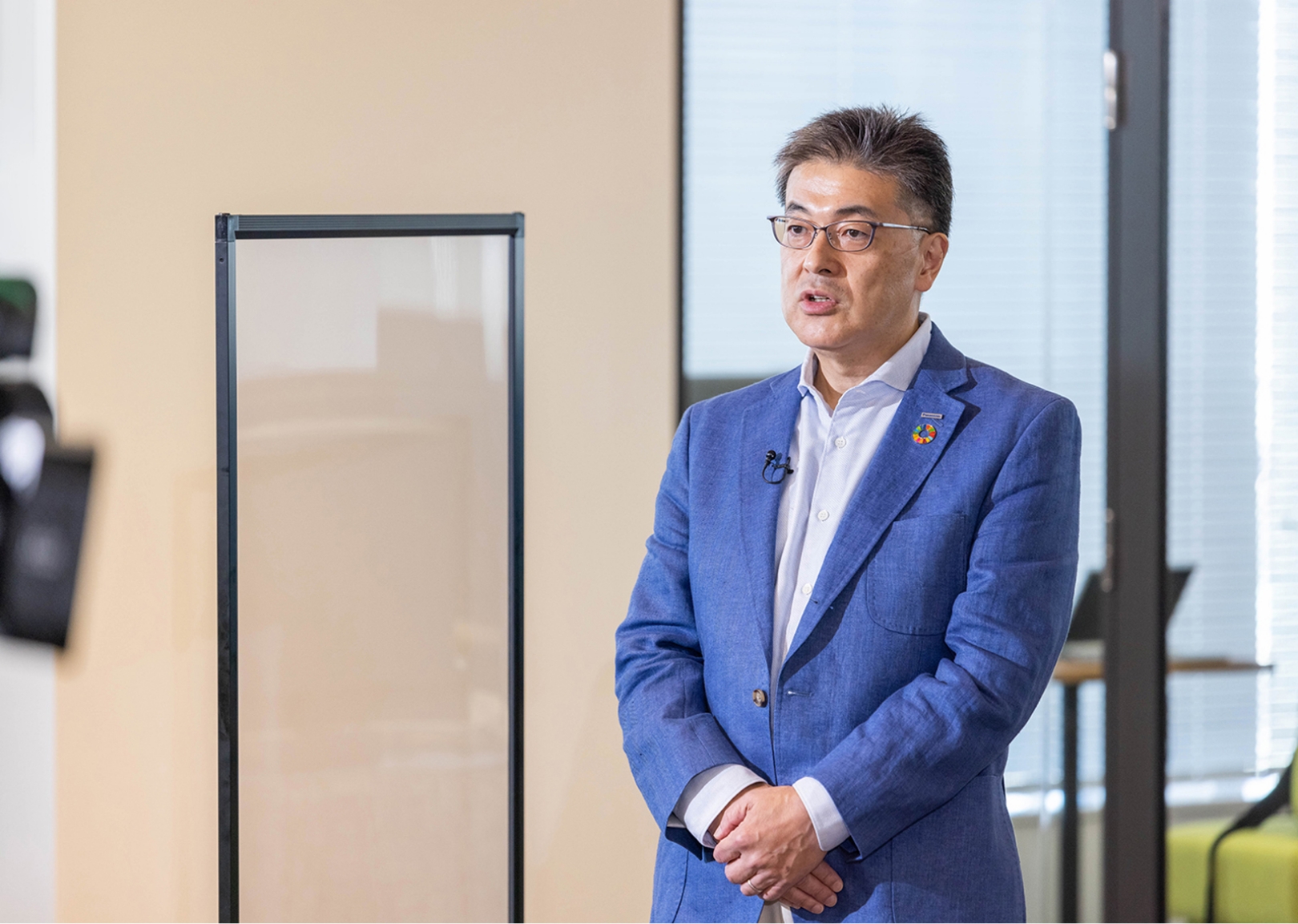 We received the following feedback in the questionnaire conducted among the forum's audience members.
Various people with personal experience in these issues took the stage, and it was good to hear the message repeated over and over again that DEI is not about spotlighting any one particular person, but about each and every one of us.
Frankly, I had assumed that DEI would be about listening to the whims of minorities, but when I learned that it is promoted based on the recognition that by listening to the voices of minorities and improving, the whole will be better (win-win), it became clear to me that it is an image of a new society.
On the one hand, I feel that this is a very good initiative, but on the other hand, I also feel that we have finally reached this point.
We will strive to raise awareness throughout the Group by utilizing the feedback we received to promote further activities in the future.