Integrated Management of Corporate Environmental Information
In order to implement the PDCA cycle for environmental sustainability management, it is essential to collect a significant amount of data, such as amounts of used energy, waste, valuables, discharged and transferred chemical substances, and used water, etc. at each business site in a prompt and accurate manner.
Panasonic Group has built and introduced an environmental performance system, the Eco System (Factory), to globally collect and manage environmental data from all of own business sites. With this system, monthly CO2 emissions are managed in particular, allowing checking the progress of initiatives and identifying issues. The system plays an important role in achieving the reduction of CO2 emissions by sharing the information and taking measures.
The Eco System (Factory) is also functioning as a scheme for sharing information on the status of compliance among sites across the world. In the event of complaints from local community residents or when a specific value exceeds ordinance regulated levels, as soon as the person in charge at the business site inputs the data on the system, information of the data is instantaneously e-mailed to relevant persons at the operating companies and the Quality & Environment Division of Panasonic Operational Excellence Co., Ltd. Thereby, the system enables rapid informationsharing and appropriate actions.
Mechanism of the Eco System (Factory)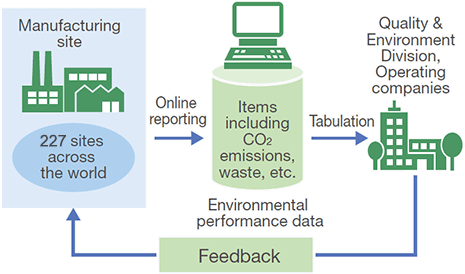 As for products, legislation relating to chemical substances in products is becoming more stringent, and communication and disclosure of chemical information in the EU supply chain are mandatory under the REACH Regulations. Panasonic Group has developed own management system for chemical substances in products based on industrystandard information handling methods in order to respond to a wide range of regulations and requirements.
In January 2017, we renewed the system to adopt chemSHERPA,*1 the new format for information handling of chemical substances in products led by the Ministry of Economy, Trade and Industry (METI). With the expansion of Panasonic Group's automotive business, we also adopted the JAMA/JAPIA sheet,*2 the standard material data format for the Japanese automotive industry, in order to respond to increasingly complex and diverse regulations covering chemical substances used in products. In addition, to strengthen the response to laws and regulations on chemical substances in products relevant to our automotive businesses, in October 2020 we enhanced the function to operate in conjunction with IMDS*3, the standard system for the global automobile industry.
Furthermore, under the EU Waste Framework Directive, the requirements for information disclosure on substances of very high concern (SVHC*4) to waste disposal companies and consumers have been enhanced, and registration of SVHCs with the SCIP*5 database of the European Chemicals Agency (ECHA) has become compulsory (starting on January 5, 2021). For handling registration with the SCIP database, we have strengthened the system-based coordination of information and started registration via the system.
Mechanism of the Product chemical substance management system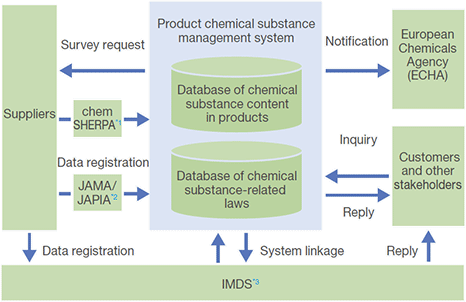 *1 New chemical information format led by METI and recommended by the Joint Article Management Promotion-Consortium (JAMP).
*2 A standardized survey datasheet for contained chemical compounds in Japan's automotive industry.
*3 International Material Data System: Material data system for the automobile industry that are operated on a global scale.
*4 Substances of Very High Concern
*5 Substances of Concern In articles as such or in complex objects (Products)