Environmental Loads on Climate Change caused by Business Activities and Its Minimization
Since its foundation, Panasonic's mission has been to contribute to make better life style choices and advancing society through its electrical appliances and related services. Automobiles are increasingly electrically powered, and electrical products and services are continuously expanding and employing new technologies, such as IH and heat pumps. As a result, electricity usage across the whole of society is growing and so traditional thermal power generation continues to rise. The latter in turn pushes up CO2 emissions, causing acute and prolonged climate change. It is an imminent task for human beings to stop this climate change. We estimate our greenhouse gas (GHG) emissions from our entire supply chain is 110 million tons per year (total of figures in orange circles in the illustration shown below). Out of this total, 85 million tons are Scope 3 GHG emissions that are generated from the energy usage from our products and services while in use at our customers in society. We are aware that our greatest social responsibility concerning climate change lies in this area.
To address this issue, we set a business strategy to achieve customer value and the sustainability of the global environment at the same time, through our new higher efficiency products and services. We pursue the highest energy-saving performance in our electric appliances—from home air conditioners and washing machines to industrial refrigerators and freezers. We also offer energy management solutions that can operate these appliances in the most efficient way. By combining these appliances and energy management solutions, we aim to reduce energy consumption in households and businesses.
To realize a society where people can live comfortably with clean energy, it is essential to further electrify the transportation and industrial sectors, where fossil fuel is still heavily used as a thermal and power source. We are expanding the device system service that contributes to electrification and efficiency enhancement in the transportation and industry, through automotive electrification, including automotive battery development and reform of production and distribution processes. We believe increasing the number of electrified products and services will generate demand for further energy conservation.
Solutions for the energy "created" such as creation of clean energy with autonomous decentralized system (Solar power generation) and utilization (Hydrogen and Storage power) are the area Panasonic can uniquely contribut to. By making our business activities to contribute not only to reduction of the energy "used" by cusotmers and societies, but also to increase of the energy"created", we aim to build a carbon-neutral society and lifestyle by 2050 by decreasing energy usage and increasing energy creation at our customers.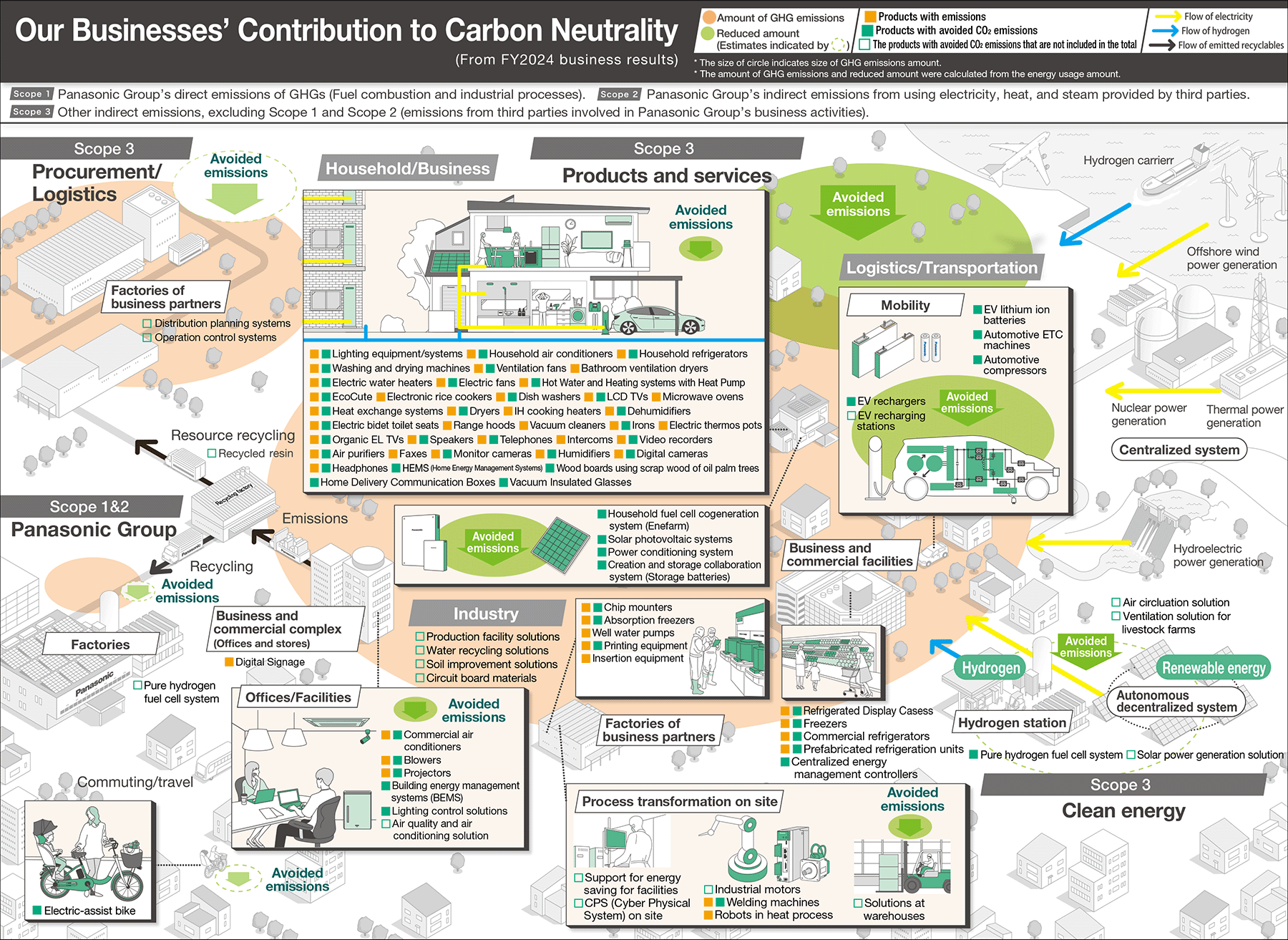 * As the business areas selected here are the areas where effects of climate change are significant in both positive and negative ways, the names of these areas may differ from the business names and business segments used in TCFD-related reports.