The 3.11 Future Support Association has shifted its focus from emergency relief to activities aimed at passing on the earthquake and tsunami disaster's experience and memories. A Pro Bono team of six Panasonic employees worked pro bono on "business planning," with the goal of making the mainstay storytelling business profitable.
[This is a re-edited version of an article originally published in No. 423 edition, THE BIG ISSUE JAPAN (March 1, 2022).]
Coordination of the Transition From Earthquake Relief Activities to Passing on the Experience of the Disaster
The Storytelling Project Was Critical to the Survival of the 3.11 Future Support Association
The 3.11 Future Support Association began operations in March 2011, following the Great East Japan Earthquake, by establishing a hub for connecting NPOs and NGOs with government and other agencies that rushed to Ishinomaki, Miyagi Prefecture, to support victims. Mr. Masaharu Nakagawa, Executive Director, explains, "after establishing a forum for discussion, taking minutes, coordinating relief supplies, and assisting the head of the community association in organizing temporary housing, we are now working as an organization that connects people to pass down the disaster's legacy."
The "That Time Project," in collaboration with the International Research Institute of Disaster Science, Tohoku University, interviewed more than 100 people in the Minamihama and Kadonowaki areas of Ishinomaki City about their evacuation behavior on March 11 and used projection mapping to visualize it for distribution on their website and YouTube. Based on these interviews, a video depicting evacuation behavior was also created and shown at the "March 11 Education & Exhibition Theater (MEET) Kadonowaki," a facility for children to learn about the earthquake disaster that opened in March 2021.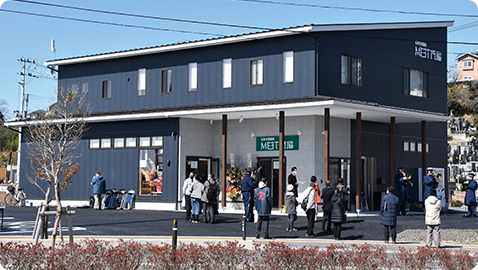 The facility has concentrated its efforts on the "Earthquake Learning Program (Earthquake Storyteller Course)," which allows participants to hear directly from storytellers about their experiences on the day of the disaster. "In Japan, where a massive earthquake can strike at any time, the earthquake experience becomes 'your own story.' If you act, those around you will follow suit, and a chain of evacuations will be set in motion, potentially saving many lives. I hope that the words of the storytellers will raise your awareness."
It is difficult to comprehend the height of the tsunami unless you visit the area. In the midst of the corona pandemic, we are also hosting an online storytelling program to encourage "people to become interested in the earthquake disaster." "Until now, we have funded our activities through a grant from the reconstruction budget; however, the grant is set to expire in FY2025, and in order to continue our activities, we have decided to ask the Pro Bono team to develop a business plan for monetizing the Earthquake Learning Program."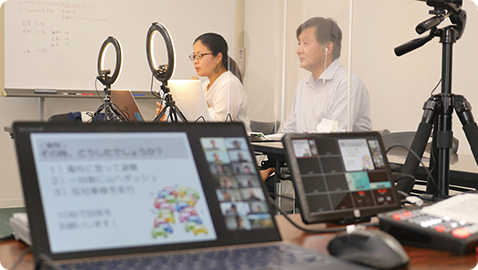 Website Optimization and Workshop Proposals Based on Interviews With Key Stakeholders
Pro Bono team members from across the country took part in the online storytelling program from July 11, 2021, and interviewed 29 people, including organization staff, storytellers, supporters, online participants, and government officials. Based on these interviews, evaluation points, challenges, and other potential areas for improvement were identified for the 3.11 Future Support Association and its Earthquake Learning Program. A revenue improvement proposal was compiled, and the final report was presented on December 18 to the association online.
First, the Pro Bono team proposed expanding the association's revenue base through "a two-pronged strategy of online marketing and physical activities." "We compared attracting customers to a faucet and the website to a bucket. We believed that "in order to plug the holes in the bucket, we needed to analyze the website to identify the areas where visitors were leaving the site and plug the holes." As a result, we provided them with a prioritized list of the website areas that needed to be modified and advised them on how to improve the website's structure so that "the information could be easily seen at a glance."
With regards to the Storytelling Project, the Pro Bono team felt that "the bucket itself needed to be expanded while increasing website conversion rates (obtaining program applications)." The team proposed creating a map depicting where and what the storytellers were doing when the disaster occurred. When the cursor hovers over the map, the theme and content of the storytelling session can easily be identified. Another suggestion was to "incorporate a workshop into the Earthquake Learning Program in which participants could listen to a storyteller speak and then discuss the experience with one another in order to make it 'their own experience.'" As for the "physical activities," Ms. Chizuru Katsumata, a Pro Bono team member from Sendai in Miyagi Prefecture, listed "about 30 local companies and other organizations that might be interested" as potential customers. The Pro Bono team created a draft for a direct mail promotional flyer to communicate the association's activities, mission, aspirations, program highlights, storyteller introductions, and participant testimonies.
Simultaneously, the team proposed that "by compiling a record of where and what storytellers were doing at the time of the disaster, as well as what transpired over time, it would be possible to design a story by combining the elements in such a way that it could respond to inquiries from any industry." Additionally, the Pro Bono team laid the groundwork for a new program menu to increase revenue by redirecting customers away from the 30- and 60-minute storytelling courses and toward the 90-minute "Earthquake Remnants Course" and the 120-minute "Storytelling + Workshop Course."
Focus on Online Programs
Aiming to Further Increase Revenues
The Pro Bono team also analyzed data from the past two years. Despite the fact that the number of programs offered decreased in the sixth fiscal year (from October 2019 to September 2020) due to the COVID-19 pandemic, revenues nearly doubled in the seventh fiscal year (from October 2020 to September 2021), with online programs increasing by up to 2 million yen. This indicated that strategies such as "online marketing, direct mail marketing, leading customers to more in-depth learning programs, and selling local products and disaster prevention goods to online program participants" could result in increased revenue.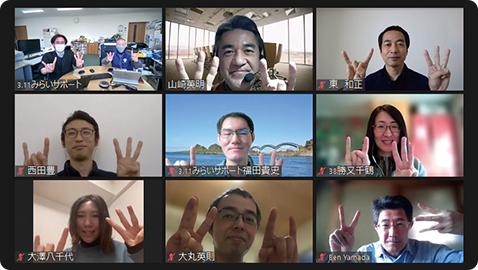 Ms. Chihiro Fujima, Director of the 3.11 Future Support Association, stated in reaction to this report, "I felt it was essential to visualize the storyteller's story, but it was an area we had not been able to work on." Mr. Hidenori Daimaru, a representative of the board of directors, commented, "The recommendations for improvement were made from our perspective, were categorized into areas that we can begin working on immediately and those that will require further time, and were straightforward to implement." "We'd like to proceed based on what we can do," he said, expressing gratitude.
On January 15, six participants, including two online participants, met on-site with the association's staff for a final workshop. It lasted three and a half hours and was filled with genuine enthusiasm.
Pro Bono team member Mr. Kazumasa Higashi said, "I am also involved in business planning in my day job, and this time I realized once again that some things are born out of diverse ideas." Ms. Yachiyo Osawa described the disaster as a "personal matter," saying, "Despite the fact that I had only seen the disaster area on TV, I was able to get a realistic sense of it through my online involvement. It made me reconsider the possibility that we, too, might become victims of the earthquake in the future."
Mr. Hideaki Yamazaki, who served as Project Manager, remarked, "The 3.11 Future Support Association is steadily advancing its highly specialized activities. By focusing on attracting customers through marketing activities, we intend to establish a positive cycle in which the Storytelling Project's narrative style will garner compassion and raise awareness through word of mouth and other means." Ms. Katsumata noted, "Even though I live in Miyagi, I was unaware of the existence of the 3.11 Future Support Association. March is a special month for the Tohoku region. I recommend online storytelling programs to everyone around me. Even after the Pro Bono work is completed, I want to keep these connections," he says.
Public Interest Incorporated Association - The 3.11 Future Support Association
Starting with the secretariat function of the "NPO/NGO Liaison Committee" formed in the aftermath of the Great East Japan Earthquake, the association shifted its focus to passing on the disaster's lessons and stories. The association aims to create a society in which precious lives are protected in times of disaster by connecting those who tell about the tragedy with those who learn about it through the provision of earthquake learning programs and the operation of "March 11 Education & Exhibition Theater (MEET) Kadonowaki."