What I wanted to study led to what I wanted to do.
A range of stimuli in cross-cultural life.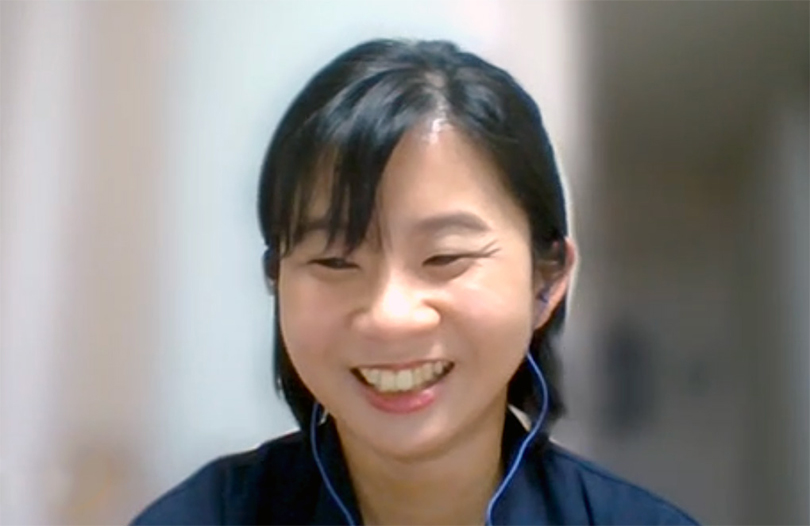 Ms. Hew lives in Osaka. She kindly responded to our request for a remote interview
○Ms. Hew Zhi Xin
Awarded in 2012 -> entered Kyoto University (Architecture and Architectural Engineering, Graduate School of Engineering) -> currently employed by Panasonic Housing Solutions Co., Ltd.
The second session features Ms. Hew Zhi Xin from Malaysia. She learned about the Panasonic Scholarship program shortly after graduating from a university in Malaysia. At that time, Ms. Hew wanted to learn a foreign language, in which she was developing an interest, along with architecture, her major in university, in a different culture. She thus decided to give studying in Japan a try. At present, she works for a housing company in the Panasonic Group, and works on the "development of residential environments to make the lives of the people better," while being engaged in product development. Ms. Hew found her dreams and goals after her studies, so we asked her about her path to finding "something to live for."
Encounter with the Panasonic Scholarship that helped her take the first step toward her dream
Currently, Ms. Hew works for Panasonic Housing Solutions, which manufactures housing equipment, building materials, etc. She is in charge of a field called "advanced building material engineering." The products she has worked on so far include a bathroom sound system.
Ms. Hew: This system is installed on the hidden side of the top board at the ceiling inspection port and it vibrates the top board to generate sounds like a speaker. This system is equipment that turns a bathroom into a space where you can enjoy music like an audio room. In the field of architecture, the products I am in charge of are called housing equipment and they are part of a building's functions. It may not attract the attention or interest of the general public that much, but I feel great satisfaction in the solid sense that I am sending something into the world when my ideas take shape.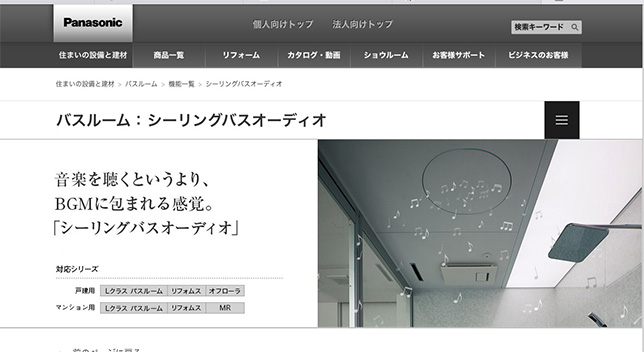 The ceiling bath audio whose development Ms. Hew was involved in generates sounds that surround the user resulting in an experience similar to listening to live music.
For Ms. Hew, who studied architecture at a university in Malaysia, Japan was a country she admired through the works of world-famous architects such as Kisho Kurokawa and Tadao Ando. Since Ms. Hew wanted to continue her study of architecture even after graduating from university, and since she was also becoming interested in foreign languages, she started dreaming of making a further leap toward the future by living in a foreign culture. It was her father, a lecturer of electrical engineering at a university, who gave Ms. Hew a supportive push forward.
Ms. Hew: My father told me about the Panasonic Scholarship program. My father, who regretted that he was not able to study abroad when he was a student, recommended that I actively take up the challenge of studying abroad. My mother is a math teacher, and I came to like studying science, probably due to the influence of my parents. I also have an interest in art, and I think I reached the field of architecture as a fusion of my two interests. With the support of my father, I took the first step towards realizing my dream of coming to Japan, where completely new types of architecture are born, such as Nakagin Capsule Tower Building by Mr. Kurokawa, which was unfortunately demolished in 2022, and pieces by Mr. Ando, who designs beautiful architecture with concrete.
A cross-cultural experience in Kyoto that broadened her horizons
She started her life in Kyoto to prepare for the entrance examination for graduate school while studying as a research student at Kyoto University. Being placed in an environment completely different from Kuala Lumpur, where she was born and raised, she says that those days were filled with stimuli different from studying. What surprised Ms. Hew most of all was the distinct changes in the four seasons. There are no clear seasons in Malaysia, and the temperature remains at 23 to 33ºC throughout the year. The way they live does not change depending on the season like in Japan, she says.
Ms. Hew: It was winter when I arrived in Japan, but I found it more difficult to get used to the changes in the environment as it became warmer later, rather than the cold itself at the time. As the seasons change, the environment also changes rapidly. Houses are required to provide functions in accordance with these changes, and it was truly a cross-cultural experience to learn that. My interest, which had been focused more on architectural design until then, began to also shift toward architectural functions. As I looked at architecture from such a new perspective and deepened my understanding, I began to think that being involved in the design of interior building materials could bring out my individuality since I also like art. I was able to have specific visions for the future when I was looking for a job in Japan later by adding approaches to companies in these fields.
As Ms. Hew had always lived with her parents in Malaysia, she did not feel very confident about living alone, not to mention living in a foreign country. A senior scholar living in Kyoto gave her advice on a place to live and matters of daily life. In addition, support from the staff at the Panasonic Scholarship office reassured her when she fell sick or felt homesick.
She experienced the zipline near Lake Biwa with fellow scholars at the Panasonic Scholarship Summer Seminar. Here, Ms. Hew met irreplaceable friends.
Ms. Hew: The people of the office dealt with my concerns and questions about daily life, and helped me kindly. The office held summer seminars, where I was given the opportunity to team up with fellow Malaysian scholars to prepare for entertainment, and deepen exchanges with scholars from other Asian countries. My first step out of my country broadened farther.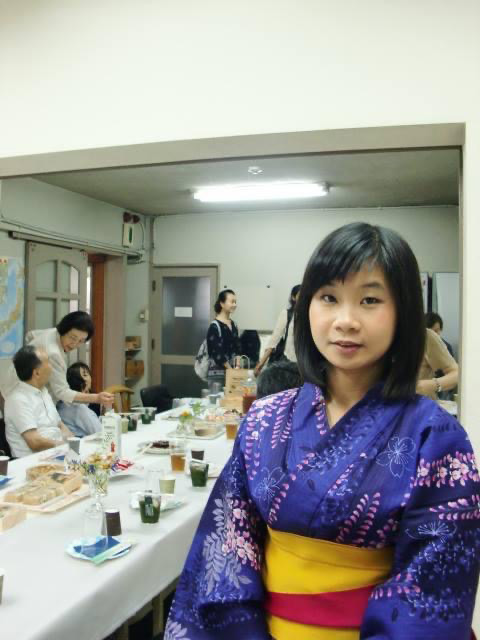 Ms. Hew in her first year in Kyoto. A scene from the exchange activities at the international women's dormitory in Kyoto. She actively participated in exchange meetings.
Ms. Hew also participated in community volunteer activities as an "Kyoto Prefectural Friendship Ambassador," a role that Kyoto Prefecture appointed foreign students to every year. While an ambassador engages in the activity of visiting elementary schools and junior high schools and introducing their home country's culture, she says that interacting with children also functioned as an opportunity to deepen her own understanding of Japan.
Ms. Hew: I learned that people choose different ways of speaking depending on the difference in ages and understanding, and tried to do so myself. I think this is a very important point in Japanese communication. In my current job, I conduct research to identify social needs for product development, but I also need to communicate with people at construction sites who are very artisanal, and who have their own work culture. I have participated in various exchange situations while living in Japan, and I think I have been able to utilize my experience gained from them.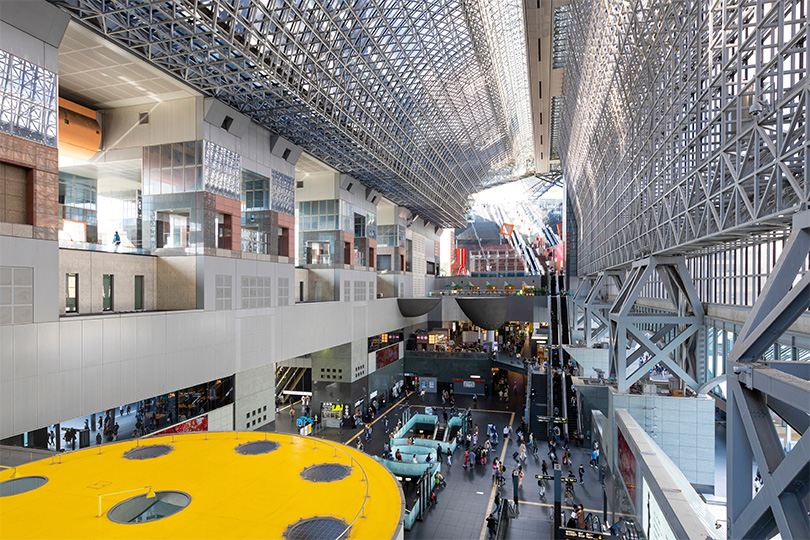 Ms. Hew says that Kyoto feels exciting because of the fusion of history and modern architecture. Her recommendation on architecture to see in Kyoto is JR Kyoto Station.
Sense of satisfaction in having people feel her efforts along with comfort and convenience
In the summer of 2022, a new product that Ms. Hew was in charge of will be released. It is an automatic door that opens and closes without contact.
Ms. Hew: We developed this product as something that is necessary and appropriate for the present time after closely examining the needs at facilities for the elderly, in addition to the increasing awareness of hygiene due to the COVID-19 pandemic. It is meant to be a "user-friendly door" for everyone, in addition to the convenience of being automatic.
She needed to broaden her perspective to electrical engineering, which was outside her specialty before, in order to develop products that meet the needs of today's society, and there is no end to her daily learning, she says. For this reason, Ms. Hew feels a great response to the products being put to practical use and implemented in society.
Ms. Hew: I find it rewarding to think that I am sending something that was created as my ideas took shape out into the world. Unlike architecture, housing equipment may not attract much attention. But I work with the hope that people will feel my presence as someone who was involved in achieving that comfort, when they spend a comfortable time in the bathroom, or when they feel the unseen gentleness when moving between rooms.
Through learning in Japan and working as a member of society, the dream about architecture Ms. Hew had has been refined into a creative expression that can make people's lives more convenient. Ms. Hew will in future continue to expand her horizons. These are wide ranging, including finding ways to utilize her keen eye, acquired during her time in Japan, to discover social needs, applying her ability to develop products with detailed functions in Malaysia, and exploring the possibility of transmitting them to the wider world.