The road to the present, which led to involvement in the research and development of pharmaceutical products.
Experience studying in Japan, which was essential to the process.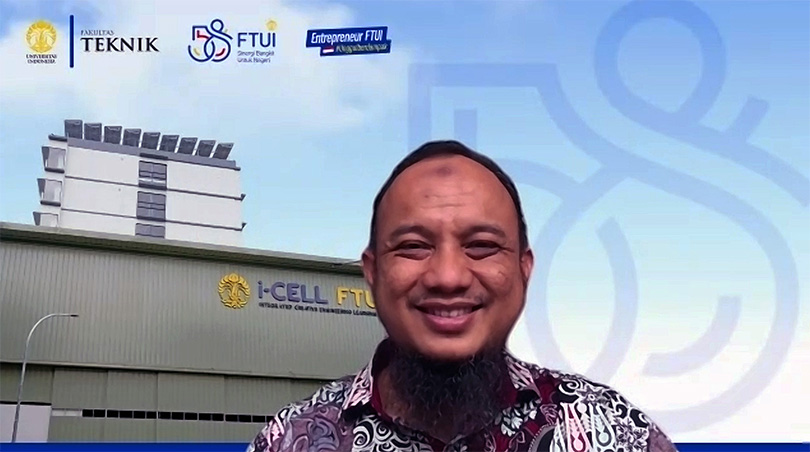 ○Mr. Muhamad Sahlan (Indonesia)
Accredited in 2005 -> entered the Tokyo University of Agriculture and Technology (Dept. of Biotechnology and Life Science, Faculty of Engineering) -> currently an associate professor at the National University of Indonesia
Mr. Muhamad Sahlan, who is featured in our fourth article, lives in Indonesia and is currently an associate professor at the National University of Indonesia, where he is involved in research on bee propolis and the development of pharmaceutical products based on its outcome. In addition, as a faculty member, he works to pass down his own experience in studying abroad to the next generation, including support for students in studying abroad and applying for the local accreditation of the Panasonic Scholarship. It is because Mr. Sahlan, who had long aspired to become a professor after studying at university, felt gratitude for the university advisors and professors who had encouraged him to study abroad saying, "go and experience study abroad by all means," and for the Panasonic Scholarship that helped him achieve that goal, as well as an obligation to continue passing on the baton to others, he says.
A dream of the future that took concrete shape in Japan and Indonesia
Mr. Muhamad Sahlan, who had been interested in chemistry and biotechnology since he was a high school student, looked to the future and went on to a national university of science and engineering. By acquiring a deep understanding of the applications of chemistry and the future of biotechnology, he came to dream of becoming a professor who could be involved in the field himself.
Mr. Sahlan: When I consulted my university advisors and professors, they encouraged me to experience studying abroad and broaden my scope of study. Since I was in my third year at the university at that time, I looked into the scholarship systems of various countries, and first I tried studying in Japan for a short period of time. In 2002, I was accepted at a science and technological university in Tokyo on my second attempt, and studied abroad for a short period of time, and this experience was the first step that changed my life.
Since the university did not have a biotechnology department, Mr. Sahlan set out to gather information about universities where he could learn what was necessary for his future goals with a view to studying in Japan in earnest. At that time, he was introduced by a fellow Indonesian student studying at the Tokyo University of Agriculture and Technology, and decided to visit a laboratory at the university.
Mr. Sahlan: At the university where I studied abroad, I studied the field of applied chemistry to broaden my horizons, and visited the laboratory of Professor Masafumi Yohda, who specializes in bioengineering at the Tokyo University of Agriculture and Technology, and attended their meetings every Monday evening. Since I wanted to enroll in a master's course in a full-fledged study abroad program in Japan later, I was beginning to see a concrete path forward through my interaction with Professor Yohda.
After returning home from a short period of study abroad, Mr. Sahlan found a job at a biopharmaceutical company in Surabaya in 2004. He collected information on scholarships that allowed students to study in Japan while working. Mr. Sahlan says that the president of the company understood his dream for the future and supported him by allowing him to give priority to scholarship interviews when there was one.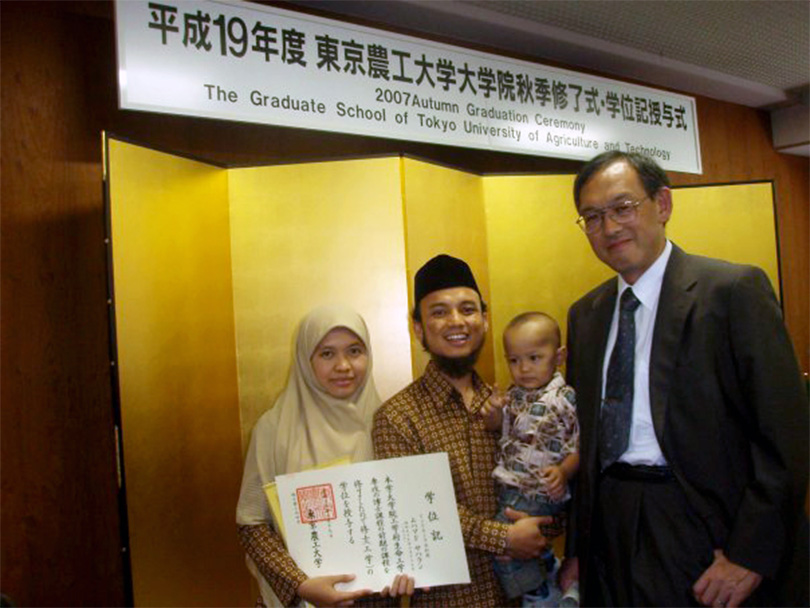 Graduate degree award ceremony where he was joined by his family. His former teacher, Professor Yohda is on the right in the photograph. Photograph: Courtesy of Mr. Sahlan.
Mr. Sahlan: I was able to utilize the knowledge of chemistry that I had acquired before for my job at the company. In addition to the traditional dream of becoming a researcher, learning about the business world also gave rise to my hope of getting involved in the development of products that make concrete use of the research results. After continuing to study and learning about the Panasonic Scholarship, I was able to take on the challenge of studying abroad in Japan because of my experience as a member of society at that time. I applied for the Panasonic Scholarship in 2005. Out of 1,500 applicants, 2 people including myself got to study in Japan.
Panasonic's philosophy that I learned while studying in Japan
It was the laboratory of Professor Yohda at the Tokyo University of Agriculture and Technology, which Mr. Sahlan had had exchanges with before, that accepted him when he returned to Japan as a Panasonic Scholarship student. He spent half a year from April 2005 as a research student, and started moving toward the career in research that he had dreamed of since high school as he enrolled at the master's program at the university in October.
Mr. Sahlan: Since the Panasonic Scholarship provides support not only for school fees but also living expenses, we can focus on learning and doing what we want. At that time I came to Japan with my wife. We lived in Japan for five years, during which my family grew as we had two children. It was a time of great changes in my life, but its start made both my studies and life stable and fulfilling.
Mr. Sahlan was also extremely proactive in the Indonesian student community. He also enriched his life as a student by holding "academic presentations" and "mini-expo" events for students from their country as a de-facto leader. He says it was the exchanges between scholarship students sponsored by the Panasonic Scholarship that left a strong impression on him during this period.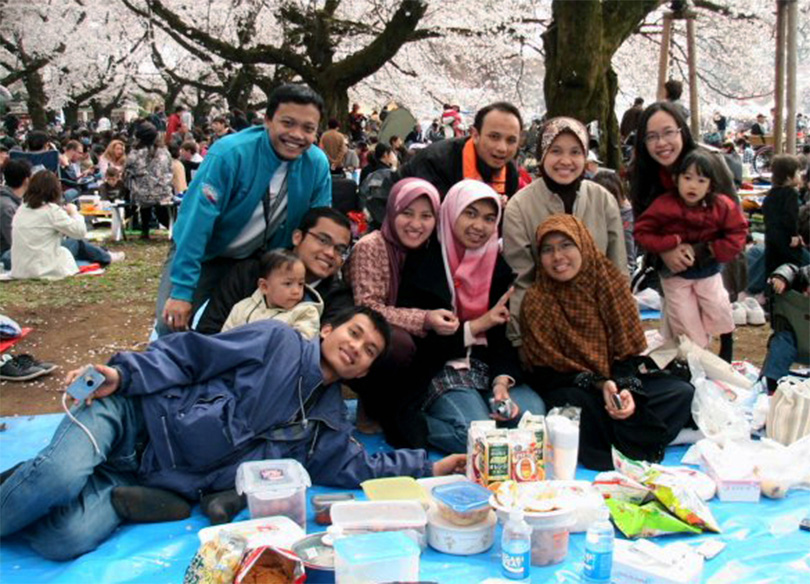 He actively interacted with other students from his home country. The photograph is from a cherry blossom viewing party. Photograph: Courtesy of Mr. Sahlan.
Mr. Sahlan: During the summer camp, I was greatly inspired by the exchange with scholarship students from other Asian countries. They also gave me the opportunity to visit Osaka, where Panasonic was located, and the Matsushita Institute of Government and Management in Kanagawa Prefecture, and provided me with a social perspective that went beyond academics. Panasonic's corporate philosophy extends not only to product development but also to a perspective on society. I believe that I had the opportunity to learn about Japanese companies only because I was able to live in Japan as a Panasonic Scholarship student.
The Panasonic Scholarship plays a role in taking Mr. Sahlan's life one step further. While the Panasonic Scholarship was for a master's program at the graduate school, Mr. Sahlan began to think about pursuing a doctoral program in Japan.
Mr. Sahlan: I also looked into various company scholarships and government systems in Japan. I considered scholarships from other countries as well, but based on my previous experience and my life in Japan, I had come to think that it would be nice if I could enroll in a doctoral program in Japan. The Panasonic Scholarship then decided to support my doctoral program as the first example. Thanks to that, I acquired my doctorate in biotechnology from the Tokyo University of Agriculture and Technology, and was employed by the National University of Indonesia in 2010. I am very grateful to the Panasonic Scholarship for sending me from Japan so that I could take a big step forward.
A life propelled by the twin engines of research and development
At present, Mr. Sahlan works as an associate professor at the University of Indonesia, and is involved in a variety of activities as the Associate Dean for Regional Cooperation in the Faculty of Engineering at the university. He is expanding cooperation with research institutes in Japan including Shizuoka University and joint research with the laboratory of Professor Yohda at the Tokyo University of Agriculture and Technology, and visits Japan every year.
Mr. Sahlan: I place a special emphasis on opportunities to study abroad for the students I teach. Professor Yohda's laboratory and universities in Shizuoka and Osaka accept several of our students for several months every year. I also continue to support the students at the University of Indonesia who wish to apply for the current Panasonic Scholarship. I participated in the award ceremony held in Indonesia in July this year, and I was able to see the hopeful faces of the "younger generation."
The future Mr. Sahlan had dreamed of when he was a high school student expanded every day as he studied in Japan and became involved in academic and human exchanges between Japan and Indonesia, and has come true. Apart from research at the university, he has also been involved in pharmaceutical product development at a private company, and has produced results in the development of soap, shampoo, and skin care products using bee propolis, which he has been researching. In particular, his research outcomes on stingless bees, which are unique to Indonesia, are expected to further develop in joint research with Japanese universities. Mr. Sahlan's continued pursuit of his dream path will serve as a beacon for future Panasonic Scholarship students.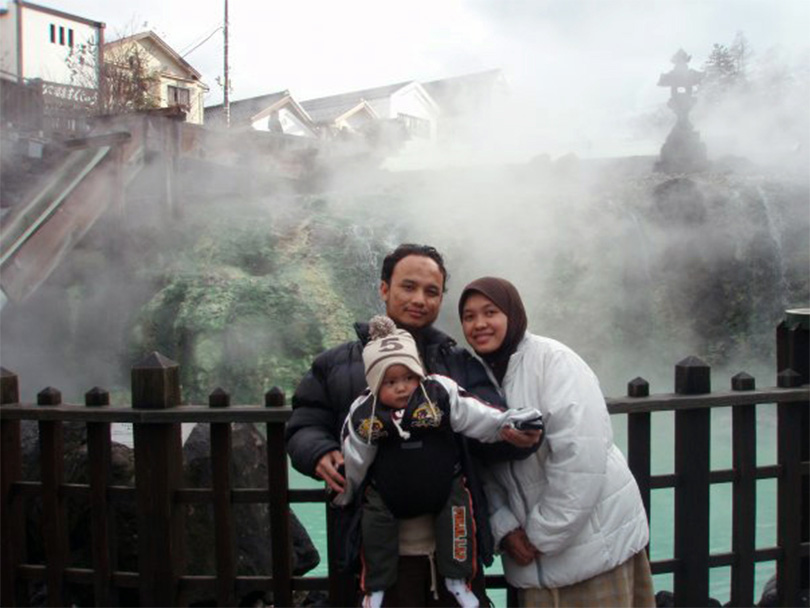 He enjoyed Japanese culture and life during his stay in Japan. The photograph is from a trip to a hot spring with his family. Photograph: Courtesy of Mr. Sahlan.