Empathy can be acquired after overcoming our "differences."
The world I saw through broadening of my horizons during my study abroad in Japan.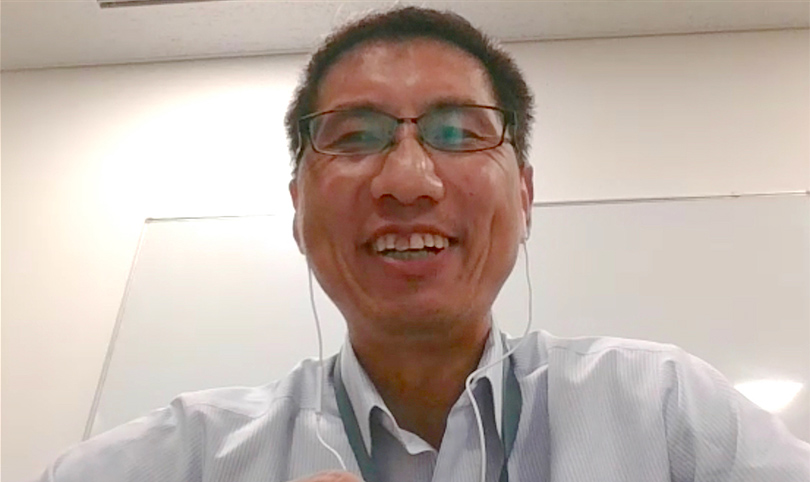 ○Mr. Peng Du
Accredited in 1999 (overseas adoption) -> entered the University of Tokyo (School of Engineering) -> currently employed at the Japanese subsidiary of a Chinese telecommunication equipment manufacturer
Mr. Peng Du, who is featured in this article, is one of the first scholarship students who received the Panasonic Scholarship when we started to invite and accredit foreign students locally in various countries. For Mr. Du, who was about to graduate from Peking University, studying in Japan became an unexpected turning point in his life. Currently, he is active in the field of business connecting Japan, China and the world while working in Japan. He can see the concrete results of his role in connecting people from different backgrounds, and possibilities for the future. He is confident, "true feelings can always be conveyed" and "empathy can be achieved" even in situations where different cultures, diverse needs, or complex international communications are involved. The origin of that belief lies in the Panasonic Scholarship, he says.
He first chose to study in Japan as a career option.
Mr. Du had studied electronics at Peking University, decided to get a master's degree, and was preparing for it before graduating. It was then that the information on the Panasonic Scholarship suddenly fell into his lap. He was initially in two minds at the time about a choice he had not expected at all, although his professor recommended it to him.
Mr. Du: Although this is also a point of reflection that I want to share with students today after looking back on those days, I had a narrow outlook on the world and the future. I was more worried than ready to consider studying abroad in Japan as a possibility. So I consulted my professors and friends. In China, a master's program takes three years, and they recommended that I go abroad, find inspiration, and broaden my knowledge rather than spend the whole time in the same environment. I was able to prepare for study abroad one step at a time with many people supporting me, including the Panasonic Scholarship staff who came to Beijing for the interview for the scholarship, and the staff of the local Panasonic subsidiary who introduced me to the person in charge of culture at the Japanese Consulate after accreditation.
He graduated from the university in July. Study abroad in Japan was to start in April of the following year. Mr. Du started collecting information on graduate schools in Japan to prepare for his path ahead. Since he wanted to further his studies in electronics, he was interested in the field of IT being studied in Japan, which was one of the most advanced countries in the field at the time in 1999.
Mr. Du: In Chinese society at that time, the social implementation of IT had yet to advance. However, when I searched on the Internet for information about graduate schools in Japan, many of them had set up websites and disclosed detailed information about their research achievements. In addition, e-mail was used to communicate with university professors. I was impressed by Japan's progress in the "practical application of IT," and my expectations grew.
After making such preparations, Mr. Du was accepted as a research student at a laboratory of the Graduate School, the University of Tokyo, and began his life in Japan in Katsushika Ward, Tokyo.
Broadening horizons in a study abroad environment where both academic work and daily living were assured
Mr. Du: Through events organized by the Panasonic Scholarship Secretariat such as exchange events for students on the scholarship, visits to Panasonic, and opportunities for social experience, I was able to deepen exchanges not only with students from the laboratory and my own country, but also students from various other countries. At first, we foreign students could hardly speak Japanese, and many of us were confused by life in Japan. However, the Panasonic Scholarship provided us with an environment in which we could feel at ease studying and spending our private time relaxing, not only because they paid for our tuition and living expenses, but also because they took care of us when we had any concerns. I felt it was a very reassuring system.
In addition to studying, communication with people changed me. Looking back on those days, Mr. Du says that before and after studying abroad, there were changes in himself.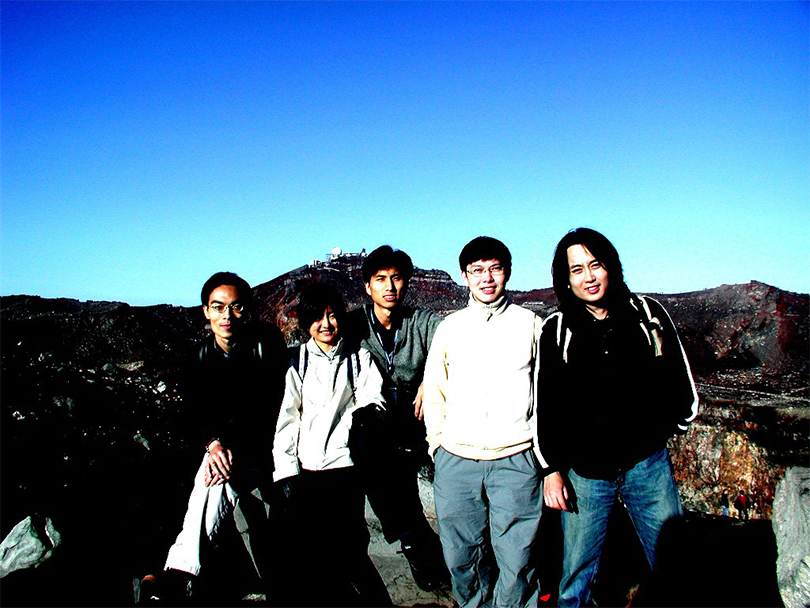 His interactions with people from various countries while he was a scholarship student greatly changed his outlook on life, he says. Photograph: Courtesy of Mr. Du
Mr. Du: I think I used to have a "bad habit" of focusing on "competent people" and only evaluating them. However, each person has a role to play at the place of interaction provided by the Panasonic Scholarship. The staff also took care to give each scholarship student various opportunities to act. There were various countries of origin, ages, and levels of Japanese language ability, but regardless of that, we were able to have similar feelings about a similar experience, and empathize with each other. My experience during those days had a considerable impact on me.
While Mr. Du was involved in research on future IT technology at the graduate school, he decided to choose a Japanese IT company to work for when he finished his master's course and considered his career after graduation. He chose the path because he was a Panasonic Scholarship student who was able to understand both the environment in which he could devote himself to research and the corporate activities.
Mr. Du: I had the opportunity to visit Panasonic in Osaka and the Konosuke Matsushita Museum. What surprised us foreign students was that there was a philosophy as a company instead of only the philosophy of individual managers, and that it was disseminated among the employees. Furthermore, as we talked about our feelings of surprise, we realized that "Japanese companies nurtured people." This was different from the corporate culture in China where I was thinking about building my future. I was very interested, as the "difference" could be experienced because I was in Japan, rather than one being better or worse than the other. I decided, "I want to learn and grow in a Japanese company." I had a future ahead of me that I had never imagined three years earlier, when I decided to study in Japan as one of my path choices to "enroll in a master's course."
Playing a "bridging role" that prevents "differences" from turning into "misunderstanding"
After completing the course, Mr. Du joined an IT-related company in Japan. They were consigning the development of products for Japan to a Chinese company. He now works for the Japanese subsidiary of a Chinese telecommunications equipment manufacturer, and is in a position to propose solutions using Chinese products to Japanese companies. After spending 20 years watching the development of IT and the dramatic changes in the industrial structures in Japan and China, Mr. Du describes himself as playing a "bridging role."
Mr. Du: Why do they need me, a foreigner, as a sales representative for Japanese products? I am sure that some people around me may have had that feeling. In fact, it was an opportunity for me to stand outside the path I had studied at the university and rethink what my values were.
Looking back at the "background" of himself as a person, Mr. Du truly felt the changes in his thinking he had acquired from his daily experiences in Japan through the Panasonic Scholarship. Being able to understand the position of both parties because he knew the "differences" between the countries as well as between people. He realized his value was being able to bridge the two.
Mr. Du: I sometimes think about the "differences" between Chinese and Japanese people. The differences between Japan's high-quality and high-specification products and overseas needs and price ranges. The differences between the meticulous schedule management of Japanese companies and the corporate cultures of foreign countries. "Differences" can sometimes result in a misunderstanding. But if we can explain the "differences" and control them, we can come to some kind of agreement in business. I believe that playing a "bridging role" is my mission.
The role for himself that Mr. Du discovered. It is based on the solid conviction that, "People around the world have more in common than differences," which he learned from a perspective broadened by studying in Japan through the Panasonic Scholarship.
Mr. Du: We feel the same thing in our heart when we see the same thing in the same place. Inevitably, at first, we see each other within a large framework such as "country" or our own biases, but I believe that this person will surely feel the same and will empathize with me, which is why I am involved in business. We also tend to have these biases in ourselves. When you are in the same language, culture and environment, you only have a limited perspective and mindset. I think all young people should go abroad and experience different environments and cultures. If you can start thinking, "it is OK to do it this way," you can expand your potential.
A recent photograph of Mr. Du. He wants to broaden his horizons by stepping out into the outside world. Photograph: Courtesy of Mr. Du