Creating things that make people happy.
How I can help my own country after studying and maturing in Japan.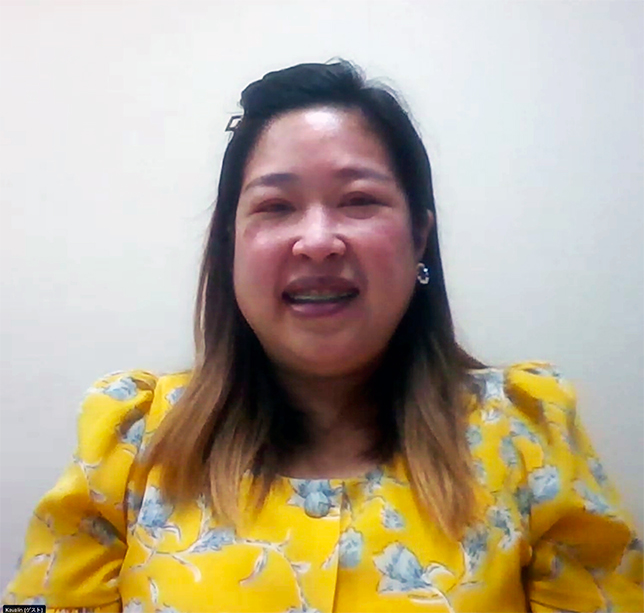 ○Kavalin Wangsiripaisal
Nationality: Thailand
Current country of residence and occupation: Thailand Ministry of Transport
Accredited in 2005 - > University of Tokyo (Graduate School of Engineering and Civil Engineering) - > After completing her course in 2007, she returned to Thailand where she gained employment with a Japanese company working in real estate sales. ->She has worked for the Thai Ministry of Transport since 2009. Assigned to the Highway Department
Kavalin Wangsiripaisal works for the Highway Department of the Ministry of Transport in the Thai government and is responsible for the maintenance of the national highway network. Kavalin's desire from an early age to create things that would be beneficial to others eventually turned into a strong desire to contribute to the development of her country. The turning point was her experience as an intern in Japan, and her study in Japan through the Panasonic Scholarship. Finding a sense of responsibility and satisfaction in civil service work, Kavalin is encouraging young people to study overseas. She says that expanding her horizons overseas and her fellow international students, now active on the global stage, have helped her grow and have become a valuable asset.
I want to help others. Moving toward that dream
Kavalin was only five years old when she became aware of Japan. She read her favorite Doraemon comic book over and over again, driving her dreams for the future.
"The various tools that came out of Doraemon's pocket were not only useful, but also entertaining, making people happy and giving them a sense of a prosperous future. I also wanted to create something that would help people. One day when I went out with my mother and saw money coming out of a bank ATM, I went home and made my own toy ATM out of cardboard. It was at this point that manufacturing became my dream for the future. Growing up, I learned that comics aren't real, but what kept me passionate about making things was my admiration for Japan and Doraemon."
Kavalin studied at Sirindhorn International Institute of Technology (SIIT), an independent higher education institution at Thammasat University in Thailand, where she excelled in social infrastructure engineering (civil engineering). During her third year of college, she participated in an internship sponsored by the Japan Business Federation. The top five students in each field from SIIT were selected to partake in a three-week internship at a Japanese company. Kavalin completed her internship with a leading architectural consulting firm.She says she still distinctly remembers the surprise she felt when she first arrived in Japan.
"I realized that Doraemon really is in Japan! If you take the bullet train, you can travel from Tokyo to Kyoto, or even to Aomori, wherever you want, in comfort. It's just as convenient as Doraemon's Anywhere Door. I became interested in the well-maintained transportation network that supports Japan's future development. At the time, highways were being built in Thailand, but there were many challenges in developing it on a national scale. During my three-week internship, I was able to inspect a number of sites where I frequently encountered the term, PPP (Public-Private Partnership). Public works projects at the time in Thailand were led by the government and highway construction was limited to connecting cities, making progress slow. I saw potential in PPP and thought it necessary for the further development of Thailand. Now, 20 years later, PPP is being adopted by public works in Thailand, and we are learning more from Japanese methods."
Back in Thailand, Kavalin explored the possibility of studying in Japan. I became more interested in Japan when I realized that Japanese society and culture had many similarities and differences with Thailand.
"If I had the opportunity to study in Japan, I could bring that knowledge back to my country and use it for the future development of Thailand. At that time, I envisaged myself as a school teacher in the future, but I was convinced that studying in Japan would put me on a different career path."
Warmth, like that of a family enhanced by an overseas study experience
Upon the recommendation from a senior at SIIT, Kavalin applied for the Panasonic Scholarship. She was anxious when she heard that only three students were selected from SIIT each year, but was encouraged by the support of her family and took the chance.
"There are several steps to obtaining accreditation. First is a review of documents stating your motivation for studying overseas. Next is a face-to-face interview. Seeing the joy on my mother's face each time I cleared one of these hurdles gave me motivation. However, when the news of my acceptance finally arrived, my mother, who I thought would be happy, burst into tears. When I asked her why she was crying, she replied, "I am happy. I am happy, but also worried about you studying overseas." I had always lived together with my parents and my sister's family. The reality of living in Japan and being away from my family for three years had caused her to worry. On the other hand, I felt concern for my mother, but not for myself. I had always loved to take on new challenges, choosing this path over feeling regret for not doing anything."
Her decision to study at the University of Tokyo was made easier because she had a teacher who was also researching their own field of interests and many of her SIIT seniors were University of Tokyo graduates. Kavalin embarked on a new challenge to study in Japan and start a new life in Tokyo. Kavalin recalls how the next three years were very fulfilling because of the Panasonic Scholarship.
"Living abroad away from family can be unnerving and difficult at times. However, the international students I met and interacted with through opportunities such as the Panasonic Scholarship Summer Seminar had the same goals and became encouraging companions, and warm friendships were formed. This warmth was also felt from the staff of the Panasonic Scholarship. Every month, I was required to submit a report in Japanese, but this was also like a form of communication for me to let them know if anything was troubling me. They also visited the university once a year to confirm with my teachers how my studies were going. The fact that they didn't just provide financial support, but looked after me like I was family, was very reassuring and allowed me to focus on my studies."
After successfully completing her Master's degree, Kavalin was encouraged by one of her teachers to go on to a doctoral program, but she decided to return home.
"There was my mother, who I had been away from for three years. I also thought that in order to put to use in Thailand what I had learned in Japan, I needed to return home to understand the current challenges at home. I had no social experience. I felt that I needed to work in Thailand and get to know more about my own country in order to determine what I might need for further study. I believe that my study in Japan and the rich learning experience I had there helped me to think more carefully about my future."
Meeting the expectations of my learning experience in Japan
After returning to Japan, Kavalin gained employment with a Japanese corporation selling condominiums. She says the experience she gained working for a Japanese company has served her well in her current job.
"Two years later, I became a civil servant in the Thai government. Following two years of training, I was assigned to the Highway Department at the Ministry of Transport. Since then, I have been working on the national highway network. PPP, something that impressed me in Japan, is also essential to my current work. My background will also help when introducing the variety of technologies incorporated into Japan's transportation infrastructure to the infrastructure in Thailand. In addition to my expertise in environmental infrastructure engineering, my knowledge of the differences between Thailand and Japan will allow me to coordinate communication between Thailand and Japan."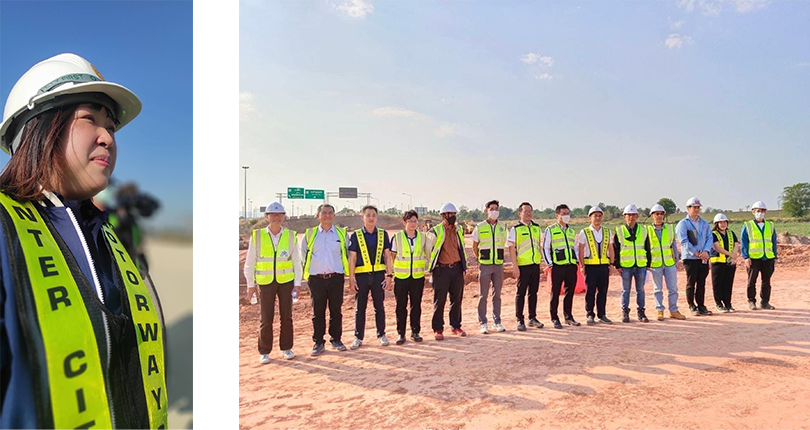 Site visiting of PPP O&M of M81 Bangyai - Kanchanaburi Inter-city Motorway Project, Thailand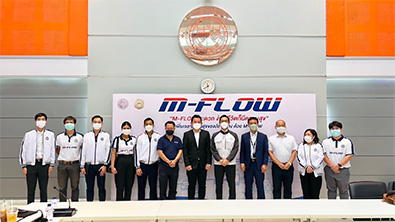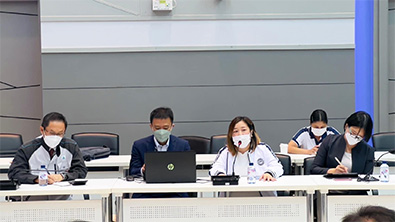 Shutoko (Metropolitan Expressway) from Japan site visiting for M-Flow (Multi lanes Free Flow) Toll Collection System in Thailand
Her childhood dream of helping others has now become a concrete goal. A goal of sharing the knowledge she has gained in Japan in her home country in her role as an educator. Kavalin's learning experience in Japan has also provided an opportunity to broaden her perspective on the development of Japan and future possibilities in her home country. Kavalin describes her current work as a civil servant as her dream job and a result of chasing her dreams.
"Thailand is still developing. There's only so much I can do on my own. Government-led initiatives alone have their limits. However, as a public servant, I can communicate the goals of the country to the people, formulate plans and bring in the private sector in order to make them a reality. Highways will eventually connect cities and bring together the whole of Thailand. This will create logistics networks to revitalize the economy and further enhance my country's potential. And bring happiness to the people of Thailand. It is really a pleasure to be involved in work that helps others."
Kavalin is currently in the process of preparing for doctoral studies at the University of Tokyo through a national scholarship as she works towards a future that she has envisaged through her work as a public servant. Your dreams can be achieved if you have a goal and take the necessary steps to get there. Kavalin reiterates, "All you need to do is challenge yourself." She also encourages the young people of Thailand to take up the challenge of studying overseas, an experience that has helped Kavalin to grow.
"Studying overseas gives you the opportunity to observe your own environment and country from another perspective, and to plant new seeds for the future. I am encouraged to take on new challenges every time I think about the international students I met at the Panasonic Scholarship still working around the world."
The Panasonic Scholarship provides a place for alumni to connect with their peers so thatthey can stay connected and continue to grow together.
Panasonic will continue to recreate and support its worldwide network of alumni to build deeper connections and help them become more active in their careers around the world.