FY2022 "Panasonic Scholarship Asia"
Activities Begin in Indonesia
The FY2022 Panasonic Scholarship Asia awarding ceremony was held on July 27 in Pana-Hall at Panasonic Manufacturing Indonesia (PMI).
In addition to the president of PMI, Mr. Otsu, the ceremony was attended by the president of Panasonic Gobel Indonesia (PGI), along with representatives from the scholars' universities. Twenty-two new scholars from science and engineering universities in Indonesia were awarded certificates.
The predecessor to this scholarship, the Panasonic Scholarship, was established in 1998 as a project to commemorate Panasonic's 80th anniversary with the goal of training the young people who would lead Asia in the 21st century. The scholarship has supported master's degree students from eight Asian countries and regions (Indonesia, India, Malaysia, Philippines, Vietnam, Thailand, China, and Taiwan) who study science and engineering in Japan. In 2014, to establish itself as community-based support for training the next generation, the name of the scholarship was changed to "Panasonic Scholarship Asia," and Cambodia was added as an eligible nation to support students studying at local universities and vocational training schools in a total of nine countries and regions.
Due to COVID-19, awarding ceremonies held in various countries were postponed or had to be held online. In Indonesia, however, for the first time in three years, an in-person awarding ceremony was held while implementing measures to prevent infection.
An awarding ceremony will also be held in Taiwan on August 27 and in Vietnam on September 26. More ceremonies will be held gradually in other countries.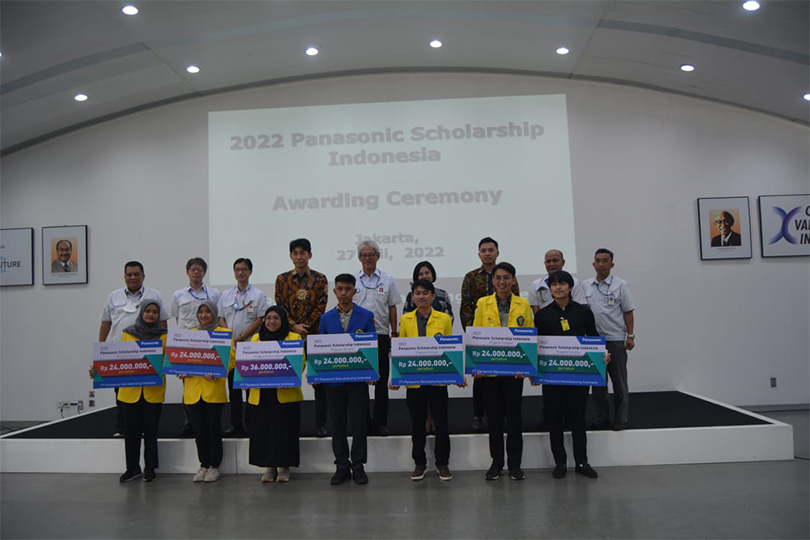 The scholars and representatives who were awarded certificates