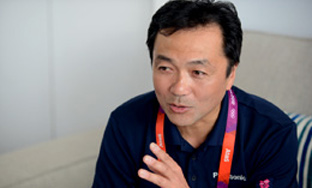 Yoshiyuki Goto
Global Marketing Center
Olympic Games team
Panasonic System Networks (PSN)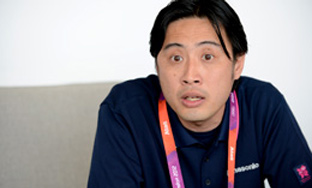 Marcus Wong
General Manager
for the Display Solutions Division
of Panasonic Systems Asia Pacific (PSY)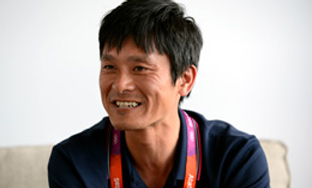 Kensuke Maezono
Power & Optical Devices Business Unit
Semiconductor Business Group Industrial
Devices Company
Panasonic Corporation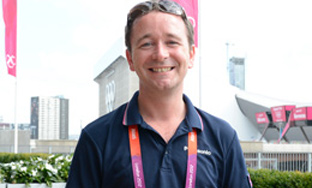 Sean Tayler
Panasonic UK London Olympic Games Project Office
Senior Manager
LED Large-Screen Display Systems were installed roadside at outdoor courses and Live Sites, and of course at competition venues, providing vivid, close-up images of the athletes' successes. Panasonic delivered a record 45 of these indispensable LED display systems totaling 1730 m2 in surface area, to London 2012.
But can the installation and operation be completed in time within the tight competition schedule? Panasonic held a series of in-depth meetings with global installation staff to hammer out the details.
With the foundation of teamwork and accumulated experience, Panasonic successfully delivered the technology to showcase the ultimate performance, providing a solution that satisfied both the host and spectators.
Solid Teamwork that Overcame Challenges
The specific request from the London Organising Committee of the 2012 Olympic and Paralympic Games (LOCOG) was to provide the "largest possible screens for spectators, eliminating blind spots." In order to cater to this request, Panasonic installed large LED screens in most of the outdoor venues of the 26 sports, 302 events. Controlling such a vast number of screens was a first, even for seasoned veteran Yoshiyuki Goto of Panasonic System Networks Co., who had 15 years of experience with large screen displays for the Olympic Games.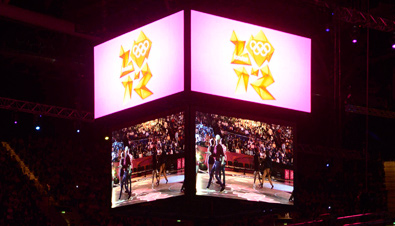 Since a year before the Opening Ceremony of the Olympic Games, Panasonic coordinated with global installation staff to gather LED screens and work out a plan of action for installation. Goto, who directed the task force, said, "One of the challenges this time was to manage the staff and equipment from various subcontractors around the world as a single team. The equipment, each with varying specs, had to be installed and operated seamlessly. Such a complicated operation would not have been possible without having experienced other Olympic Games in the past."
Behind the successful execution of this difficult operation was the scrupulous and steady preparation by global Panasonic staff.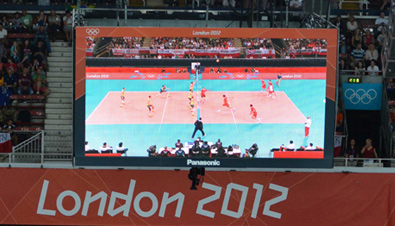 Improved Product Design Allowed for Speedy Set Up
Some competitions, like the marathon and canoe, were held only for a couple of days. Thus the LED large-screen displays were transferred between venues according to competition schedule. In this way, we maximized equipment use within a limited budget and enabled more spectators to experience the realistic footage.
To make this happen, it became important to develop equipment that was easy to maneuver around the venues. Thinner and lighter LED modules made on-site assembly and installation easier and quicker. A job that traditionally required 10 workers was completed by six, leading to a more efficient work process. Not only supporting as sponsor, Panasonic can support the Olmpic Games on operation side by improving delivered equipments.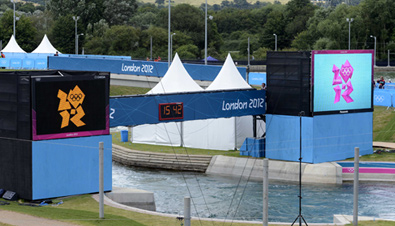 The Panasonic Professional Lineup