[Declining birth rate] UD to support child rearing - Compatible product example -
This child-safe bicycle makes family playtime more relaxing and fun for everyone.
Electric assisted bicycle with children
We've improved our child-rearing bicycle with more consideration.
Model offering stress-free rides for all the family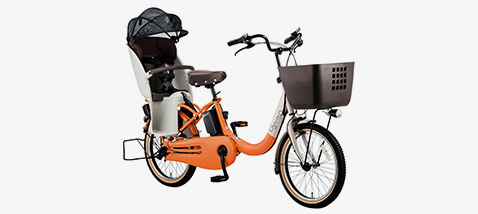 We created a sunshade for the child seat on the rear of the bike that reduces the seat's surface temperature by as much as 19°C².
Panasonic was the first in the industry to introduce this innovation as standard equipment¹. The bicycle sports a new U-shaped aluminum frame that makes it easy to get on and get off and comes with an assortment of accessories that improve safety and comfort.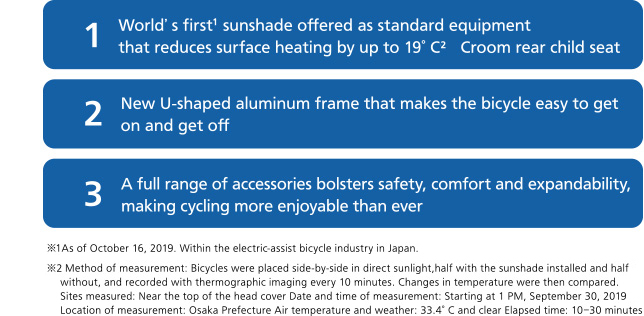 Other UD products[Declining birth rate]
For realizing a society where parents can safely give birth and raise their children.
Tackling a declining birth rate with universal design.
Magnet plug

Prevent injuries caused by falling over
The plug is attached by a magnet, making it trip-proof

Closet foldable door

Improve facilities and prevent injuries
A cover on the door hinge moves in relation to the hinge, so that child's finger does not enter the hinge

Steam oven microwave

Enjoying using it with your children
Includes a Kids' Course for you to enjoy cooking with your children.
Cooking procedures can be checked using color touch controls.

Hair Trimmer for kids

Safety and Convenience for Children
The design focuses on safety, ensuring that the blades do not make direct contact with the skin. Maintenance is also simple.

Touch Screen LCD Display

Usability for children
An electronic blackboard supporting color UD.
Can be operated easily by children simply by touching the screen.

CD language learner

Function to assist in a child's study
Learn languages by recording your own voice and using the teaching CDs to improve listening and speaking skills.

Triple Wide IH, Multi Wide IH

Enables smooth cooking
Designed with a smooth flow line for cooking, with burners side by side, and cooking space at the front.