[Globalization] UD for people around the world - Compatible product example -
A virtual attendant in a smartphone app provides service to tourists.
Panasonic is conducting proving tests aimed at practical application of a new experience for domestic and foreign tourists.
Your own dedicated avatar supports you on your tour.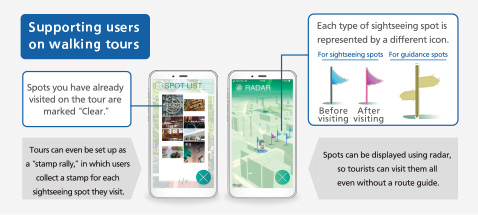 Operating on a smartphone or tablet, this novel technology provides information tailored to each individual's precise location, using audio, video, text and vibration*.
This entertaining mode of information delivery opens new possibilities for enjoying sightseeing.
* Available in Japanese, English, Chinese (traditional and simplified) and Korean.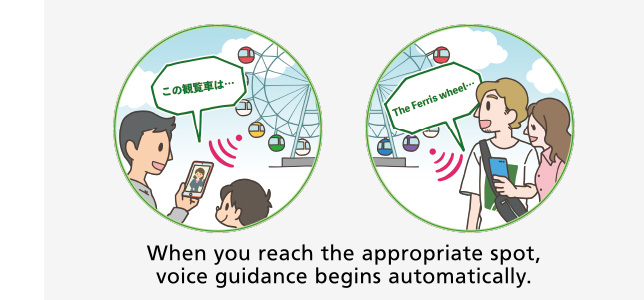 Other UD examples[Globalization]
Panasonic will also develop foreign-friendly universal design to meet the needs of our increasingly globalized world.
LinkRay

Helping people move directly and safely
Simply wave your smart phone or tablet over the LED light to immediately see a multi-language information display
4KTV

Voice–operated TV that's also popular overseas
A voice readout feature to assist visually impaired TV viewers is available in models for the overseas as well as Japanese markets.
Multiple-language service is provided, varying by region, with up to 25 languages supported globally.
Megahonyaku® Automatic speech translation

Japanese announcements are replayed in four languages.
Highly-accurate and easy-to-operate voice translation using recorded standard sentences.
* Translation is provided using a preregistered menu of stock phrases. New phrases can be added.
Encounter Translator
Multi-lingual audio translation service

Interpreting-free smart support for inbound visitors
This translation device can be used while talking face-to-face with customers.
Nine languages are supported: English, Chinese, Korean, Thai, Indonesian, Vietnamese, Spanish, French and Brazilian Portuguese. It is loaded with useful support features for communication between foreign visitors and natives.
The shower

Providing to sports facilities towords 2021
Easy posture sitting shower with less burden on the body.
Supplied to the Shintoyosu Running Stadium.
Power assist suit

Use in sports scene
This solution alleviates strain posed on assistants' lower-back when placing and removing weights on and from barbells in Para Powerlifting competitions.