The Panasonic ASTROVISION Large-Screen Display System made its first Olympic Games debut at Los Angeles 1984. More recently, ASTROVISION displays have been used in seven consecutive Games – from Atlanta 1996 to Beijing 2008, displaying some of The Olympics' most momentous scenes over the years.
Yoshiyuki Goto of Panasonic's Olympic Games Beijing 2008 Project Office, the team in charge of ASTROVISION's installation and technical support, spoke of the gratification of the project. "We convey the excitement of the moment not only to the tens of thousands of spectators in the stadium, but to hundreds of millions of people in the world through various media outlets," he said. "The pressure is tremendous, but there is also an immeasurable sense of accomplishment. That's the real joy behind working for the Olympic Games."
"Power" and "Precision" – An Extremely Challenging Installation
When it comes to large screen displays, there are various different sizes. At the smaller end of the spectrum there are the 230-inch displays (230 inches diagonal, or 3.5 meters high by 4.6 meters wide), all the way up to the large size displays at 740 inches (9.2m high x 16.5m wide), typically used in main stadiums. Goto notes that the installation of such large and heavy equipment requires unique know-how and technique.
An ASTROVISION screen consists of several stacked LED display modules. Each module is the size of a tatami mat (1.65m2), weighing more than 150 kilograms. For example, a 300-inch display made up of 16 modules (stacked 4 x 4) takes a team of 8 to 10 people an entire day to set up. The installation process is pushed forth with brawn, much like a construction job.
A host of other factors must be considered also. For the Olympic Winter Games, for example, the site could be covered in snow. The team researches local wind conditions, as well as possible steps/stairs and uneven terrain before delivery and installation. Once the physical installation is done, the next steps involve intricate electrical work and adjusting the color balance of the LED display modules. As a final step, trained technicians adjust the image quality with precision, rounding out the installation.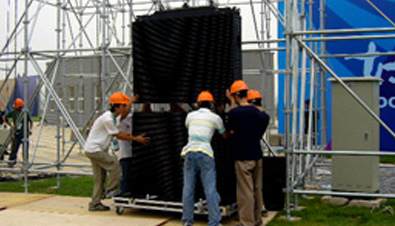 Elevated Anticipation with Beijing 2008 Test Event
Panasonic's installation work at the Olympic Games Beijing 2008 progressed seamlessly. In December 2007, an international table tennis tournament was held inside the gymnasium at Peking University equipped with a 300-inch ASTROVISION screen (4.6m height x 6.1m width). The same venue would be used the following year to host the Olympic Games table tennis events.
The tournament served as a test event, an official BOCOG (Beijing Organizing Committee for the Olympic Games) event to rehearse the equipment and pace of operation for the actual the Olympic Games Beijing 2008. But the air of nervousness that filled the gymnasium might as well have been the actual Olympic Games. As table tennis is a nationally popular sport in China, the venue was filled with excitement.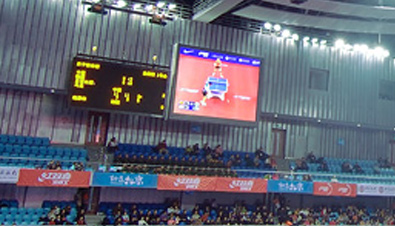 The Panasonic Professional Lineup