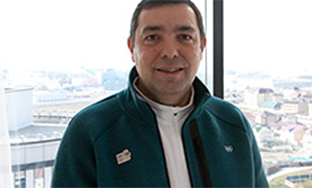 David Rodriguez
International Olympic Committee
Network Manager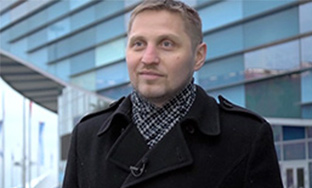 Alexander Meltsev
Head of Pro-AV Marketing Section
Panasonic Russia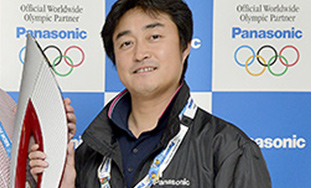 Takumasa Kosugi
Worldwide Olympic Games Marketing Office
Panasonic Corporation
Panasonic's commitment to the Olympic Games started with a light bulb-based, large-screen display installed at the Coliseum at Los Angeles 1984, before the TOP program launched. In the long history of the Olympic Partnership program, the Coca-Cola Company is another sponsor who has long supported the Olympic Games. At their request, Panasonic supported Coca-Cola's projection mapping event held inside the Olympic Park.
Coca-Cola and Panasonic. The two sponsor companies worked hand-in-hand to overcome numerous challenges and inspire visitors with unprecedented visual images.
The High-Quality Projector that Handled Difficult Projection Conditions
The Coca-Cola Company requested Panasonic's help in powering a 3D projection mapping show onto a building inside Olympic Park using Panasonic projectors. To respond to this request, Alexander Meltsev of Panasonic Russia headed to the Olympic Park to survey for buildings suited for projection mapping. After the consideration of many factors, the Iceberg Skating Palace was selected. The building was the most visible within Olympic Park, but it possessed many issues that needed to be resolved.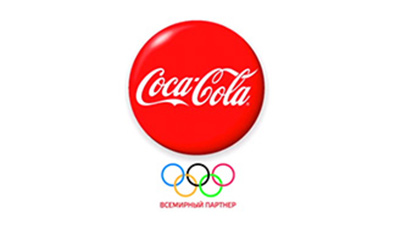 The exterior of the building was covered in a mosaic of glass in different shades of blue. Would it be possible to project Coca-Cola's corporate color – red – onto this blue glass? And would it be possible to fill such a gigantic canvas with projection mapping? Panasonic's solution was to use 24 units of PT-DZ21KE, the brand-new projector with a brightness of 20,000 lumens.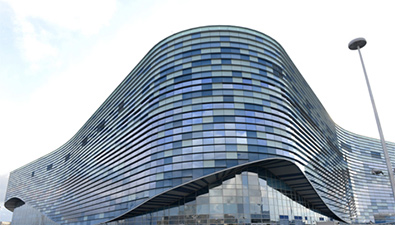 The Determination of the Staff to Meet the Challenge
Furthermore, the layout of the projectors posed a challenge given the unpredictable flow of visitors. The team members repeated extensive trial-and-error simulations. Finally, at just three months before the start of the Games, an on-site test revealed breathtaking visual effects, at long last relieving the team of their anxiety.
After the Opening Ceremony of Sochi 2014, Coca-Cola unveiled their 3D projection mapping event, the "Coca-Cola Sochi 2014 Vlivaisya 3D Show." Coca-Cola and Panasonic, two passionate sponsors of the Olympic Games, watched the crowd marvel and enjoy the show, and delighted in the moment their coordinated efforts came together in an unprecedented dramatic production.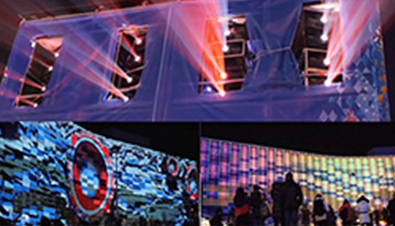 The Panasonic Professional Lineup