180 broadcasting stations and 10,000 personnel from around the world converged in Athens. Their home base for the coming weeks would be at the IBC (International Broadcast Centre), the broadcasting and video hub of the Olympic Games.
The IBC in Athens was fitted with the latest Panasonic equipment that supported the Host Broadcaster's production of the International Feed as well as broadcastors transmitting back to countries.
Panasonic's digital video format, DVCPRO, was adopted for all International Feed. This daring innovation was one more laurel for Panasonic engineers who had long supported the Olympic Games with cutting-edge digital technology, since the Olympic Games Barcelona 1992 when the company's digital VTR was used as official broadcasting equipment.
A Superior Level of Support Trusted by Broadcasters Around the World
Many broadcasters from around the world place their trust in both Panasonic's broadcasting equipment, whose readiness of operation was required around the clock, and their many years of experience and know-how gained from bringing state-of-the-art video technology to the Olympic Games. The IBC, built for every Olympic Games, always includes a Panasonic support office. The office is staffed with technicians 24 hours a day, available to respond immediately at the sign of any trouble. With the support of these seasoned professionals, Olympic Games broadcasters using Panasonic equipment allot their full efforts to covering the Olympic Games.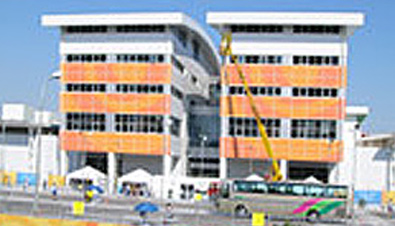 What makes Olympic Games coverage so compelling to people worldwide, is its display of peak athleticism and astounding drama inside the stadium, all showcased in realistic, immersive footage using the latest video technology.
As broadcasting technology advances, Olympic Games footage continues to improve in its vividness and impact. The Olympic Games, watched and reported by the world's broadcasters, are a presentation and showcase of the latest equipment and technology. The Olympic Games Athens 2004 were certainly no exception, as Panasonic's latest digital equipment ushered in a new age of image creation.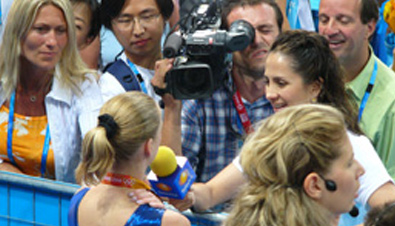 Broadcasting Technology that Continually Evolves
The clusters of monitors in the main control room leave an enduring image of the IBC. Over the years the conventional CRT screens were replaced entirely by Panasonic plasma and LCD monitors. The high-definition broadcasting area comprised of Panasonic's digital high-definition system, DVCPRO HD. The vibrant images produced by the monitors – the Panasonic VIERA TV – wowed global media experts.
More advanced technology will have been pioneered by the next Olympic Games in Beijing, stunning the world with high-quality digital HD footage of the Olympic Games.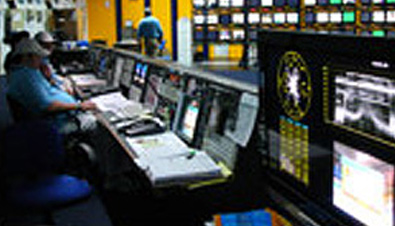 The Panasonic Professional Lineup