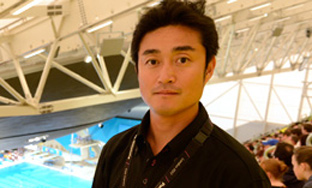 Takumasa Kosugi
Manager of Technology and Contract,
Worldwide Olympic Games Marketing Office
Panasonic Corporation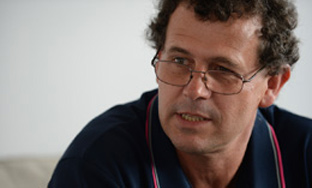 John Ryder
Project Manager for London 2012
Worldwide Olympic Games Marketing Office
Panasonic Corporation
A number of Panasonic's large-screen display systems helped convey the excitement of the Olympic Games. The compact 103-inch plasma display with ease-of-setup and high-definition visual expressivity, resolved the challenges of the venue to provide greater satisfaction to a greater number of spectators.
Ultimately 47 plasma displays were installed in the nine indoor competition venues, including the Aquatic Centre and Exhibition Centre London, for spectators to enjoy.
Panasonic supported the success of London 2012 by proposing optimal solutions best fitted to each venue and event from our extensive lineup of visual imaging equipment, such as LED large-screen displays, DLP projectors, and plasma displays.
The Two Issues that Arose at the Indoor Venue, ExCel
ExCel was the largest indoor venue at London 2012. Seven different sports including boxing, judo, and table tennis took place over several days, making the venue one of the most-visited, and where spectators reveled in their shared excitement of the competition. The London Organising Committee of the Olympic and Paralympic Games (LOCOG) had originally planned to install large projector screens inside ExCel. However, as the plans progressed, a big problem emerged. Installing large screens in the venue would create several seats with obstructed view (the so-called "seat-kill" problem), ultimately reducing the available number of spectator seats by 30%.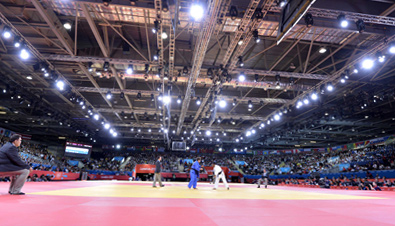 And yet another problem arose. In recent years competition venues have set their indoor lighting levels higher to assist high-quality visual productions such as HD broadcasting. The brighter lighting indoor could affect the visibility of the projector. Seat-kill and screen visibility – the LOCOG and Panasonic repeatedly discussed ways to solve these two issues. Their solution was to use the 103-inch plasma display.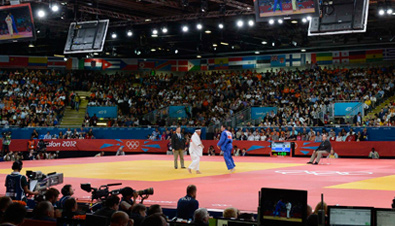 Quick Response Backed by Past Experience
The characteristics of the plasma display include high-definition images and flexible installation. Setting up plasma displays in front of spectator seats high on the ceiling resolved the seat-kill problem. Furthermore, the highly-luminescent display maintained its visibility even amid the bright lighting in the venue. The plasma display was the solution that resolved the two venue-related problems. Takumasa Kosugi, responsible for the equipment supply and contracting for the Olympic Games, noted, "We could instantly respond to a last-minute problem, propose a solution, and take action due to Panasonic's background, having proposed multitudes of technological solutions in the past." Panasonic's strength lay in the flexibility to propose various large-screen solutions appropriate to each venue.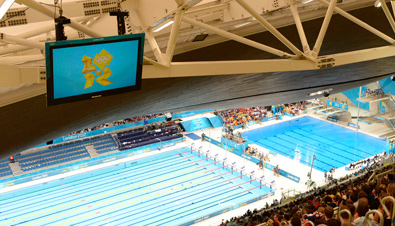 The Panasonic Professional Lineup