On November 23, 1904, Konosuke Matsushita, Panasonic's founder, left his hometown in Wakayama and traveled by himself to Osaka. From then until June 1910, he served apprenticeships in Osaka, especially in the Semba district, the commercial center of the city. Later, after striking out on his own and achieving success as an entrepreneur, Konosuke often remarked that the lessons he learned from day to day during that period became the foundation of his business outlook.
His first apprenticeship was with Miyata Hibachi Store, a hibachi (charcoal brazier) dealer on Hachiman-suji Avenue in Minami Ward (today's Chuo Ward), Osaka City. In later years, Konosuke looked back on this period: "At first, after the shop closed and I would go to bed, I could not help thinking of my mother. For four or five nights running I sobbed silently under the covers with what seemed unendurable homesickness. Even afterward, I would sometimes remember her and cry again." In February 1905, he left the hibachi store and began serving as an apprentice at Godai Bicycle Shop in Semba Sakai-suji Awajimachi, Higashi Ward (today's Chuo Ward), Osaka City. There he spent his impressionable boyhood years, absorbing numerous life lessons as well as business lessons from his master, Otokichi, his wife Fuji, Otokichi's blind brother Gohei, and Konosuke's own father, Masakusu.
In later years, Konosuke stated "No matter how large Matsushita Electric might become in the future, maintain the attitude of being a humble merchant." What sort of experiences and thoughts were behind this concept of the humble merchant? This exhibition looks back on Konosuke's years as an apprentice and explores the roots of his business outlook.
Support: PHP Institute
Note: This content has been edited for online presentation. It was originally presented in a special exhibition held at the Konosuke Matsushita Museum from February 24 to May 23, 2020, titled "Young Konosuke Matsushita's Years as an Apprentice in Semba—Where It All Began."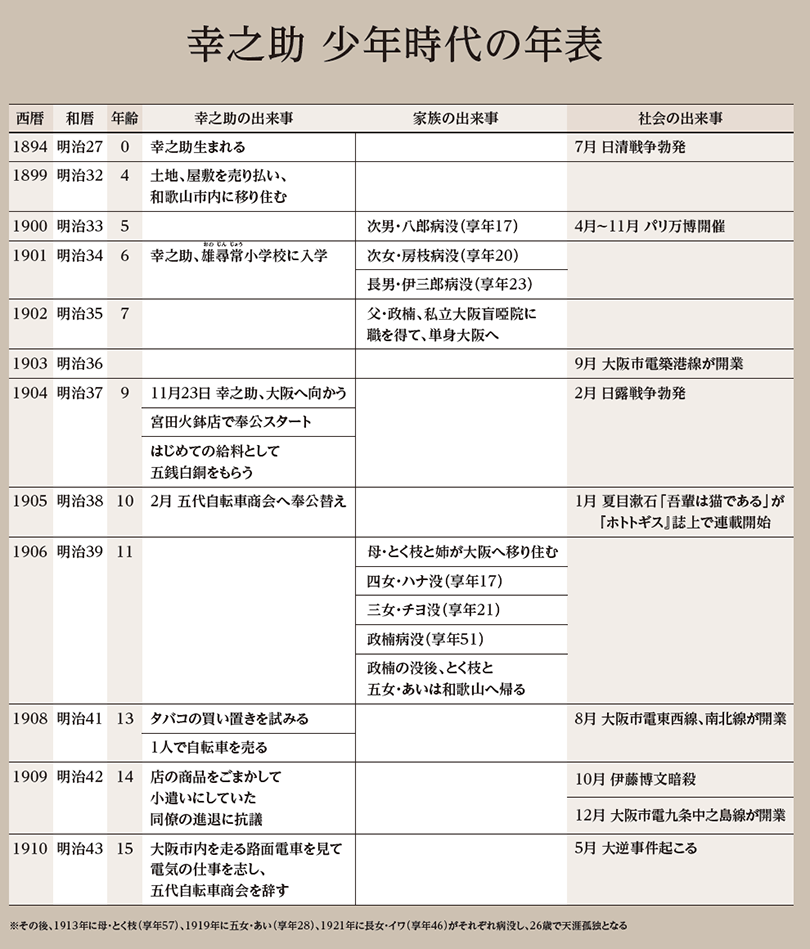 From Wakayama to bustling Osaka
Konosuke was born the son of a prosperous landholder. But when he was four, his father's speculation on the rice exchange went against him; he was forced to sell the family's home and land, handed down from generations, and finally had to travel alone to Osaka to seek work. He told his wife, "Konosuke is already in the fourth year"—which meant he was within four months of completing the four years of education compulsory at the time—"and will soon graduate. There is a charcoal brazier dealer from the Hachiman-suji area, and good and kind man named Miyata whom I know quite well. He needs an apprentice. This is an opportunity we can't afford to miss, so send Konosuke up to Osaka right away."
Konosuke boarded the Nankai Railway train leaving from Kinokawa Station and made the journey to Osaka alone. It was November 23, 1904, four days before his tenth birthday.
His mother must have been filled with concern and loneliness as she saw her son off at the station. With tears in her eyes, she admonished him, "Take care of yourself. Make yourself liked by your master."
Konosuke too was filled with an indescribable mixture of sadness and excitement—sadness at parting with his mother, excitement at boarding a train for the first time and traveling to such a big city as Osaka. His memory of how the train station looked that late autumn day never left him.
Late in life he said, "When I reflect on the past, I'm sure that my mother must have suffered terribly to have to be separated from her nine-year-old child. At the time, her heart was probably filled with prayers that words could not express that I would find happiness and health in Osaka. I have been blessed with good health and long life, and I can't escape the feeling that being able to build my business was also thanks to the gift my mother gave me—her prayers and her thoughts."
What Semba meant to Konosuke
Of his six years in Semba, Konosuke said, "I think they formed part of my fundamental business outlook." Regarding the traditional Semba merchant, he said, "When Semba was flourishing, the merchants of Osaka had more pluck than the merchants of Edo. I believe this was because they were more dedicated to doing business." Konosuke often told his employees, "Business is a fight with real swords," and behind that image one can discern his pride in the fighting spirit of the Semba merchant.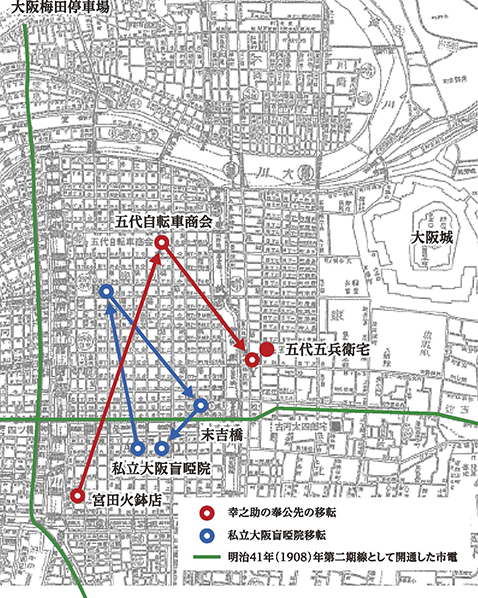 In November 1904, Konosuke's life in Osaka as an apprentice began. As was the custom in Semba, he was referred to not by his real name, but with the nickname Kokitton.
His first apprenticeship, Miyata Hibachi Store, was on Hachiman-suji Avenue, west from Mido-suji Avenue. The business both manufactured and sold charcoal braziers, with several craftsmen assisting the shop owner, Mr. Miyata, to produce them.
Young Konosuke's responsibilities were simple—cleaning up the premises and looking after the master's children, and in between, polishing the hibachis. The work itself was not strenuous, but for several days after his arrival, he cried himself to sleep in his longing to see his mother again.
As an apprentice, he was paid five sen on the first and 15th of each month. Five sen is equivalent to roughly 500 yen today, and the pay was more of an allowance for his material needs than a salary. But Konosuke had never received so much money back in Wakayama, and he was elated. Eighty years later, when he was 90, someone asked Konosuke what his happiest moment had been, and he recalled it being when he received his allowance of five sen. It must have made a great impression on him.
Mr. Miyata decided to move his business to the outskirts of Osaka only three months after Konosuke arrived, and it was decided that he would continue his apprenticeship with a friend of his master named Otokichi Godai. Godai was planning to open a bicycle shop; bicycles were just then becoming popular, and Godai had been searching for an apprentice to take on. Moreover, as it so happened, Konosuke's father was working at a private institute for visually and hearing impaired children which had been founded by Otokichi's older brother, Gohei, so all in all it was a lucky connection.
Godai Bicycle Shop opened for business in February 1905 in the Sakai-suji Awajimachi district of Osaka. Two months later, the shop relocated to the Uchi Kyuhojimachi area.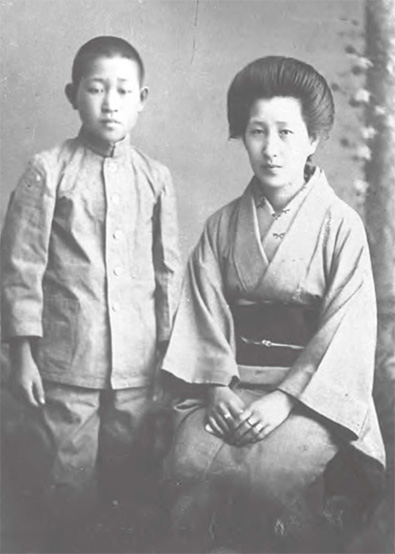 Where Konosuke's entrepreneurial spirit was cultivated
With time, Konosuke learned more and more about the way of the merchant. How was it that he eventually decided to strike out on his own and displayed the spirit of the entrepreneur so decisively? It seems he learned from ordinary people. Among them were Otokichi Godai and his older brother Gohei, who had ties to both Konosuke and his father, and a great influence on his life.
Otokichi Godai, Konosuke's second master and owner of Godai Bicycle Shop. Otokichi himself became an apprentice at age seven, and experienced a wide range of jobs. Though he had some failures, his decision to go into business selling bicycles, which at the time were spreading among the population, yielded success. He was a conscientious businessman who always put his customers first.
Otokichi's older brother, Gohei Godai, was born to the eldest son of a family that owned a rice shop named Harimaya. Gohei was intelligent and his future prospects were bright, but at the age of 15 he lost his sight to conjunctivitis. In quick succession, the family business failed and his father died, and to support his younger siblings despite his handicap, Gohei became a masseur. With the trust of his customers, a strong will, and an extraordinary memory, Gohei became a broker and an experienced entrepreneur. Having accumulated wealth, and to help younger brother Gohei and young people with handicaps, he founded a private institute for visually and hearing impaired children.
Konosuke's father Masakusu, who had moved from Wakayama to Osaka, was working at the institute under Gohei Godai as secretary and building superintendent. Living in the same city, he likely stopped by the bicycle shop now and then to see how Konosuke was getting on.
Thus it was that the Godai Bicycle Shop and the institute both became important places in Konosuke's life, where day by day he learned many lessons about the way of the merchant.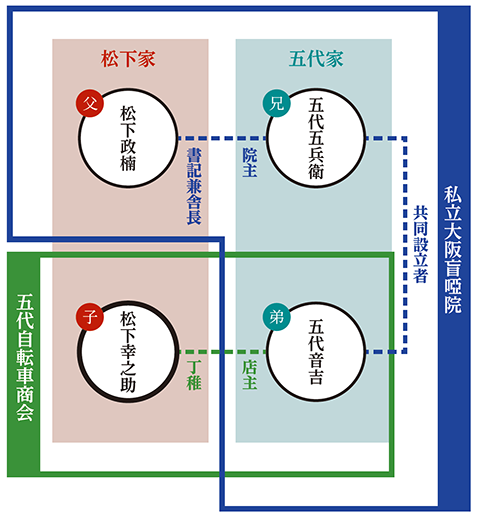 A day's work at Godai Bicycle Shop

My job as apprentice was to scrub the shop each morning, clean up every evening, and dust the bicycles and other items on display.
I also learned how to do repairs. In those days, repair was not a matter of simply replacing parts; often we had to manufacture new parts right there in the shop, and we had lathes and drilling machines for that purpose, all of which I learned how to use.
I enjoyed this work and never tired of it. The days went quickly.
The lathes were not operated by electric power, however, and it was my job to keep the mechanism turning while the craftsman worked on a part.
This was hard work. I could work the pulley briskly for ten or perhaps twenty minutes, but after thirty or forty minutes my arms would begin to ache with fatigue. If the machine slowed before it ought, the craftsman would hit me on the head—with a mallet. This may sound a bit rough, but craftsmen in those days expected apprentices to work hard and they disciplined us with a heavy hand. The rough treatment, in fact, was part and parcel of becoming a good craftsman. To complain or show indignation about such treatment, moreover, was bound to bring on greater wrath than the original transgression. In retrospect, it seems to me that the simple thumpings and thrashings we received at the hands of masters and senior craftsmen responsible for our training had a human warmth that is hard to find in this post-industrial age.
Konosuke Matsushita, My Way of Life and Thinking, PHP Institute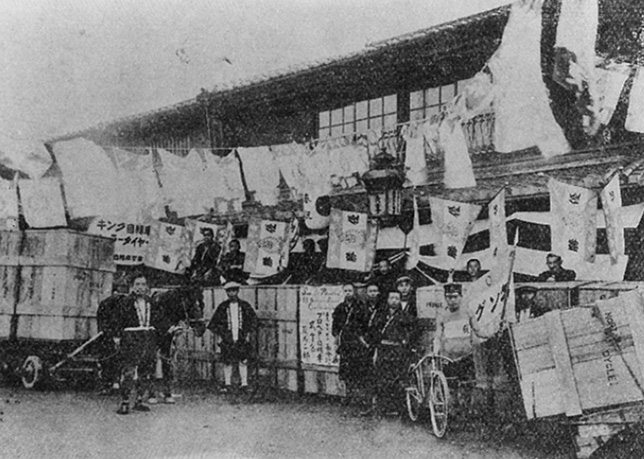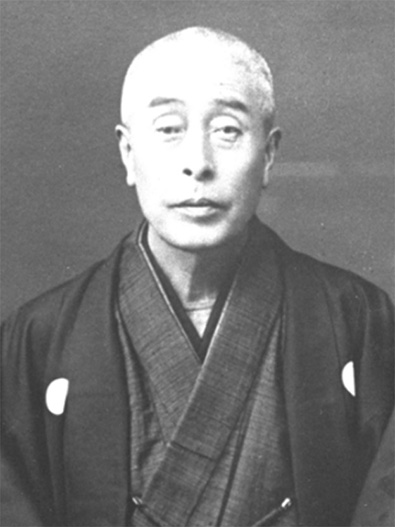 Owner of Godai Bicycle Shop. Younger brother of Gohei Godai, a broker. Konosuke's master during his apprentice days. He later took the name Gohei VI. Since childhood, Otokichi conducted business as eldest brother Gohei's right-hand man. After serving as an apprentice in three different businesses and with help from Gohei, he managed an oil and candle shop, a public bath house, and a pawn brokerage, all of which failed. He also worked hard to help Gohei establish a private school for the visually and hearing impaired. He opened Godai Bicycle Shop in February 1905.
Otokichi's way
From his experience with importing procedures as an apprentice in an imported nail shop, he began importing bicycle components and developed the proprietary King, Line, and Etna bicycle brands (bottom: brand marks).

Price products correctly and rarely discount them.

Always adhere to the principle that customers and suppliers come first.
Lessons learned from Otokichi

When I look back and contemplate the days of my youth, I remember that although Mr. Godai often scolded me, the knacks of business that I learned firsthand, and the many other experiences I had, later became a precious treasure for me, one that could not be exchanged for anything. I even feel strongly that had I not had all of those experiences during my years as an apprentice, I probably would not be the person I am today. I feel profoundly that the "school" I studied in was, for me, better than the grandest school in the world.
Konosuke Matsushita, Unforgettable People—The Masters of My Apprentice Years in Ie no Hikari magazine (Japanese only), Ie no Hikari Association
Otokichi's style as a merchant

Mr. Godai had a very excellent way of doing business.
When he offered a bicycle for sale, he did so at a price he determined himself. Whenever a customer asked him to reduce the price further, Mr. Godai would refuse flatly, saying, "I have already reduced this price considerably, and I certainly will not reduce it further. Otherwise, I won't make a profit, and it wouldn't do for me to do business that way. I wouldn't be in business for long, and I wouldn't be able to offer you maintenance services."
But at the same time, he set an example for me of being scrupulously polite to his customers. He took a rigorous approach to selling and collecting payments, because that was commerce. But his gratitude toward his customers was heartfelt, and he felt it his duty as a merchant to help his customers immediately when they needed it. He was always finding ways to render service.
Specifically, once he sold a bicycle, that was not the end of the relationship. He would make a point of visiting the buyer to make sure the bicycle was performing as expected. In all of his contacts with customers, he demonstrated his gratitude in this manner. Because of this, his customers were extremely satisfied, they gave him their repeat business, and the shop prospered more and more.
Konosuke Matsushita, My Memories—People Whom I Met in My Life (Japanese only), PHP Institute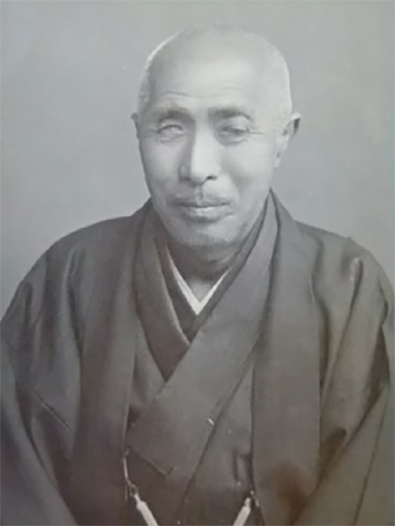 Owner of the institute for visually and hearing impaired children and a social entrepreneur of the Meiji era. After losing his sight at 15, he achieved success in real estate and other businesses. In 1900, he opened the institute, and invited Furukawa Tashiro, the founder of the Kyoto Municipal School for the Visually and Hearing Impaired , to serve as school director. He donated the school buildings and equipment to the city of Osaka in 1907, and it was renamed the Osaka Municipal School for the Visually and Hearing Impaired. Gohei continued to be active until he was struck by a train while returning home from the house of a friend, and died six days later.
Gohei's way
We are born naked and die naked.

Real business cannot be conducted on the basis of greed.

Abandon greed and devote yourself to the perfection of your business.

Motivate others with sincere passion.
Gohei's turbulent business history
Despite the loss of his sight, Gohei was active in a wide range of businesses. His first venture, with Otokichi, was a greengrocer. This did not flourish, so he engaged in the brokerage (introductions) business while working as a masseur. Around the same time, keeping rabbits as pets became popular, and Gohei entered that business as well, becoming so successful at it that he built a rabbit market. But his attempt to extend the business to Tokyo failed, and he withdrew from rabbit breeding. At the same time, his brokerage business extended to real estate, and he became so successful at this that he accumulated enough wealth to purchase a huge mansion.
Gohei also entered the finance business with a mutual financing association, and this too was a success.
Then in 1875, a change to the laws shielded borrowers declaring bankruptcy from liability for debts after seizure of their property. Many borrowers took advantage of this to avoid repayment, and Gohei's business was quickly starved of funds.
In desperation, he attempted to drown himself in the Temmagawa River (today's Okawa River).
An acquaintance who happened to be passing by pulled him from the water. Dissuaded from suicide, Gohei moved to rented quarters and leased his mansion. This income enabled him to settle his debts, and he embarked on a new business—a public bath. This was initially a success, but when he attempted to expand the business, the investment required was excessive, and the terms of the business went against him. He was thus forced to withdraw from this venture as well. Nevertheless, he expanded his brokerage activities steadily, particularly his real estate business. Thus, despite a series of successes and failures, Gohei was able to amass a considerable fortune.
Lessons learned from Gohei

What especially impressed me was the lesson that whatever one does, it is sincere commitment that ultimately brings success.
There are many factors that affect the attitude with which we approach any aspect of our work; but the most important is to have a passionate attitude overflowing with sincerity. Without a doubt, knowledge and talent are important, but it's not true that without them you cannot do something. Even if your knowledge is lacking and your talents insufficient, if you are filled with a sincere desire to somehow reach a goal, you will surely be able to achieve something worthwhile. Even if you are unable to do it personally, your sincere passion will become an invisible source of strength that naturally influences those around you. Just as the power of an invisible magnet naturally attracts iron, your sincere passion will often attract unexpected support, and your goal will come within reach.
Sincere passion is also a very important part of people helping each other to meet life's challenges. I believe Gohei Godai practiced this personally.
Konosuke Matsushita, My Memories—People Whom I Met in My Life (Japanese only), PHP Institute
The institute for visually and hearing impaired children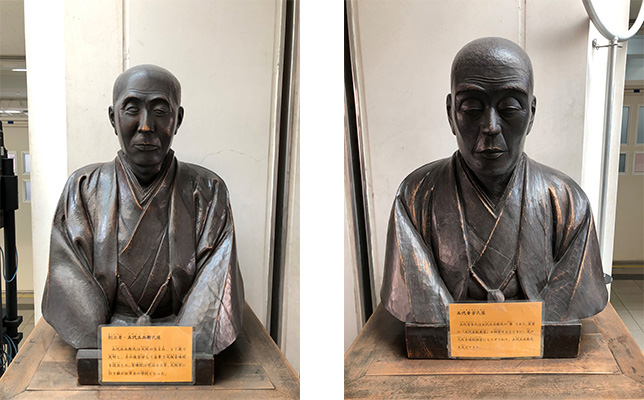 In 1891, hard at work at his brokerage business and at the age of 42, Gohei felt a change in his outlook. He had amassed more than sufficient wealth, and no longer needed to toil to escape from poverty, but he began to have doubts about devoting himself to the pursuit of material goods.
As he pondered how he should spend the remainder of his days, he suddenly remembered the difficulties he had faced after losing his sight.
He decided to devote himself to educating other children facing the same challenge, and with this resolve, he traveled with Otokichi in 1899 to a school for the visually and hearing impaired in Kyoto, to hear a lecture. The speaker was Tashiro Furukawa, the first person in Japan to advocate special education, and founder of the first school, for the visually and hearing impaired (today's Kyoto Prefectural School for the Visually Impaired and Kyoto Prefectural School for the Deaf).
After hearing Furukawa speak, Gohei decided to use his own money to establish a school to educate the visually and hearing impaired in Osaka, where such education was lacking. And on September 13, 1900, with Gohei as director, the institute for visually and hearing impaired children opened its doors in the Hommachi district of Higashi Ward, Osaka City. He also succeeded in recruiting Tashiro Furukawa to serve as the school's first principal.
On November 30, two months after its opening, the school relocated to a location near Shiomachi-dori Street, Minami Ward (today's Minami-semba, Chuo Ward), Osaka City. Konosuke would sometimes visit the school for a chance to see his father Masakusu, who was serving as Gohei's secretary. Afterward, Konosuke would lead Gohei by the hand back to the school.
On April 18, 1907, the institute was transferred to the city of Osaka, eventually becoming today's Osaka Municipal Chuo School for the Deaf and Osaka Municipal Osaka Kita Support School for the Visually Impaired.
Masakusu's legacy for his son Konosuke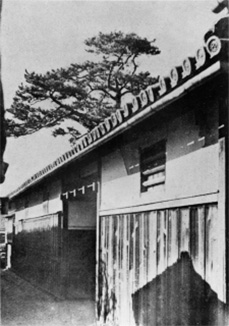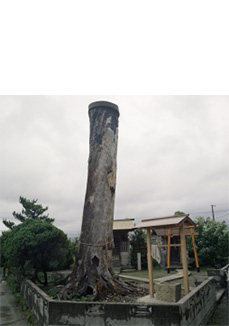 Memories of his father Masakusu

Sending me off to become an apprentice at the age of nine, and watching me undergo training in the bicycle shop, my father seemed to have great hopes for me in the world of business. After moving to the bicycle shop, as before, I lived in my master's household, but the school where my father worked was close by, and he kept a stern but affectionate watch over me. Even though I had turned ten years old, I continued to have trouble with chronic incontinence, which is the source of an amusing, though perhaps not so tasteful, anecdote. From time to time, I found it impossible to endure the urgent call of nature, and one day this happened as I was returning from an errand, astride a bicycle. The urge assailed me suddenly, and my posture made it all the more difficult to oppose what the body demanded. Before I knew it, my bicycle, clothes were a pungent, filthy mess. I was so upset I couldn't cope by myself. Sobbing with shame and consternation, I rode directly to the school where my father worked for help. The sight I made certainly surprised him, and he asked anxiously what had happened. Then he calmed me down and cleaned up everything, with the understanding and sympathy that only a parent can have.
There were other incidents of my young years that undoubtedly caused my father much trouble and worry, and each time he would console me with the same refrain. "You've got to be successful in life. People who achieve greatness have always undergone hardship—like apprenticing to total strangers—in their youth. You, too, will achieve great things by overcoming hardship. You must never give in to painful experiences, son. Be patient and endure." In retrospect, I can see clearly that my father's words reflected his deep regret at having lost the family properties handed down by his ancestors. But they also showed how much he wanted to see his only remaining son succeed.
Konosuke Matsushita, My Way of Life and Thinking, PHP Institute
Until the end of his life, if my father had any spare money at all, he would use it to play the market. He probably was determined to somehow recoup his losses. I remember it vividly. My mother was always trying to stop him. The two of them often fought. In the end they were left with hardly any money at all. My father had to go to work in Osaka to feed the family. I think the reason I hate speculation and gambling is because of these sad childhood memories that remain with me vividly.
Konosuke Matsushita, The Path toward the Future (Japanese only), The Mainichi Newspapers
Perhaps it was Masakusu's influence that inspired Konosuke to add the following article to the Matsushita Electric Works Rules.
Article 45. Employees shall not engage in commercial activity or speculative activity for personal profit without permission from the president.
Matsushita Electric Works Rules (1932)
What Masakusu meant to Konosuke
Masakusu Matsushita's life was buffeted by the upheavals of the Meiji Restoration and the advent of modern capitalism in Wakayama. He was born to inherit the family house and property in Wasamura Village, Wakayama Prefecture, and served as the village's first representative in local government, but later lost his family's property in the wake of failed speculation on the rice exchange. Konosuke described his father's personality as enterprising, with an interest in trying new things, but he was too optimistic with respect to the risks that accompanied capitalism.
Konosuke's years as an apprentice in Semba also created strong, significant ties between father and son. In a 1961 publication for alumni of the Osaka Municipal Chuo School for the Deaf, a description of the school shortly after it began operating includes this information. "One of the staff was a man past 50 named Matsushita, a native of Wakayama and the father of one of Japan's greatest entrepreneurs, the president of Matsushita Electric, Konosuke Matsushita. At that time a young boy of 12 or 13 frequently visited the school; this was today's Mr. Matsushita." This is one of the few records by which we can get a glimpse of Konosuke and Masakusu's relationship.
In 1902, after going to work for the private institute for visually and hearing impaired children, Masakusu served as building superintendent and secretary to Gohei Godai. The four years from then until 1906, when he died suddenly of heart failure, must have been important for father and son, with Masakusu's failures being impressed on Konosuke. In that sense, Konosuke's success as an entrepreneur was more than enough to erase his father's failures and fulfill his father's hopes.
Kokitton's all-out effort
Memorable episodes in Konosuke's own words
I have many opportunities to talk with people, but the hardest question for me to answer is, "What is the secret of your success?" Over my 60 years as an industrialist, I've had many memorable experiences.
But when it comes to the secret of my success, I somehow find it hard to answer. Before I knew it, the business had developed and the company had grown large. Perhaps I've simply been blessed with luck to come as far as I have.
But if I had to try to answer the question, I would point to the fact that I've enjoyed working since I was small. No matter the job, I've been able to find something enjoyable in it, and I also enjoy making an effort to do a good job. Of course, looking back now, I can see that my years as an apprentice were almost too tough to imagine, but even as a child I understood that that was the way things were. From early morning until late at night, cleaning up the shop, babysitting, and helping around the shop were something I found quite enjoyable. And even now, I'm still grateful for the way that strict discipline and work-filled days from morning to night gave me a serious attitude toward labor, and taught me the joy of working.
Konosuke Matsushita, Youth without Regrets (Japanese only), Kyoto Music and Culture Association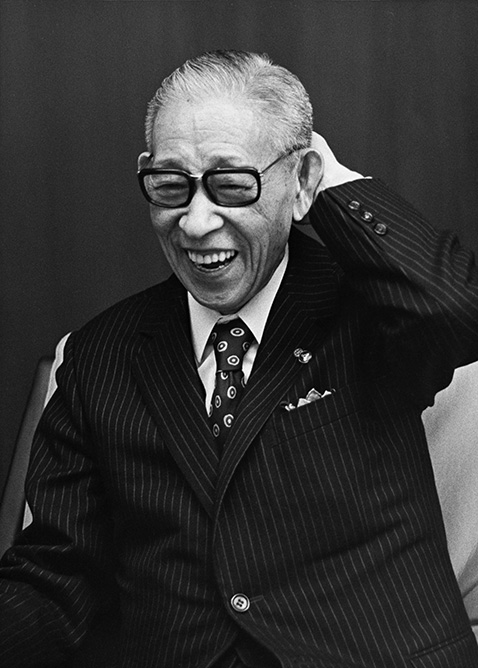 While waiting for their bicycle to be repaired, customers often said to me, "Listen son, could you go buy me some cigarettes?"
I would run to the tobacco shop, which was about 110 meters away. Every time I went, I had to wash my hands first. This took time and was inefficient, so one day I bought one case containing 20 packs with my own money. In those days, they would give you an extra pack of cigarettes free of charge if you bought 20.
I didn't know this at first. I hadn't intended to make a profit, but buying 20 packs all at once was easier, so I kept them ready for customers.
"Buy me some cigarettes."
"Yes sir," I would say, and hand them a pack right there. This went on for about six months.
Every month I sold two or three cases. Shikishima cigarettes were ten sen, and Asahi cigarettes were 8 sen, so I made a profit of 20 or 30 sen a month.
Then one day my master said to me, "You keep cigarettes on hand to sell to the customers. You'd better stop. The customers are pleased and it's easier for you, but the other shop boys are complaining. Customers are important, of course, but I can't have the mood in the shop spoiled."
That is when I realized that human relations are complicated. When I think about it now, I should've used some of the money I was making from cigarettes and treated the others to something. Sharing the profits, so to speak, like a dividend.
When you receive help from those around you, and you're able to make profits, you need to share those profits. But at the time this was something I didn't realize.
Konosuke Matsushita, The Path toward the Future (Japanese only), The Mainichi Newspapers
Happy customers, and profit for oneself. At first glance this seems a wonderful outcome, but there are many others one must also take into consideration, such as one's colleagues and master. From his day to day experience, Konosuke was already learning how important it is to consider those around you, how difficult that can be, and how important it is to grasp the feelings of others accurately.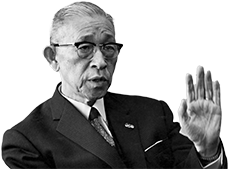 Change from the bottom up

When I was an apprentice, there were six or seven others in the shop. I was at the bottom of the pecking order. One of the older boys stole some articles from the shop and sold them privately. When this was discovered, Mr. Godai let him off with just a lecture. This was the first time such a thing had happened, and the boy was quite useful around the shop.
When I heard of this, I went to the master and said, "I'm very sorry to hear of your decision. I don't want to work with someone dishonest like that. If you allow him to continue working here, I must immediately ask you to let me go." This put the master in a quandary; he could hardly fire me when I had done nothing wrong and he ultimately responded by dismissing the offending apprentice.
Thinking back on it now, perhaps it was not my place to go against Mr. Godai's merciful instincts. But I was guileless and pure-minded, and it was a simple matter of principle that made me oppose his decision.
As it happened, afterward the mood in the shop became much better. I and the other apprentices worked with a new sense of purpose and commitment. So although this was not my deliberate aim, at the age of 14 or 15 and as the junior apprentice in the shop, I had engineered a major change.
This is something very interesting. Even a young apprentice can sometimes change the overall atmosphere in a shop. I think it was because I staked my job on it and insisted fervently. I think my determination conveyed my sincere passion and convinced Mr. Godai.
Konosuke Matsushita, Discussions on the Economy (Japanese only), PHP Institute
Perhaps he was too bold, but his logical, correct statement brought about a positive outcome. In this episode we can see the beginnings of Konosuke's pursuit, in later years, of an answer to the question, "What is right?" as well as his repeated insistence that one person with the right attitude can transform the workplace, even an entire company, and lead to superior results.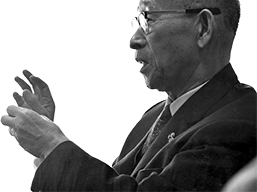 Around that time, my next oldest sibling, a sister, was working at the Osaka Postal Savings Bureau. The bureau was advertising for an office boy, and my mother and sister decided I should apply. My mother was strongly in favor of the idea, and to live with my mother, commute to work from my own home each day, and to be able to go to school at night seemed an ideal arrangement. But when I consulted my father, I found he was completely opposed.
"Your father failed at business, and I feel I failed our ancestors by losing the family home. I want you to be successful at business, unlike me. You left elementary school and you shouldn't go back now. You should become a merchant. Continue your apprenticeship."
With my father opposed, I had no choice but to give up the idea.
Frankly speaking, deep down I believe that my lack of scholarship made me aware quite early of my own limitations, and that awareness is partly why I am who I am.
Although I did not attend much school, through the experiences I had, I was able to learn many things first hand. If you look at a piece of paper and don't think of it as being anything more than a piece of paper, you may easily discard it. Meanwhile, if you evaluate the hidden value of a piece of paper, you can't discard it so easily. Rather, you will know even a piece of paper should be treated with respect. The same goes for "A grain of rice showing the blessings of nature." However, you won't be able to comprehend the true value of a grain of rice by simply chanting this a million times.
Sugar is sweet and salt is salty. Everyone knows this. However, to know something is sweet or salty or how sweet or salty it is, you should simply taste it instead of having endless discussions. Thus, the importance of experience is obvious. While I left school to be an apprentice, I was able to accumulate living knowledge through experience. For this I am very grateful.
Konosuke Matsushita, The Path toward the Future (Japanese only), The Mainichi Newspapers
"Unless you taste it, you'll never know that salt is salty. Until you taste it, you'll never know that sugar is sweet." Throughout his life, Konosuke always placed special emphasis on the importance of first-hand experience over theory. The roots of his conviction go back to his years of varied experience as an apprentice.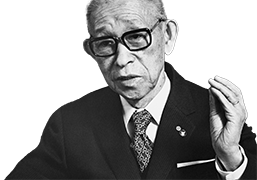 Konosuke's first sale: sincerity over price

"I want to see a bicycle."
One day the shop received this message from a customer. I walked the bicycle over to the customer and passionately explained its advantages.
The customer patted me on the head. "You're an appealing lad. I'll buy your bicycle, but you must give me a ten percent discount."
I thanked him and returned to the shop in high spirits.
"I sold the bicycle with a ten percent discount."
Mr. Godai frowned. "That won't do. A merchant mustn't give discounts. You go back there and tell the customer our discount will be five percent."
But I couldn't go back on my promise to the customer, even though I was just an apprentice. I begged Mr. Godai to agree to the ten percent discount, breaking into tears in my eagerness.
Then one of the customer's clerks appeared at the shop, asking what was taking such a long time. Mr. Godai said, "This lad came back and said I should give you a ten percent discount, then burst out crying. I've been trying to make it clear to him that he's working for me, not for your master."
When the clerk returned to his master and recounted this scene, the master said quickly, "All right. I'll buy it with a five percent discount."
I still remember how, when I delivered the bicycle to the customer, looking abashed, he patted me on the head and said, "As long as you work for Godai Bicycle Shop, I'll buy my bicycles from you."
Business is not about price alone. Sincerity is even more important. You have to have sincerity that touches the customer's heart.
Konosuke Matsushita, The Path toward the Future (Japanese only), The Mainichi Newspapers
While Konosuke's experience demonstrated to him the importance of maintaining appropriate pricing, he also discovered from his first customer that sincerity can bring unexpected benefits. The story of his first sale can be said to also be his first lesson in the knacks of business. Moreover, it echoes Gohei Godai's teaching regarding sincere compassion.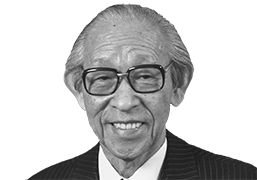 While I was manning the shop in the evening, I often read traditional Japanese stories. We apprentices absorbed an education by reading this sort of book—the life of Hideyoshi, perhaps, or ninja tales—and we became totally absorbed in them. These books helped form our outlook on the world. With the evening meal over at eight o'clock, we'd spend another two hours reading. If it was winter, we'd read gathered close to the hibachi. That was our only time to read.
At the time, we didn't have the schooling to read difficult books, and back then there weren't so many books available as there are today. The popular histories were written to be accessible to even a 12- or 13-year old child. Most of these books were quite old. The books reflected the values people in the Tokugawa era had—about moral obligations and human feelings, the samurai spirit, the culture of city-dwellers, the lives of poor farmers, and so on. The stories were dramatized, but one could still discern the common sense of the times.
Though some of these values may have disappeared, moral obligations and human feelings remain, though they have changed somewhat. I learned that well. What happens when a great hero appears? How does he relate to the people around him? How does he reward them? All kinds of things like this are presented in great detail, and if you deal with people the same way, you're usually not wrong. To be frank, the study of management consists of the very same things.
Much of my way of thinking about business and my business outlook comes from those books I read during my seven years as an apprentice, manning the bicycle shop after supper. When I went out on an errand for my master and he would teach me exactly what to say; when I sold something to a customer and received payment; when I went out to collect installment payments; all of these experiences I had personally were a living education that stands me in good stead in my life today.
Konosuke Matsushita, Work Dreams, Lifestyle Dreams (Japanese only), PHP Institute
"When we look at how Hideyoshi unified Japan…." "What if Miyamoto Musashi had a duel with a computer…." Konosuke often mentioned historical figures in his talks. His first encounters with these individuals took place when he was an apprentice, in the time he found to read traditional stories during his busy day.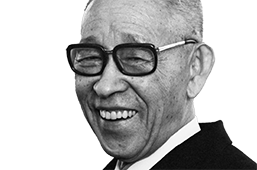 Maintain the attitude of being a humble merchant
During his years as an apprentice in Semba, Osaka, Konosuke Matsushita learned the importance of acting as a humble merchant.
Konosuke stated that the qualifications for being a humble merchant were these: to understand the essential purpose of one's business, read the customer's heart, and be fully humble before others. And to bequeath these ideas to the future, he incorporated them as Article 15 into the Basic Internal Rules, which he set forth in 1935.
Konosuke's mindset of "maintaining the attitude of being a humble merchant" lives on in today's Panasonic.