Reducing CO2 Emissions in Transportation
In order to realize the 'Environmental Vision 2050' and contribute to the prevention of global warming, aiming to improve transportation efficiency while reducing costs, Panasonic has been working to reduce CO2 emissions also in our Distribution division, focusing on modal shift, adoption of low-emission vehicles, adoption of biodiesel fuels, reductions in transportation distances, and improvement of the loading rate in transportation/distribution.
As a result, in fiscal 2022, our total global CO2 emissions from logistics activities was 953kt worldwide; of which international transportation was 313kt, and domestic transportation in Japan was 116kt.
CO2 Emissions from Logistics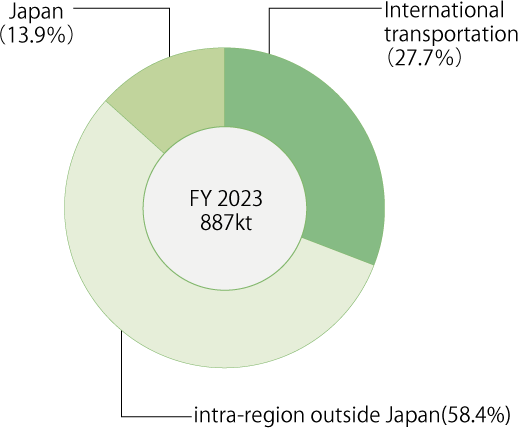 Transportation Amount by Transportation Method (Japan)
Consolidated Transportation (transportation/load of different products at the same time) in Collaboration with Sales Division
Making best use of that products are shipped from the same warehouse, Panasonic has transported products in consolidated cargo (transport/load of different products at the same time) in collaborating with its sales division. Under the system finalizes orders two days before the transportation, which was started in 2017, the followings have been realized: 1) allocation of a tack for the transportation one day before the transportation instead of on the transportation day, and 2) consolidated transportation of different products such as water heaters and air conditioners. As a result, the number of ordering trucks for transportation has been reduced, which has contributed to CO2 reduction, and at the same time, actions for transportation risk have been realized. In fiscal 2022, the total number of actually ordered trucks for consolidated transportation was 4,034 trucks (111% year-on-year), whose loading rate at the same time was 37%, and CO2 reduction effect was equivalent to 95.5t per year; for the subject transportation, 8.9% of CO2 was reduced.
Modal Shift*1 Initiative in Collaboration with Logistics Partners
Panasonic promotes a modal shift in transportation from trucks to railroad and ships in order to reduce CO2 emissions.
As a part of this initiative, we have been working together with Suzuyo & Co., Ltd., Suzuyo Cargo Net Co., Ltd. and NX・NP Logistics Co., Ltd. towards a new manner of transportation since 2017. Panasonic has conventionally used cargo trucks to transport its washing machines from Fukuroi City in Shizuoka Prefecture to Tosu City in Saga Prefecture. We have managed to switch this means of transportation to domestic shipments twice per week by reducing the shipping volume variation to average out the transportation load. This initiative generates a CO2 emissions reduction effect equivalent to 124.7t.
*1 Switch from truck and air transport to railroad and sea vessel transport that has less environmental impact.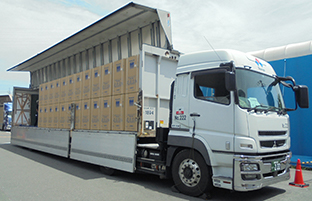 Promoting a modal shift and obtaining product certification for dry batteries
In terms of transportation of finished products, we aim to achieve a modal shift rate of approximately 40% or more. We are currently working to increase the ratio of rail freight transportation, focusing on transportation to front-line warehouses in Sapporo, Sendai, Tokyo, and Tosu, which will cover distances of 500 km or more. We are also working to drastically reduce CO2 emissions by improving transportation efficiency.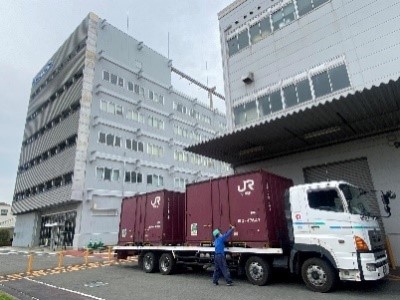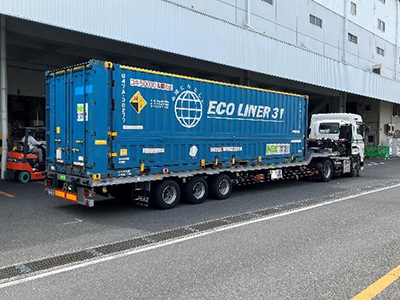 Since publishing this booklet in 2007, we have invited more than 200,000 elementary school students to visit our factory to promote our company's environmental initiatives.
We obtained product certification in 2012 and are now include the Eco Rail Mark in our catalog. We promote our achievements as added value to our customers.
Use of Biodiesel Fuel (Japan)
Panasonic promotes transforming waste cooking oil collected from its business sites into biodiesel fuel and utilizing it for vehicles used in production, procurement, and marketing activities. Since fiscal 2010, we have been using 100% biodiesel fuel for the joint transportation with the Asahi Shimbun Company in the Tokai and Tokyo Metropolitan areas to enhance further usage of biodiesel fuel. Biodiesel fuel usage in fiscal 2022 was 4.977kl. We will increase opportunity to use the biodiesel fuel in non-road vehicles such as forklifts.
Recycling of Stretching Film Used in Shipment
As an activity to reduce logistics waste, in fiscal 2015, we started recycling and reusing used stretch films with Nozoe Industry Inc. (Nozoe), and in fiscal 2022, we have continued the activity. It used to that all the stretch films used for shipment were discarded after use, however, the used films are now recycled and used as raw materials for polyethylene bags by Nozoe, while Panasonic has purchased the bags made of recycled materials. As Chinese government started banning imports of waste plastics in the end of 2017, Panasonic's other sites who did not have business contact with Nozoe in Japan started similar activities with Nozoe. In addition, with the launch of full operation of Nozoe's recycling factory in Saitama Prefecture led to expand our recycling scheme for used stretch film in Kanto region. As a result, the total 395t of stretch film was recycled. In FY2019, we have started to purchase recycled products from Nozoe in Panasonic, to further increase purchase volume of Nozoe's recycled products. We continue to make effective use of used stretch films, while reducing logistics wastes.

Stretch Film Recycling Scheme with Nozoe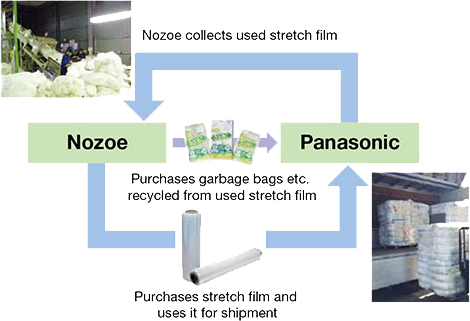 Landing Shipments at a Port Close to the Target Sales Area
Aiming for higher efficiency in transporting products, Panasonic is expanding its our efforts to land imported products at a port close to the target sales area in Japan. Conventionally, landing of products was centralized to a port near the West Japan Global Logistics Center (GLC) in Amagasaki City in Hyogo Prefecture, stored at the West Japan GLC, and then transported to respective locations as required. Landing the products at ports closer to the target sales areas can reduce the distance required for land transport within Japan, thereby contributing to reducing not only CO2 emissions but also inbound and outbound deliveries between sites as well as distribution costs. For televisions, which have high sales volumes, In fiscal 2022, with the shift from domestic production models to overseas production we roll out efforts to unload at ports close to the sales area, further reducing domestic transportation. From now on, we will continue to expand the scope of products and also further refine the projection of sales demand in various regions, optimize the stock amounts held in those areas, and expand the landing products at ports near target sales areas.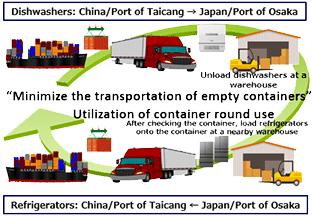 Promotion of container round use (CRU)
Panasonic is actively promoting CRU as a measure to solve the problem of the shortage of containers that has been continuing on a global scale since 2020 due to the effects of COVID-19, and to improve transportation efficiency.
As a result of this measure, the number of vehicles to be arranged, CO2 emissions, and logistics costs have been reduced at the same time.
The number of containers transported as CRU in fiscal 2022 was 35 (Rate of utilization 5.3% *The number of imported containers for which can be transported in a round use container was 664.)
The reduction of logistics costs was approx. Yen 1.6 million (Annual target: 96 containers, reduction of Yen 4.3 million.)
The reduction effect on CO2 emissions was equivalent to 4.4 tons (Annual target: 12 tons.)
In anticipation of the impact of the Shanghai lockdown and after the instability of the marine transportation schedule is resolved, in order to increase the number of matching containers, aiming to 1) even out export schedules disproportionally busy at the end of the month, 2) establish a stable operation of CRU, and 3) roll out the CRU to other products, we will promote the utilization of CRU.