The IOC Young Leaders programme engages and empowers inspirational young people by providing coaching, funding and a network of mentors for them to deliver their own grass roots sports projects in their communities. Let's take a look at project stories of an IOC Young Leader!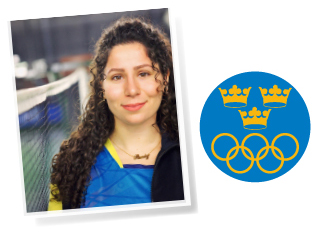 Making Badminton Inclusive and Accessible for All to Enjoy
I am the founder and CEO of "Parallel Play" and" Better Future with Fyrisfjädern (Badminton Club)". I am a young, passionate entrepreneur trying to make a change in the world by sharing my vision for inclusion through sport at events such as the Paris Global Sports Week 2020 and the European Commission's three-day forum on the rights of a child. I am a former Social Business Champion with, and currently the regional leader for Europe of the Yunus Sports Hub, in an initiative called the COVID-19 Sports Response. I have ten years of experience as a badminton coach and BWF international tutor and am currently studying for a degree in engineering and prosthetic and orthotic design to be able to make prosthesis and other kind of devices to assist Para athletes in Sweden.

Parallel Play is a Swedish national Para badminton project which started in August 2019 to support the social inclusion of disabled people in our society, by enabling them to enjoy the accessible sport of badminton. Parallel Play's goal is to make badminton accessible to all, by creating training groups for people with intellectual and physical impairments within existing badminton clubs all over Sweden to allow the players to develop and achieve their full potential, whilst having fun. The long-term goal is to have a national team for Sweden at the Paralympic Games and Special Olympics World Games with the help of Badminton Sweden and Parasport Sweden and for these athletes to become role models for future players, whilst showing the world what inclusion really means. Overall the project works with Sustainable Development Goals (SDGs) of Good Health and Well-being (Goal 3), Gender Equality (Goal 5), Peace, Justice and Strong Institutions (Goal 16), and Partnerships for the Goals (Goal 17) with the aim of opening doors for other sports to do the same for disabled people.


What have we achieved so far?
Despite the project starting at roughly the same time as the COVID-19 pandemic it has still managed to make a huge change in Sweden. Since its conception, Parallel Play has reached 630 disabled people through different activities and started Para and special badminton in 5 different badminton clubs across Sweden. We have worked closely with Badminton Sweden and the Swedish Parasport Federation, which enabled us to add badminton as a sport at the "Start Your Impossible Camps" designed to introduce disabled people to different sports. Other key successes include:
For the first time, a Swedish Team of five people participated in an international Para badminton competition held in Helsinki, bringing home four medals.

In May 2020 BMK Wätterstad had a Club championship where Paraplayers were invited to compete in the same competition as the elite, which had never happened before.

After only one year, Parallel Play has changed the view of inclusion in badminton in Sweden. It does not matter what kind of impairment you have – word is out that you can start playing badminton and achieve full potential regardless of your condition.

As the founder of Parallel Play, I have gained great confidence in both myself and the project through my IOC Young Leader position and the support I have received, which has allowed me to develop the project more creatively and to plan for the future with confidence.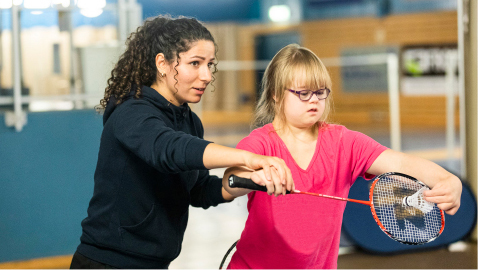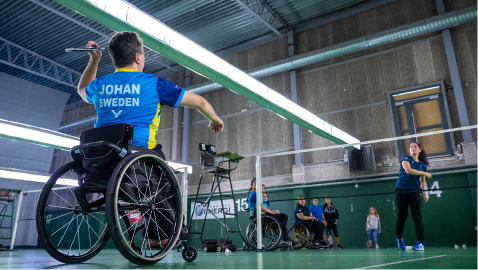 To top off a great year, I was one of five shortlisted candidates for the prestigious Swedish Sport Gala 2021 under the category of Changemaker of the Year for being the founder of Parallel Play. Although, ultimately, I didn't win the award, it has given me great belief in the project and its goals and furthered my resolve to make it even more successful in the future.

To make Parallel Play more successful and independent in the future I applied for the new four-year IOC Young Leaders program. However, if my application is not successful, I hope the project sustainable and independent through strong collaborations between the badminton clubs and the Parasport federation, which offer grants that we can apply for to cover the cost of our events. To get involved or to learn more, please visit here.

Parallel Play has taught us that you only need one strong passionate person to start a change, but you need more than one person to actually succeed in making the change. We never thought we would be able to reach out so quickly in just one year but it confirmed that the need for inclusion especially in badminton actually exists, including the joy of playing badminton. The first year has helped us to find the right strategy to succeed. We have tried different strategies and methods but managed to arrive at a successful way, which is to get to the target group itself instead of waiting for the target group to find us. We also learned the value of having an international network, ie the IOC Young Leaders family. In difficult times we have been able to give each other support, ideas and solutions for our problems that occurred during the project year for which we are very grateful.
Cooperation is the key to real success and only together can we make a real difference and create an obvious inclusion in all sports. Parallel Play's goal is to have an inclusion in every city in Sweden in ten years. We are looking forward to the coming years.
The future for Parallel Play is bright. We are currently planning to open up Para and special badminton training centers in 5 more places in 2021. A plan for 6 more camps and 3 competitions is currently taking place in Sweden. In about 5-10 years Parallel Play is looking forward to introduce Sweden's National Team in badminton for the next Paralympic Games.
Thank you, IOC, Panasonic and Yunus Sports Hub for making this possible.
We are eternally grateful for your support and belief in us and our vision with Parallel Play.