On July 24, 2019. A spectacular "1 Year to Go!" ceremony took place at the Tokyo International Forum. In front of an audience of some 4,000 both guests and those connected to the event packed the hall and saw, the Yoshida Brothers, a shamisenist duo, and a rhythmic gymnast, Honami Tsuboi, fuse their impressively energetic performances. Behind the scenes, an artistic tool was there that made the event both thrilling and exciting—Panasonic's projector with real-time tracking and projection mapping technology. How to improve "image quality" and "brightness" has been the key focus for high luminance projectors. Another unprecedented, new axis Panasonic has added to the industry-standard approach is "speed." This article sheds light on the stories behind the development of this technology, from Mr. Fujiune and Mr. Asai, both of the Media Entertainment Business Division at Panasonic Connected Solutions Company, and Mr. Kobayashi of the Tokyo Organizing Committee (TOC) of the Olympic and Paralympic Games.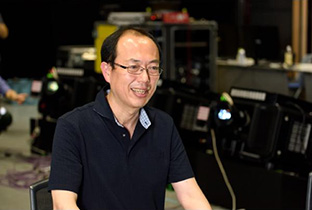 - What is projector with real-time tracking and projection mapping technology in brief?
Fujiune >> "At the opening performance of the "1 Year to Go!" ceremony, the dynamic images fused to Tsuboi's motions in real-time so perfectly that, I think, most people in the audience didn't doubt she was dancing in tune with the images. Yet, it was actually the opposite: the images followed her motions in real-time. This well represents the real-time tracking and projection mapping technology. Pushing imaging speeds as far as they could go to enhance the user's experience was our original goal."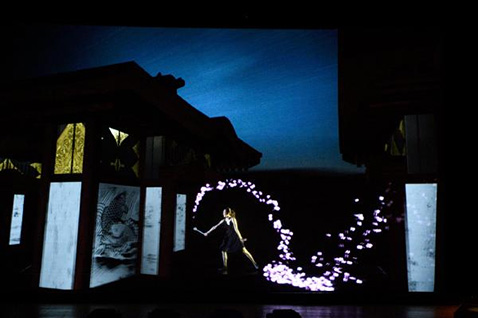 Asai >> "The system consists of a projector for projecting the image, an infrared light for sensing and a high-speed camera. The infrared light is radiated on the marker at the tip of the performer's wand and picked up by the camera. The location of the marker in space is then pinpointed within a virtually negligible time lag by feeding the captured image into a processor built into the projector. Based on this positional information, the projector instantly projects the images at 1,920 fps (frames per second). This configuration allows real-time tracking with just a lag of 0.0016 sec from when positional information is detected until the content is projected. This time lag of less than 2/1000 sec is so fast that the human eye can never detect it. Since a typical projector is 60 fps, the smoothness of the images deserves particular mention."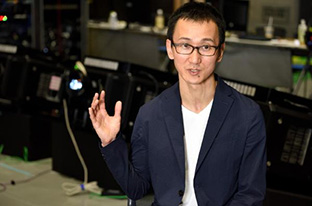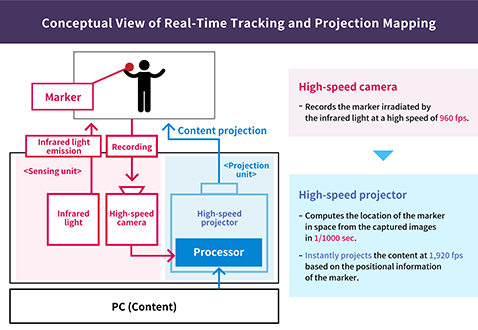 - Any feedback from performers?
Fujiune >> "The technology was also behind the stage at the 'TOKYO VISION: 500 Days to Go! Night,' where dancer Kento Mori performed. What impressed me was when he said it was a lot of fun to change up his dancing. Since the images track his movements, I gather he slightly changed his routine. It augments the 3D effect and blending sensation by tracking high-definition, high-brightness images as an added component, whereby enabling a higher level of performance. The opening performance of the '1 Year to Go!' ceremony perfectly demonstrated that power of expression."
(Video) "Ready for 2020" Performed by Kento Mori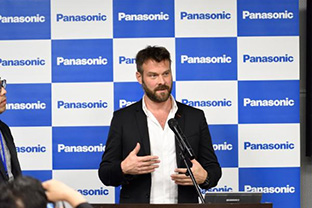 - I hear that you collaborated with creators outside Japan for the image content. Would you tell us any stimulus from the collaboration?
Fujiune >> "Moment Factory, a Canada-based creator team, was the one we worked with for the opening performance image content. We teamed up, in 2017, with the creators out there to discuss all sorts of themes and topics like what everyone wanted to create, what people would enjoy and what would be best as a performance. It was a very inspiring experience."
Asai >> "In this kind of back and forth collaboration, both sides stimulate each other, which ultimately should lead to new modes of expression."
Moment Factory Co-Founder Dominic Audet commented, "The concept behind the content of the opening performance at the '1 Year to Go!' ceremony was to strike a collaboration between tradition and state-of-the-art technology with Panasonic's high-tech at its core. We reached new ground where athletes aren't bound by limitations."
We interviewed Hiroyuki Kobayashi, TOC Director of Communications and Engagement what was about "1 Year to Go!" ceremony opening performance
- What was your reasoning behind using real-time tracking and projection mapping for the performance?
"As is laid out in our vision of the Olympic and Paralympic Games Tokyo 2020, we want to be the most innovative in the history of the Games and bring about positive change in this world. By that, I mean our goal is to create new values beyond just the sports component, by adding technology and culture into the mix. When we thought about how to fuse sports, technology, and culture, we decided to try something new using real-time tracking and projection mapping compatible projectors."
- How would you describe your impression having witnessed the performance?
"Technological advances are creating opportunities for people who are not that familiar with sports to appreciate them more. We see sports as capable of changing the future and technology as capable of changing sports. So, we expect something spectacular to come from combining the two."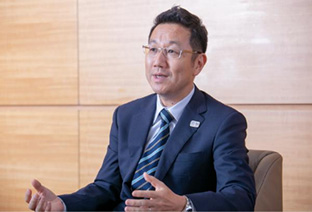 - Would you fill us in on what you see for the future of the technology?
Asai >> "With projection mapping everywhere these days, people have gotten tired of looking at just images projected on the wall of a building. Real-time tracking and projection mapping integrates performances and imagery into something life-like. If further evolved, the system could possibly project images on the walls and floors in someone's home so that they could feel like they are inside the games they play. Moreover, advances in technology may spawn sports that don't yet exist. I hope this system will take us one step closer to realizing those kinds of dreams."
Fujiune >> "The Olympic Games are one opportunity for us to continue developing sports and entertainment. We can fully support those foundations with our technology."
Note: Edited and revised the source, "Mirai Kotohajime (Elements Inspiring the Future)," published on August 23 (Fri.), 2019.
The Panasonic Professional Lineup