Shortly after Beijing's selection as host city and commencement of preparations for the Olympic Games, Panasonic Corporation of China also launched advertisements, PR activity, and exhibitions to promote Panasonic's support for the Olympic Games. In particular, big public events such as the "One-Year Countdown Ceremony," "100-day Countdown Ceremony" and the "Olympic Live Site," held in collaboration with the Beijing Organizing Committee for the Olympic Games, not only heightened the city's enthusiasm for the Olympic Games Beijing 2008, but also raised Panasonic's profile with the public as a TOP sponsor.
Panasonic's AV Solutions Accentuated the Opening Ceremony of the Olympic Games
August 8th, the Opening Ceremony was held with a spectacular exhibition of color and sound, and immense number of performers. Directed by the world-renowned film director Zhang Yimou. Supporting this awesome show were two of Panasonic's technological pillars: the large-screen display system, ASTROVISION, and the sound system, RAMSA. This was the moment that Panasonic's slogan, "Sharing the Passion," came to life.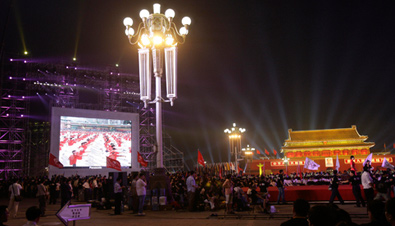 During the Olympic Games, the Media Press Center, located in the Beijing Olympic Green, became the main workstation for some 7,000 reporters from around the world. Panasonic's Plasma TVs played an important role to support media activities. At the same time, Panasonic hosted a section within the Media Press Center called the "Panasonic HD Room" that showcased the history of the Plasma TV and 20 years of TOP (The Olympic Partner) sponsorship, and Panasonic's various audio visual equipments for the Olympic Games.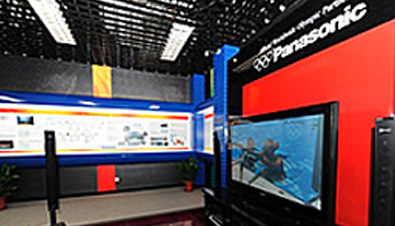 Video Technology United the People of Beijing
Various advertisements in the airport, streets, and around the city helped set the mood for the Olympic Games Beijing 2008. At the China Millennium Monument, Olympic broadcasting was screened in HD on a 103" Panasonic Plasma TV and HD digital set top box for the duration of the Olympic Games. At the same time, Panasonic's advertisement for the Olympic Games set the spirited tone of the park.
In addition, two ASTROVISION screens were installed on the "Passion Stage," the event space set up by the Beijing Organizing Committee in the Olympic Green. The ASTROVISION screens complemented the on-stage musical and dance performances, energizing the world's greatest sporting event held in Beijing.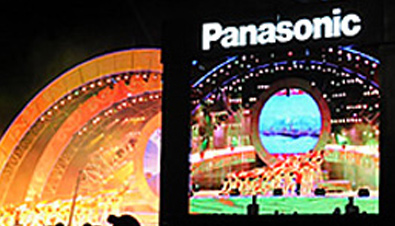 The Panasonic Professional Lineup