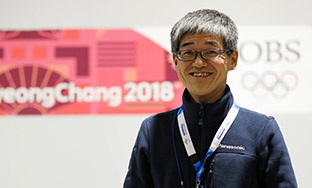 Ayuta Onishi
Panasonic Connected Solutions
Media Entertainment Business Division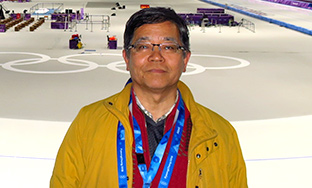 Koji Yamamoto
Panasonic Connected Solutions
Media Entertainment Business Division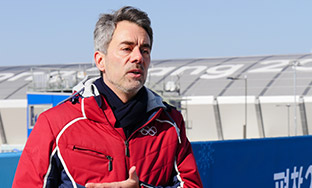 John Paul Giancarlo
Internationl Olyumpic Committee
Technology Leader
Panasonic's broadcasting equipment played a major role at their 13th Olympic Games at PyeongChang in 2018, having first been used for the recording systems at the Barcelona Olympics Games in 1992. A range of broadcasting equipment was supplied to facilities like the International Broadcast Centre (IBC) to support the broadcasting setup with excellent picture quality. This included the Panasonic P2HD Series broadcast camera systems used as the main television cameras at the Games, and the AJ-PX5000G Series high-end camcorders with AVC-ULTRA codec for better picture and better quality video.
Efficient response for fully-fledged 4K video initiatives
Every Olympic Games features new broadcasting initiatives using the latest sports video technology of the time. The Olympic Games landscape was changing quickly with more sports and events, ever advanced video technology with higher picture quality, and a greater diversity of streaming media. This brings the need for more innovative, realistic video, and also for faster production.
Ayuta Onishi of Connected Solutions Company, Panasonic Corporation reflects on the new trends at this Olympic Games: "At the PyeongChang 2018, the host broadcaster OBS embarked on a full program of 4K video production and streaming." To support these broadcasts, Panasonic supplied a new system whereby very compact and light 4K system cameras could be operated remotely via a network.
"At the Opening Ceremony, we had five system cameras installed on the roof of the venue which could be operated from the control room to provide live 4K video streaming. We were able to achieve innovative video production in an efficient operating setup with a very small team of staff."
Panasonic's solutions helped combine high-quality video production with efficient operation. The AVC-ULTRA codec was used throughout the OBS broadcasting system. Video shot with Panasonic's P2HD broadcast camera system is recorded in this AVC-ULTRA codec, and all work from editing to transmission maintains this AVC-ULTRA standard so there is no loss in picture quality. This means that files can be exchanged more quickly and work can be completed in a shorter time.
Overcoming a difficult environment with accumulated know-how and a solid support structure
Koji Yamamoto of Connected Solutions Company, Panasonic Corporation has been working in Olympic Games broadcasting for many years, and says that the big challenge at the PyeongChang 2018 was the intensely cold weather. "In such a freezing environment, it becomes a problem of building the right structure for the broadcasters to produce and broadcast their content in the best possible condition. At Panasonic, it is our responsibility to support this setup based on our experience of having supplied broadcasting equipment as the official recording systems provider at 13 Olympic Games."
Panasonic has earned the trust of the broadcasters because of its past experience using equipment in cold conditions, and because of the advance preparations and cold-weather tests conducted to make full use of the knowhow the company has accumulated.
The support setup centered on a Panasonic support room within the International Broadcast Centre (IBC). Two rotating teams of staff were permanently stationed at the support room from 30 November 2017, when the IBC was first constructed, to the end of the Paralympics Games on 31 March 2018. No other vendors are able to supply such generous support. Yamamoto says that this is because of Panasonic's desire to provide on-time service and technical support to the host broadcaster OBS, and to the various other global broadcasters who gathered in PyeongChang for the Olympic Games.
"The broadcasters have been happy because, should they ever have a problem, they can bring it to our support room and we will respond immediately. It is very significant that we are able to test things there and then. Because then we can look for the issue by incorporating the device into a system, rather than looking at the individual device alone."
The knowhow obtained through such efforts is a real strength for Panasonic as this can be used as feedback for future products and future Olympic Games; deepening these relationships of trust even further.
Tokyo 2020: An Olympic Games that will go down in history
The broadcasting systems developed through such initiatives gain the trust of the users, who will then continue to use them after the Olympic Games are over. John Paul Giancarlo of the IOC spoke to us.
"In three venues – the Gangneung Ice Arena, the Gangneung Oval, and the Gangneung Hockey Centre – the Panasonic broadcasting equipment that was installed for the Olympic Games has remained in use even after the completion of the Games. This is proof of Panasonic's quality in creating a better working environment to support the operation of the Games."
Onishi spoke of his thoughts about the wide praise Panasonic received at the PyeongChang 2018. "Our responsibility at Panasonic now is to live up to the trust that our customers have placed in us and build upon this going forward."
The next Olympic Games is Tokyo 2020. An Olympic Games held in Panasonic's home country presents a new objective to bring our many technologies together and contribute to new video production and broadcasting initiatives for both the host broadcaster and the various international broadcasters; such that these Olympic Games can go down in broadcasting history.
"At the Tokyo 2020, I believe that we will start to see more video production and broadcasting in 4K and 8K. Our challenge at Panasonic is how to meet the new demands with our technologies, products, systems, and services."
There is a real possibility that the Tokyo 2020 will make regular 4K broadcasting a reality. It is in this expectation that our staff at Panasonic are working to make a real contribution.
The Panasonic Professional Lineup