Commercial fleets support people's lives by transporting goods and people.
Panasonic will help logistics operators, companies, and local governments with the adoption of commercial e-Fleets.
By analyzing battery status, battery life prediction , and predictive anomaly detection in these vehicles, we will propose optimal operation methods.
We will help optimize customers' operations and improve convenience, contribute to reducing total costs, and promote the use of e-Fleets with lower environmental impact.
Three characteristics of Panasonic's solutions
Our solution will contribute to the enhancement of work efficiency and reduction of total costs in e-Fleet operation.
Analyze the travel data of e-Fleets and provide EV status information, such as battery health and predictive anomaly detection.

Indicate the travelable range and slow down battery degradation to maximize the potential of e-Fleets operation.
Support e-Fleet management work, such as the optimal deployment of vehicles and the reduction of unnecessary battery charging, for an efficient e-Fleet operation.

Panasonic will provide EV status management, operation support, and management support services by sending the travel and charging/discharging data of e-Fleets to a cloud-based analysis system for assessment.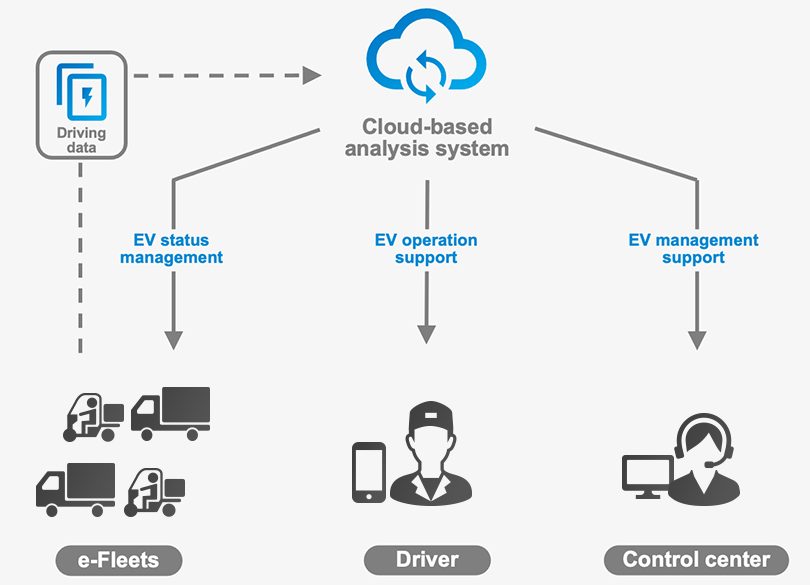 We can meet your diverse requests concerning e-Fleets. Please feel free to contact us.
Corporate owners who want to use an e-Fleet without worries
You can operate your e-Fleets with no misgivings, as the batteries' degradation rates and remaining charges are estimated with high accuracy, allowing for an accurate travelable range assessment.
Manufacturers who want to improve the quality of their e-Fleets
Signs of battery anomaly can be detected to reduce the risk of e-Fleet failure.
Service businesses that want to reduce the operation costs of their e-Fleets
We will propose appropriate e-Fleet operation methods to assist you in reducing operation costs.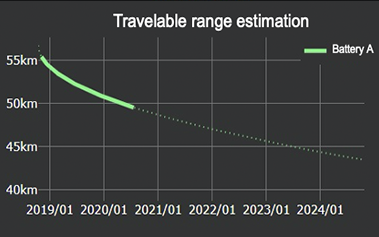 Introducing our battery data analysis, which is a core technology for e-Fleet solutions.
Panasonic will re-examine a new lifestyle and urban design together with a wide variety of partners.
We have implemented these new concepts in society through on-site verification tests and introduction to customers.
UBMC Service
Update Electric Bikes with Battery Status Monitoring
#eFleet #EVStatusManagement #Micro-mobility #Cloud #InstallationExamples