Evolution of Recycling-Oriented Manufacturing
We use many kinds of resources, including iron (28% of total resources used) and plastic (10% of total resources used), because of our wide range of products and businesses, from home appliances, components such as semiconductors and batteries, housing, and B2B solutions. In recycling-oriented manufacturing, we are further working on reducing the input of virgin resources, while increasing the amount of recycled resources. And in that context, we are working to establish a circular system according to resource type and features.
Furthermore, we are clarifying recycled resource use by identifying the volume of each type of resource used across the Panasonic Group. For example, in the case of recycled resin, we used approx. 12.4 kt of recycled resin in our products in fiscal 2023. In order to achieve the respective GREEN IMPACT PLAN (GIP) 2024 target, we worked on responding to the characteristic required for components, ensuring a stable supply, devising ways to use at the manufacturing site, and developing recycling technologies.
As for the factory waste recycling rate*1, we had traditionally set different targets for Japan and countries outside Japan according to the relevant local infrastructures. However, given increased awareness of the importance of zero waste emission activities, we have set a globally standardized target since fiscal year 2011 and are taking steps to improve the standard level of waste recycling across the entire Group. The factory waste recycling rate in fiscal year 2023 was 99.1% compared to our target of more than 99%, falling short of the target. We will continue to implement measures to achieve the zero waste emissions.
*1 Factory waste recycling rate = Amount of resources recycled/(Amount of resources recycled + Amount of landfill)
Breakdown of Input Virgin Resources Used in Fiscal 2023 (by category)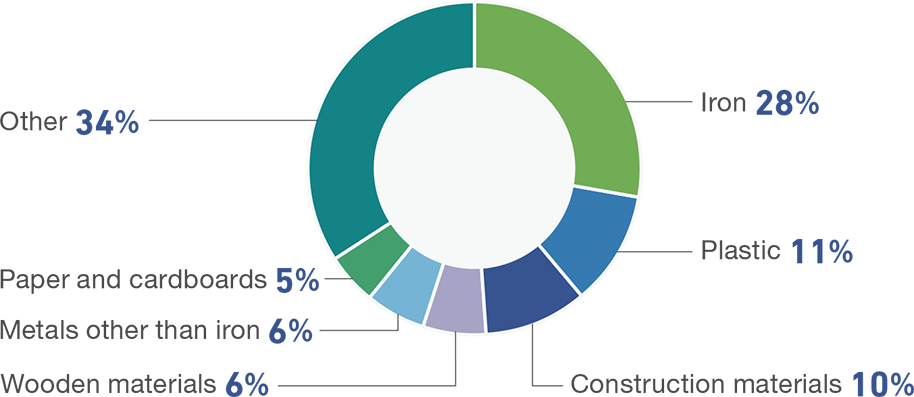 Results of Recycled Resin Usage (Cumulative total from fiscal 2015)
Reduction in Resources Used
To minimize the use of resources for production, we continuously look to reduce the weight of our products. Through the Product Environmental Assessment, we have been promoting resource saving from the product planning and design stage, such as using less resources, making our products lighter and smaller, and using less components. We also implement various measures from the standpoint of resource recycling throughout the product life cycle, such as component reuse, longer durability, use of recycled resources, easier battery removal, and labels necessary for collection/recycling.
Quick-Up, a remodeling unit dedicated to the upgrading of system ceiling lighting equipment
Since the reflector plate is equipped with a power supply component, it is possible to upgrade a fluorescent lighting fixture with a straight tube LED or an iD series lighting fixture by utilizing the existing embedded type and system ceiling type body. Because this product utilizes the main body of an existing fluorescent lighting fixture, it enables upgrading with an LED lighting fixture in a short work period, thereby reducing generated waste and waste material disposal costs.
Modular personal care system
Launched in June 2022 for the European and North American markets, Modular personal care system is a modular personal care product with a single main unit and five different detachable heads. Users can purchase necessary care parts separately, such as a trimmer for beards, hair, body hair, or nose hair, a shaver, or a tooth brush. This product features a battery and motor integrated into a single body and can flexibly respond to changes in daily care and grooming needs when traveling and on business trips.
In addition, the common design of the main unit and the power adapter reduces product weight by approximately 60% compared to conventional products, thereby saving resources. In recognition of contributing to the reduction of environmental burdens through the idea of such a rational system, we received a gold award at the iF Design Award 2023 sponsored by iF International Forum Design.
In the U.S. market, where approximately 7 million tons of e-waste are produced every year, we have a recycling program that allows users to return their old electronic personal care devices to purchase Modular personal care system products at a special price. Collected personal care devices are recycled to contribute to resource circulation.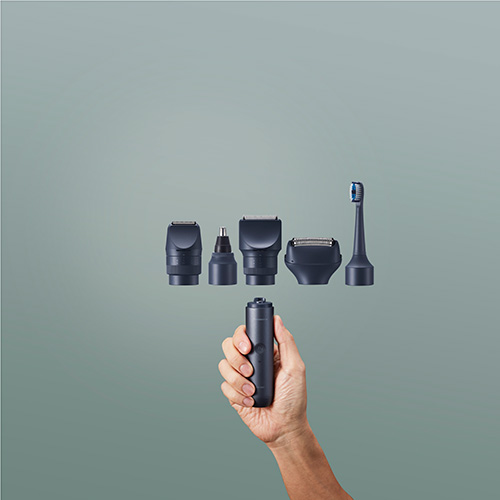 Launched in September 2022, the EH-NA0J nanocare hair dryer builds on the previous nanocare model. Equipped with high-permeation nanoe, the EH-NA0J moisturizes up through the tips of hair.
The new design features a compact and lightweight body, and its size is approximately 27% less than the EH-NA0G released in 2021. It also reduces energy consumption through its enhanced drying performance, and provides the largest air volume in the history of nanocare in Japan. By saving resources and reducing environmental burdens, it contributes to the realization of a sustainable lifestyle and society. In addition, the amount of moisture generated by the high-permeation nanoe is about 18 times higher than that of the conventional nanoe, which increases the amount of moisture in hair to 1.9 times, providing moisture to the hair and scalp.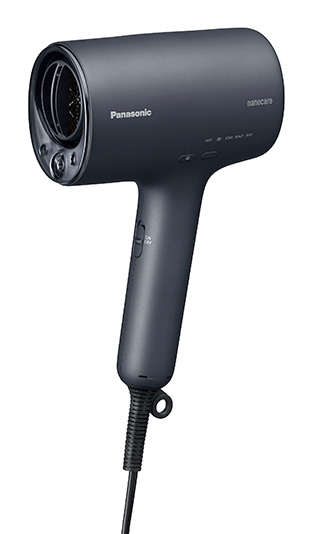 Examples of recyclable product design
In order to make recycling more efficient, we are working on designs that make it easy to disassemble and sort according to industry guidelines. For example, in order to make products easier to disassemble, we do away with fixing methods that are difficult to disassemble, such as welding and caulking, and reduce the number of screws used. In addition, we are also displaying the material of resin parts to make it easier to sort them.
Use of Sustainable Materials
Under the concept of "product-to-product", we are enhancing our initiatives of utilizing resources recovered from used products. As for resin, we promote the reuse of resin recovered from our used home appliances (refrigerators, air conditioners, washing machines, and TVs) for our products. We also started recycling scrap iron recovered from used home appliances in our products in 2013.
Enhanced Use of Recycled Resin
To efficiently utilize resin recovered from used home appliances in addition to metals such as iron, copper, and aluminum, our recycling factory, Panasonic Eco Technology Center Co., Ltd. (PETEC), and Kato Plastic Recycling Factory of the Appliances Company work together for resin recycling.
Process of Resin Recycling
Using technologies such as our original near-infrared identification technology, PETEC is capable of sorting shredder residue of waste home appliances into three major types of resins with different purposes and properties—polypropylene (PP), acrylonitrile butadiene styrene (ABS), and polystyrene (PS)—at a material purity of over 99%.
The recycled single resins sorted and recovered at PETEC are then transferred to the adjacent Kato Plastic Recycling Factory to be further purified and processed to recover their chemical properties. Kato Plastic Recycling Factory is a manufacturing and development site that demonstrates promotion of use of recycled resin at our Living Appliances and Solutions Company, a home appliance manufacturer and seller. The factory plays an important role in enhancing recycled resin utilization by developing recycling technologies, such as a more efficient method that improves the performance of recycled resin. Generally, the strength and lifespan of resin deteriorate over time. This is why its chemical properties have to be recovered to the level of new resin to make them usable as materials and components in new products. Because of the differences in the physical properties required by different products, we have been examining the properties of recycled polypropylene, polystyrene and acrylonitrile butadiene styrene, and have developed technologies to create new formulas for resin components, adding our own proprietary antioxidant and mixing recycled resin with new resin. To increase usage of recycled plastic across Panasonic, we plan to find recycled plastic suppliers based on the recycled plastic development and quality assessment techniques cultivated in our Kato Plastic Recycling Factory.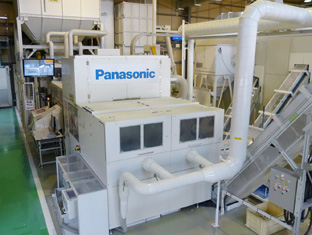 Development and Use of New Sustainable Materials
Cellulose fiber can be derived from various natural resources, such as wood residues from forest thinning, and other organic wastes, and it is now drawing attention as a resource with low environmental impact. In fiscal 2019, Panasonic developed a composite polypropylene (PP) resin containing plant-derived cellulose fiber as an additive. In fiscal 2019, we developed a molding material mixed with plant-derived cellulose fiber. This new eco-conscious cellulose fiber molding material is used in the frame parts of the Panasonic cordless stick-type vacuum cleaner and contributes to its reduced weight, one of the most important features of the product. In fiscal 2020, the content of the cellulose fiber could even be increased to more than 55% while maintaining the whiteness of the material thanks to our special processing technology.
Using this technology, we also developed the reusable cup, Forest Tumbler, together with Asahi Breweries, Ltd. The cup won the FY2020 Environment Minister's Award for Promotion of a Recycling-Based Society, hosted by the Ministry of the Environment, in recognition both of its advanced technology, which utilizes more than 55% natural plantderived resources, and its innovative value.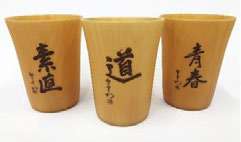 In collaboration with Asahi Breweries, Ltd., we developed the Panda Bamboo Tumbler, which utilizes discarded bamboo not eaten by pandas at Adventure World (Shirahama-cho, Wakayama Prefecture). Adventure World, as part of the Panda Bamboo Project, has promoted upcycling using bamboo trunks and leftover bamboo that giant pandas do not eat. The Tumbler in the Forest, jointly developed by Panasonic and Asahi Breweries, will be used in the Panda Bamboo Project. Panda Bamboo Tumblers, reusable beverage containers made from discarded bamboo not eaten by pandas, will be sold at four shops in the park and on the official Adventure World online shop. This is the first product to utilize waste material utilization technology developed by Panasonic.
We have completed the prototype testing of a composition material comprised of 55% cellulose fiber, called kinari, with the goal of reaching a production capacity of 10 tons/month. In January 2022, we commenced sample sales of kinari CeF55-PP, a molding material produced by mixing plant-based cellulose fiber with resin at a high density of 55%, which has acquired the 55% biomass mark, and commenced mass production and sales in December with the aim of contributing to environmental protection through the increased usage of kinari CeF55-PP in a variety of consumer products. We also provide production goods and services (e.g. molds and molding processes) at the request of customers. We have already started rolling out specific products toward the expansion of our environmental contribution, such as buttons for apparel companies, soap dispensers, and plates and utensils for food service, in collaboration with companies that endorse our environmental efforts.
In fiscal 2021, we further advanced the technology to increase the amount of cellulose fiber, and established a process that enables 70% cellulose fiber composition, along with a technology that can smoothly mold the material into products. These technologies increase the plasticity of the material despite the high content of cellulose fiber, enabling product designs intended to feature the natural feel of the material. (The product received the MEXT Minister's Prize under the FY2021 50th Japan Industrial Grand Prize held by Nikkan Kogyo Shimbun, Ltd.) In March 2023, we started sales of sample molding materials made of plastic and plant-derived cellulose fiber, kinari CeF70-PP, "kinari70."
We successfully established a commercial level of technology to mix a high density plant-based cellulose fiber into resin. We then applied the same technology to mix cellulose fiber into plant-based resin (bio-polyethylene) and successfully developed 90% high density cellulose fiber composition materials. Mixing a high density cellulose fiber into soft bio-polyethylene enabled us to achieve the same strength as our conventional kinari, but in a white color.
In the area of housing materials, we exclusively developed an eco-conscious wood-based flooring substrate that utilizes 100% recycled wooden materials (excluding glue) made from construction waste and unused materials. Thanks to our wide-ranging processing technologies, we successfully created a substrate with high density with superior solidity compared with general plywood and which offers excellent scratch and dent resistance. The starch in wooden materials can attract insects (lyctus), however, our product is insect resistant as it has a low starch content. The substrate also offers excellent scratch and dent resistance and is therefore ideal for coping with wheels on chairs and furniture. The board's tongue and groove structure is also designed to deliver easy installation. Further, a part of the sales revenue from this sustainable flooring is donated to Gunma Prefecture's forestry fund. The entire life of the floorboarding is consistent with an environment-friendly approach. This product can reduce the consumption of natural materials and also contributes to preserving biodiversity.
We intend to develop more new products with this technology, focusing also on developing new recyclable resources.
Building a Recycling Scheme for Scrap Iron
Jointly with Tokyo Steel Co., Ltd., we started a recycling scheme for scrap iron in July 2013. In this scheme, we recover the scrap iron from used home appliances and Tokyo Steel makes it into steel sheets. We then purchase the sheets back as a material for our products. Supplying scrap iron for recycling and repurchasing the recycled iron is the first scheme of its kind in the Japanese electrical manufacturing industry.
Self-recycling Scheme for Electric Steel Plates

Specifically, scrap iron from home appliances collected and treated at PETEC and Panasonic Eco Technology Kanto Co., Ltd. is supplied to Tokyo Steel, where the scrap iron is processed into electrical steel plates.*2 We procure the recycled steel plates and utilizes them in products. Discussions with Tokyo Steel commenced in 2010, and we have worked together since then to improve the quality of recycled iron to a level sufficient for production use, as well as developing the technology to improve the applicability of the recycled iron. From this we identified the optimum application of the electrical steel plates, and refined its specific features (e.g. shape, strength, and weldability) to meet application-specific requirements. Use of thin electrical steel plates in our products was first made possible in 2011. Through this close collaboration, we materialized this recycling scheme in 2013, a scheme where a home appliance recycling company that we own supplies scrap iron to be used to make electrical steel plates.
The amount of scrap iron we initially supplied to Tokyo Steel was about 50 t per month. In fiscal 2023, it reached over 2.6 kt per year, and the recycled steel is being used in our products, including washing machines and ceiling materials for housing.
Self-recycling Scheme Process
The increase in electrical steel plate usage leads to an increase in the usage of scrap iron, which is one of the most important resources in Japan. In addition, producing steel plates from scrap iron emits much less CO2 compared with producing steel plates from scratch. This scheme also stabilizes the procurement price, because the price of scrap iron supplied from PETEC and the price of electric steel plates procured from Tokyo Steel are determined by the scrap iron fluctuation rate agreed between the two companies. We will further expand this recycling scheme for more efficient resource utilization, CO2 emissions reduction, and stabilization of procurement prices.
*2 Steel produced from scrap iron melted and refined in an electric arc furnace.
Zero Waste Emissions—Improving Factory Waste Recycling Rate
From the viewpoint of effective usage of resources, we believe that generation of waste and revenue-generating waste at factories must be minimized, even if such waste could be sold as valuable commodities. Based on this belief, we identify the amount of generated waste (including both revenue-generating waste and factory generated waste) and classify it into: (1) recyclable waste (including those that can be sold and those which can be transferred free of charge or by paying a fee), (2) waste that can be reduced by incineration or dehydration, and (3) landfill (waste with no option other than being sent to landfills).
We reduce the emission of waste by boosting yield in our production process and increasing the recycling rate of our waste materials. Accordingly, we strive globally toward achieving our Zero Waste Emissions from Factories*3 goal by reducing the amount of landfill to nearly zero. We have reinforced such efforts particularly in China and other Asian countries, where many of our factories are located.
With the waste plastic import control introduced in China, the volume of material being recycled has dropped, leading to an increase in landfill waste disposal. As a result, the factory waste recycling rate in fiscal 2023 was 99.1 %, achieving the 99% target in our GPI 2024. We will introduce more activities which aim to maintain and improve the factory waste recycling rate.
As a means to reduce the generation of waste, we are fostering resource-saving product design. In our production activities, we are engaging in resource loss reduction, employing our own unique material flow analysis methods. We consider materials that do not become products and excessive use of consumables as resource losses, and make the material flow and lost values for each process visible in order to resolve the issues in close collaboration with the design, manufacturing, and other relevant business divisions. In the future, we will promote further reductions in resource losses through the Resource Loss Navigation, our original system developed to automatically display information to help reduce resource losses.
As an initiative to reduce the amount of final disposal of waste and valuables, we will reduce the amount of materials that are particularly difficult to recycle, such as thermosetting resins. We are also strictly adhering to waste sorting practices in production processes to further expand the reuse of resources.
Because waste recycling rates in our overseas factories lag behind those in Japan, we have worked to improve the average level of recycling activities by sharing information within and between regions outside Japan. Specifically, in addition to accelerating the information sharing on waste recycling issues between our local factories and group companies in Japan, we also promote the sharing of excellent examples and know-how among our factories across regions by utilizing BA Charts*4 prepared by each region, following our long-standing approach toward CO2 reduction activities.
*3 Definition by the Panasonic Group: Recycling rate of 99% or higher. Recycling rate = Amount of resources recycled/(amount of resources recycled + amount of landfill).
*4 A chart-format summary of comparisons between "before and after" implementation of waste reduction and recycling measures.
Amount and Recycling Rate of Total Wastes Including Revenue-generating Waste
Breakdown of Total Wastes Including Revenuegenerating Waste (by region)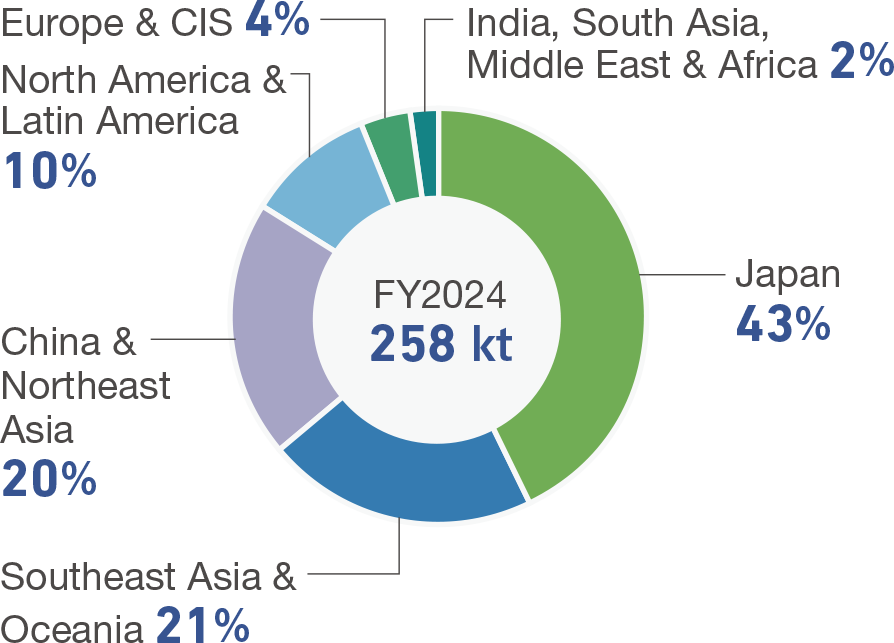 Breakdown of Landfill (by region)
Breakdown of Total Wastes Including Revenue-generating Waste for Fiscal 2023 (by category)
*5 Combustion residue, fiber scraps, animal residue, rubber scraps, debris, ash particles, items treated for disposal, slag, infectious waste, polychlorinated biphenyls (PCBs), waste asbestos.