Eoria LX series of room air conditioners offer features of both comfort and energy efficiency throughout the year, in the state that demand for particular air quality and comfort is further increasing in the market because of increased time spent using air conditioners at home.
We have further advanced the A+++ performance by Energy Charge System with an added new "Moist Air Cooling" function for those who currently feel uncomfortable in air conditioning rooms, that have improved both comfort and energy efficiency of the air conditioner. We also have improved quality of the air by combining ventilation and nanoe X, adding a function of exhaust function at the same time. Furthermore, users can visualize energy efficiency of the air conditioner thanks to the IoT technology, which contribute to increasing users awareness on energy saving.
As a results of such efforts, we received the Chairperson's Award of the Energy Conservation Center of Japan at 'the 2022 Energy Conservation Awards'. This was the second consecutive year that we received the Energy Conservation Grand Prize; as for home air conditioners, it was the only award received in fiscal 2022.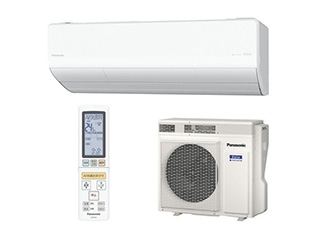 GHP (Gas Heat Pump Air Conditioner)
The GHP (Gas Heat Pump air conditioner) is an air conditioning system that drives the compressor in the outdoor unit with a gas engine and uses a heat pump to perform the heating and cooling.
The "XAIR III" ultra-high efficiency GHP launched in 2020 has a reduced machine size and maintenance space and its installation space was reduced by 17% from that for conventional models. In addition, thanks to technical development such as improvements to the freezing cycle efficiency and blower efficiency, approximately 10% reduction of the annual energy consumption of the GHP have been realized compared with the previous series, which indicates that the GHP has simultaneously realized both smaller size and more energy saving.
These aspects have been evaluated very highly and the GHP has received many awards, including the Energy Conservation Grand Prize 2020 (Director-General of the Agency for Natural Resources and Energy Award).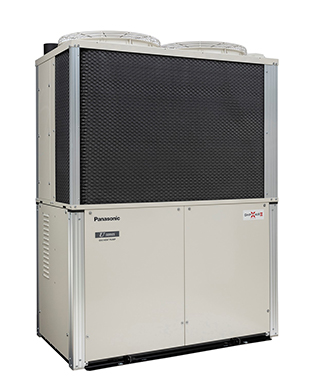 Eco Cute
< Natural refrigerant (CO2) heat pump water heater that promotes self-consumption of solar energy >
Panasonic will contribute to the realization of carbon neutrality by promoting self-consumption of renewable energy with the Ohisama Eco Cute.
The Ohisama Eco Cute uses atmospheric heat, solar power, and electricity to boil water. CO2 emissions and the cost of heating and lighting can be reduced.
Today, people seek new lifestyles aimed at energy self-sufficiency. And the environment surrounding us is constantly changing due to global warming and natural disasters.
The Ohisama Eco Cute is environmentally friendly, using energy generated by solar power effectively to produce hot water.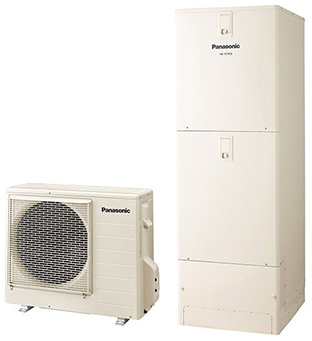 Absorption Chiller "Energy-Saving Natural Chiller, Type PR Genelink"
An absorption chiller is an air conditioning system that uses the heat of vaporization of refrigerant under vacuum, without using a compressor. The chiller uses water as the refrigerant and thermal energy as the operational power source such as the waste heat from factories and the combustion heat of gas. Therefore, the chiller is suitable for air conditioning for large-scale facilities such as domed stadiums, as air conditioning equipment that is environmentally friendly because of low power consumption. The system has large advantages that it is possible to lower the electric power load peak when the cooling load is high, that it uses water as a natural refrigerant, and that the outdoor unit installation space required is smaller than the one required for other air conditioning facilities of a similar capacity.
Compared with conventional products, this chiller reduces the rated cooling water flow rate by 30% and the cooling water pump conveyance power by 65.7%. This reduces the electric power consumed by the cooling water pump, which is a unit that consumes a large amount of power, minimizing it as far as possible. Furthermore, the 23.5% reduction of gas combustion through the utilization of waste heat indicates that energy-saving has been realized. These reduction were favorably evaluated for the product as a whole and it received the Promotion Award of the Heat Pump & Thermal Storage Technology Center of Japan in the 2017 Demand-Side Management Awards.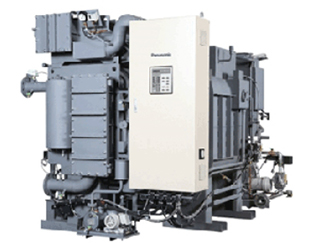 Heating, cooling and domestic hot water systems for European Market
Aquarea Air to Water (A2W), which is sold for the European market, is a next-generation, environmentally friendly heating system that makes the best uses of renewable energy. Aquarea has achieved industry's top class energy efficiency, and enabled operations in conjunction with solar power generation systems. We have line-up of Aquarea where propane (R290) that is a natural refrigerant is adopted, to further contribute to mitigation of environmental impact as a top runner. On top of that, Aquarea received the Good Design Award for its outstanding industrial design. We are also developing services that are close to daily lives of our customers, such as remote monitoring service using IoT cloud.
As an eco-friendly and people-friendly product, our Aquarea will continue to evolve.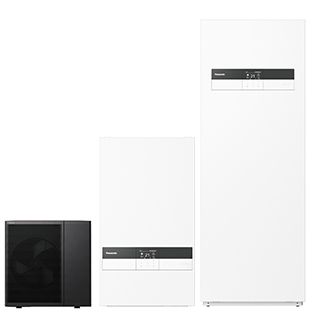 Heat Exchange Ventilation System Equipped with IAQ (Indoor Air Quality) Control
When there is only a small difference between the temperatures indoors and outdoors in spring or autumn, this Heat Exchange Ventilation System suppresses the power consumption by reducing the exhaust air flow rate, while keeping the same supply air flow rate. When the air temperature outdoors is lower than those of indoors and there is an increase in natural ventilation because of draughts and the like in winter, the ventilation system suppresses the power consumption by reducing the amount of ventilation (both the air supply and the exhaust).
The ventilation system efficiently controls switching between the two DC motors for the air supply and exhaust with a constant air flow control function, the heat exchange ventilation, and the normal ventilation, using the temperature sensors and humidity sensors. Accordingly, the optimal air flow and the ventilation method realize both comfort and energy-saving.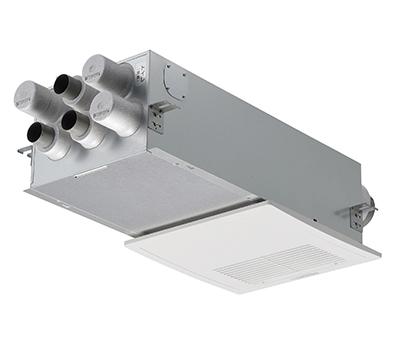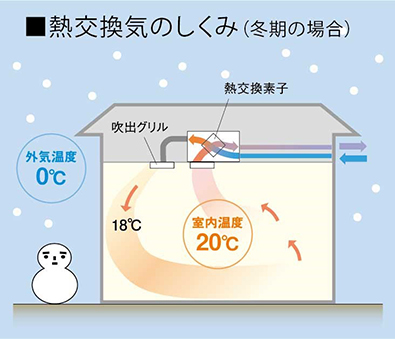 Green AC Flex is a two-fluid humidifier (mist system) that uses mist nozzles that can spray even low-pressure air (0.25 MPa or less) at fine mist particle sizes (approximately 6–10 μm). It features flexible construction and can be easily installed anywhere.
By using this technology in processes that require humidification in factories, the heating energy of conventional indirect steam humidifiers and the electric energy of electrode steam humidifiers are not required, meaning power consumption can be significantly reduced compared to conventional humidifiers. In addition, the low air pressure operation is excellent in conserving energy. The Green AC Flex (Mist System Model Number AE-GF011, Nozzle Model Number AE-GNG013) was selected as a Ministry of the Environment LD-Tech Certified Product in 2022.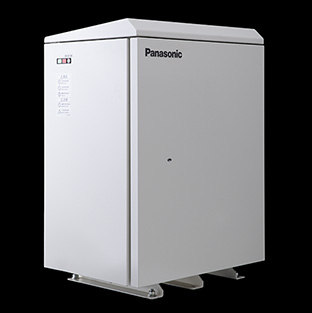 This refrigerator is equipped with an inverter-controlled high-efficiency compressor for R600a and has achieved the highest level of energy-saving performance with an "A +++" rating under the energy label system set by INMETRO. Smartsense is newly equipped in the refrigerator that enables energy saving by monitoring use status of the refrigerator by detecting with sensors for opening or closing the door, and brightness and temperature of the inside, and running the refrigerator according to the monitored living conditions.
The energy consumption of the refrigerator is reduced by more than 45% compared to that of the one labeled "A," which is a frost-free refrigerator generally manufactured in Brazil.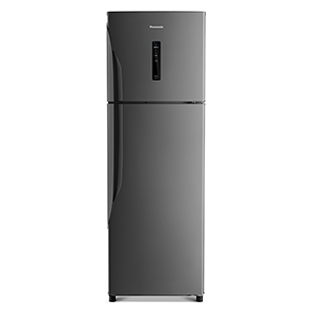 The Food Waste disposer enables reduction of the volume and weight of food waste disposed at home by drying food wastes with warm air at 130 degree C to reduce the volume to approx. 1/5 of the original volume. Therefore, use of the disposer is effective to reduce wastes, and at the same time, contributes to the reduction of CO2 emissions generated in incineration by incinerators at municipality and in the process of handling ashes from burning wastes.
Recently, the number of waste incineration facilities in Japan has been on the decline due to aging of the facilities and the like, and not a few municipalities transport their collected wastes over a long distance to a waste incineration facility in neighboring municipalities. We aim to reduce the volume of food wastes as well as reduce the burden of waste disposal fees that the residents bear, through collaboration with Shintomi Town in Miyazaki, Sumoto City in Hyogo, Komatsu City in Ishikawa, Oizumi Town in Gunma, Okinoshima Town in Shimane, and Minamiawaji City in Hyogo*1. At the same time, we proceed discussions to formulate a plan toward Circular Economy society where residents implement a lifestyle that does not generate wastes as much as possible, through changing mindset of each resident.
*1 Municipalities we are collaborating with, as of June 21, 2023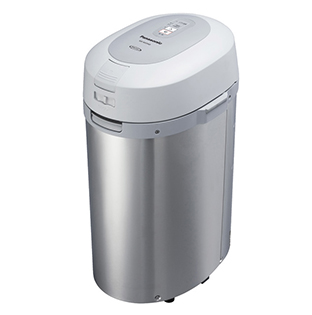 LED Floodlights 'Ground Beam ER'
A floodlight is a light fixture installed in sports facilities such as stadiums and multipurpose arenas that can emit intense light in a specific direction. The new 'Groundbeam ER' LED floodlight with a luminous flux of more than 65,000 lm (lumens), has a lineup of multi-halogen lamps (metal halide lamps) equivalent to the 2000, 1500 and 1000 models, which are conventional light sources; therefore, 'Groundbeam ER' enables drastic reduction of power consumption compared to those of conventional HID floodlights.

Integrated Stairs Lights: Wide, Middle, Slim Type
Switching a device without a fluorescent sensor to an integrated stairs lamp can save approx. 75% of electricity per year.
When the light detects a person, it lights up 100%. When the light detects any person, it reduces its brightness to the minimum to save electricity.
Or when the light detects any movement of the person, it automatically turns it on and off. When the light does not detect any person, it is turned off to save electricity.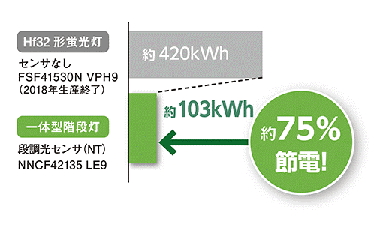 'AiSEG2' is a HEMS that proposes a new lifestyle by connecting various home appliances and housing equipment in the house to the Internet and making them to operate in conjunction with each other. 'AiSEG2' facilitates your "I wish I could do it" at home in terms of three points: 'Time saving and convenience', 'Security', and 'Self-consumption'.
In particular, 'Self-consumption' supports power saving through visualization of the amount of electricity used, control of the appliance or equipment in comfortable condition while saving electricity to be suited to various life scenes, and automatically control of the appliance or equipment when the power consumption exceeds the set target value for electricity.
In addition, with the AI solar charge ® function, 'AiSEG2' works in conjunction with weather forecasts and the amount of solar radiation per day, and enables wise utilization of the electricity created at home.
In response to the increasing needs for energy management at home in recent years, we plan to expand the range of connecting devices with 'AiSEG2'.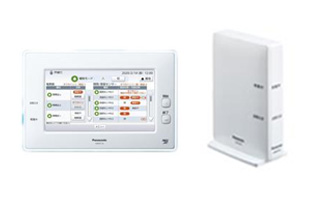 'eneplat' V2H power storage systems for residential use, looking ahead to the age of electric vehicles
Needs for self-consumption of electricity created by solar panels at home, instead of selling the electricity, have been increasing, 'eneplat' is a V2H (Vehicle to Home) battery storage system that links the V2H (Vehicle to Home) system which supplies the electricity stored in electric vehicle batteries to homes, and storage batteries to work in conjunction with each other..
'eneplat' achieved the industry's first*2 simultaneous charging and discharging using electric vehicle*3 and storage batteries. With 'eneplat', we aim at self-sufficiency of electricity at home, as it enables the best use of electricity generated from solar panels at homes more, reduction of selling the amount of electricity generated from solar panels at home, and reduction of purchasing the amount of electricity generated from other solar power systems.
In addition, in order to contribute to reduction of CO2, we will improve the amount of consumption of self-generated electricity by connecting 'AiSEG2' that is the core of energy solutions which links and works in conjunction with various home appliances and residential equipment, with 'eneplat'.
*2: For residential DC-linked V2H storage systems sold in Japan, as of November 25, 2022. (Researched by our company as of November 25, 2022.)
*3: The connectable electric vehicles are limited to the compatible models whose list is published by our company.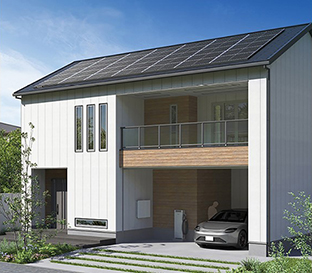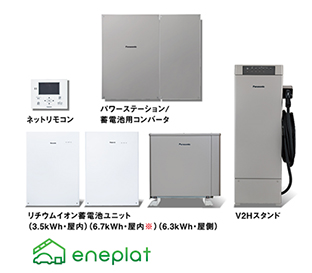 Residential fuel cell unit 'Ene Farm'
'Ene Farm' residential fuel cell unit is a system that provides high efficiency for power generation and energy saving benefits. 'Ene Farm' extracts hydrogen from city gas (natural gas) or LP gas, and then chemically reacts the extracted hydrogen with oxygen in the air to generate electricity. The heat generated by the reaction is stored in a hot water storage tank and can be used at home.
All of 'Ene Farm' units are equipped with the LPWA (Low Power Wide Area) communication function as standard that enables receiving weather information through cloud. In the case that 'Power Outage Risk Prediction' is received, its power generation mode is automatically switched to be prepared for power failure. Even in the event of a power failure at midnight or other times when the 'Ene Farm' has stopped generating electricity, there is no need to restart the 'Ene Farm' with an external power source. Therefore, 'Ene Farm' users can use electricity without worrying even in the event of a power failure.
In addition, for the case that the gas supply is stopped, a new function is equipped to boil water using its electric heater. Moreover, when the water supply is cut off, the hot water in its hot water storage tank can be used as domestic water. Thanks to these features, with one 'Ene farm' unit, it facilitates securing the minimum necessary infrastructure in the event of a disaster, such as 'electricity in the event of a power outage', 'hot water in the event of a gas supply stop', and 'domestic water in the event of a water outage'. Therefore, 'Ene Farm' users can spend time at home without worrying even when they are forced to sheltered at home.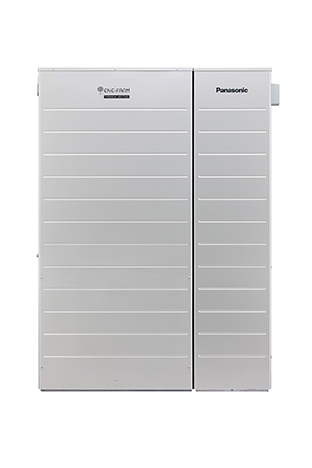 Energy Management Solutions 'Emanage'
'Emanage' is a cloud-type service that provides continuous support for energy-saving activities at facilities, from detection of a problem to operation and improvement of the facility. As for visualization, based on the measurement results of the power consumption by circuit breaker, transition of the measurement results such as gas can be displayed by year, month, week, day (1 hour) , and day (30 minutes) on the monitor. Moreover, based on the measurement results of power consumption by system, details of the power consumption by electric light and power systems can be checked in stacked bar graphs on the monitor. 'Emanage' clarifies when, where, for what, and how much electricity is used, and then, improves operations such as demand control of lighting equipment and air conditioners in response to the detected problem, which contributes to reducing energy consumption of the customer.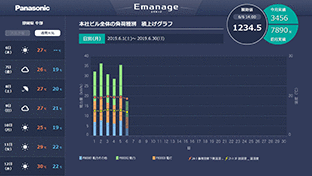 Pure Hydrogen Fuel Cell (PHFC) unit 'H2 KIBOU'
The technology we cultivated in the household fuel cell unit 'Ene-Farm' has been applied to our Pure Hydorgen Fuel Cell (PHFC) unit. For example, by sharing the Fuel Cell Stack, a key device in fuel cells, with 'Ene-Farm', PHFC units achieved stable power generation performance and 56%*5 of the power generation efficiency that is the highest in the industry*4. In addition, since targets of the PHFC units are for commercial use, their power output has been enhanced to 5 kW, which is more than 7 times the power output (700 W) of a household 'Ene-Farm'. Furthermore, by connecting and controlling multiple PHFC units, output of the power generation is scaled out according to the power demand, and by taking advantage of the lightweight and compact size of the housing, PHFC units are flexibly installed in response to various installation conditions such as building rooftops and small spaces.
In fiscal 2023, we started operation of 'H2 KIBOU FIELD', a demonstration facility for 'RE100 Solution' that uses 100% renewable energy*6 for all of the electricity used by the manufacturing department at the fuel cell plant in our Kusatsu site in Shiga, using self-generated power in combination of pure hydrogen fuel cells and solar cells. Visitors of the facility can feel the CO2 reduction solutions using hydrogen familiar to them.
Panasonic will contribute to the realization of a decarbonized society through proposing new options toward expansion of adoption of renewable energy use, namely a full-scale use of hydrogen.
*4: From Panasonic research on power generation efficiency with pure hydrogen fuel cells as of October 1, 2021.
*5: All efficiencies are expressed in accordance with LHV standards (LHV (Lower Heating Value): the amount of net calorific value after deducting the latent heat of condensation of water vapor generated when fuel gas is completely combusted.)
*6: We can meet RE100 requirements by using green hydrogen generated from renewable energy, including use of environmental value certificates. Although we did not use hydrogen derived from renewable energy at the time of the demonstration, we aim to use hydrogen derived from renewable energy in RE100 in the future.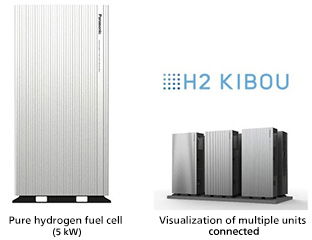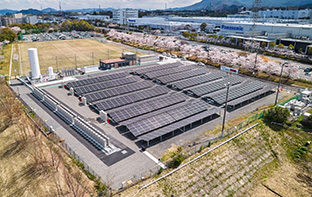 Home delivery communication box 'e-COMBO-LIGHT'
There are approx. 2 million redeliveries of home delivery goods a day in Japan.
Not only the same number of absence notification slips is consumed, but also estimation of discharged CO2 from the truck for redeliveries is approx. 1,150 tons*7.
'e-COMBO LIGHT', a home delivery communication box, is a box for home delivery with an electronic lock (battery-operated type) that not only reduces CO2 and the number of slips for redeliveries as users can receive packages in the box when they are not at home, but also users can use the box for sending goods*8
'e-COMBO LIGHT' is available in seven colors. With a wide variety of installation styles, including fixed installation, mounting it on a gate post with functions, and embedding it in external structure of the house, the box can be installed to be suited to a variety of houses regardless new or remodeled houses.
*7 Panasonic's estimation based on the 2014 Ministry of Land, Infrastructure, Transport and Tourism survey.
*8 For the information on how to use the pickup service for sending goods, please contact a courier.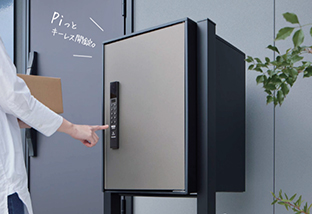 Insulation panel dedicated to the earthquake-resistant housing construction method Technostructure 'Techno Atsutaka Panel'
'Techno Atsutaka Panel' is a panel dedicated to the earthquake-resistant housing construction method Technostructure. The insulating materials that are made by injecting foam gas, which is highly insulative, into a structure of microscopic bubbles whose thickness is like the thickness of a hair (less than 100 microns), are used in the panel. Integrating the materials for insulation and frames in the factory has achieved high quality in the insulation construction. In addition, a highly insulated house is built with less man hours than those in the conventional construction.
Technostructure is a highly earthquake-resistant wooden house construction method that enables large spaces and innovative exterior designs that were difficult to achieve with conventional wooden buildings, thanks to its unique wood-iron composite beams (Technobeams) and advanced structural calculations. With this construction method, ZEH*9 can be achieved by using 'Techno Atsutaka panels' on the walls and by insulating the ceiling, floor, and other parts of the house respectively.
*9 ZEH: Net Zero Energy House. Housing that aims to achieve a zero balance in annual primary energy consumption through energy conservation and adoption of use of renewable energy.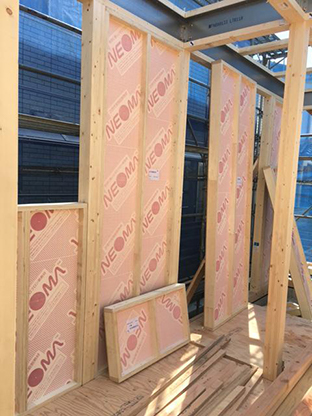 Vacuum insulated glass, Glavenir
Applying the development and manufacturing technology of plasma display panels, Panasonic Group has manufactured and rolled out vacuum insulated glass with a thickness of approximately 6 mm and the industry's top class insulation performance.*10 In addition to the previously developed float glass*11 specification, we have developed vacuum insulated glass using tempered glass specifications that is approximately 8 mm thick and offers the industry's top class thermal transmittance of 0.58 W/m2・K. Vacuum insulated glass is produced by welding two sheets of glass together with a sealing material that has been melted at a high temperature. In general, tempered glass loses its strength when heated at high temperatures. Our newly developed ultra-low temperature sealing material has allowed us to realize welding tempered glass at a temperature range that does not reduce its strength. In addition, as the pillars that support the vacuum layer are subject to extremely high pressure, generally high-strength materials such as metals are usually used. Panasonic has developed a high-strength insulating material to achieve vacuum insulated glass with high insulation. Glavenir received the Minister of Economy, Trade and Industry (METI) Award at the 2020 Energy Conservation Grand Prize in recognition of its technological development. We will contribute to the realization of a carbon neutral society on a global scale by introducing this glass into various industries where energy conservation is needed.
*10 In the vacuum insulated glass market. As of December 12, 2019, thermal transmittance of vacuum insulated glass with a total thickness of approximately 6 mm was measured to be 0.7 W/(m2・K) by our company.
*11 Glass widely used for window glass, etc.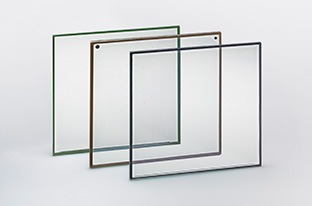 Automotive Lithium-ion Battery
Panasonic is currently reinforcing its rechargeable battery business targets for eco-conscious cars, for which demand is rapidly increasing against a backdrop of the rising awareness of global environmental protection, including the prevention of air pollution and global warming.
Automotive lithium-ion batteries are a major product of our business, and are widely adopted by our global customers. The lineup covers cylindrical and prismatic batteries. We are improving the battery capacity and output in order to extend the driving distance of electric vehicles and plug-in hybrid vehicles, as well as to enhance the acceleration performance of hybrid vehicles. In response to a significant increase in demand, we have now expanded our production sites over three countries-Japan, the U.S., and China.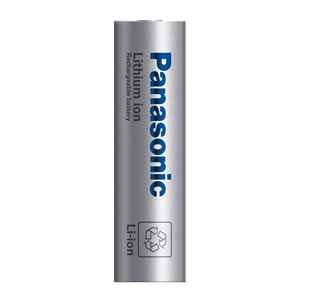 Cylindrical automotive lithium-ion battery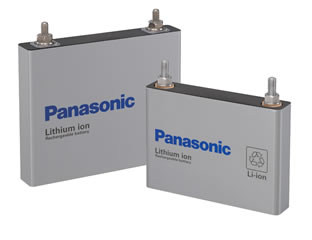 Prismatic automotive lithium-ion battery